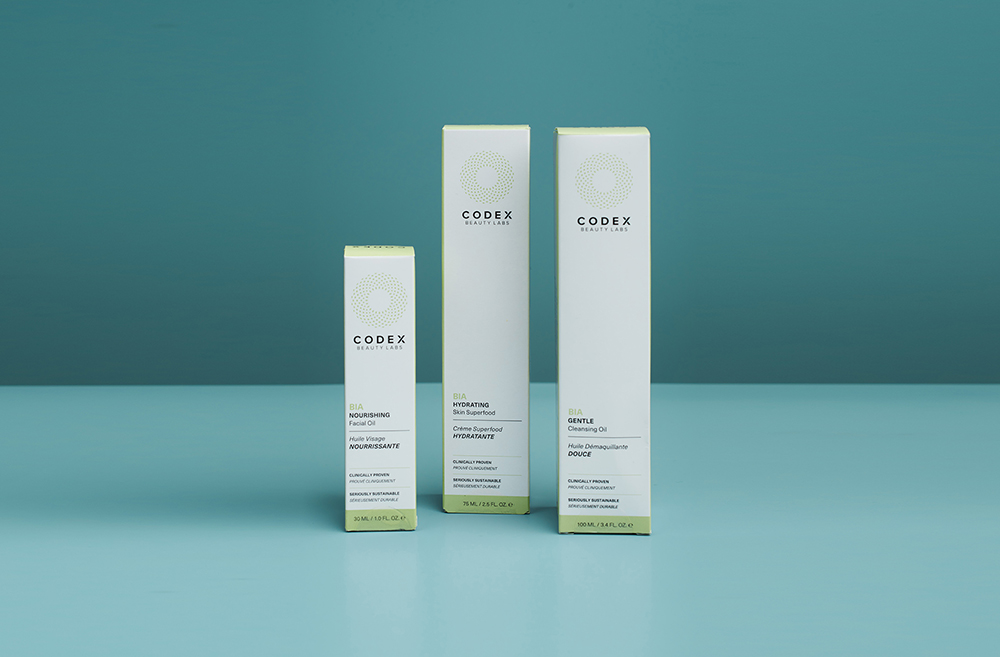 THIS COMPETITION IS NOW CLOSED
Exciting news! I've partnered up with the wonderful team at dermoi! for an incredible Mother's Day giveaway to give one lucky person the chance to win 3 amazing vegan skincare products from Codex Beauty worth £123.97. That winner could be you! Read on for how to enter and win, but hurry, the giveaway closes on 27th March.
The prize
One lucky winner will get 3 fantastic skincare products from Codex Beauty that are recognised by the National Psoriasis Foundation and vegan friendly. These moisturising heroes are sure to keep your skin looking and feeling nourished, while being gentle and soothing. No compromised skin barriers will occur with this trio of goodies!
Here's what's in the giveaway prize:
Codex Beauty Bia Wash Off Cleansing Oil – £43.99
The Codex Beauty Bia Wash Off Cleansing Oil softens the skin and gently removes impurities while supporting the moisture barrier. Suitable for all skin types, this wash-off cleansing oil works effectively to hydrate, soothe, and protect skin. It's gentle enough that it supports the skin's barrier to avoid redness, inflammation and sensitivity. It's the perfect first step to your skincare routine for a healthy, balanced complexion.
Codex Beauty Bia Facial Oil – £48.99
The Codex Beauty Bia Facial Oil is packed with vitamins and essential fatty acids to lock in moisture and nourish your skin. Say goodbye to flaky, dry skin, while increasing skin suppleness and boosting hydration. Suitable for all skin types, this lightweight oil provides antioxidant protection and reduces transepidermal water loss. This powerful oil is also clinically proven to increase skin hydration by 168%.
Codex Beauty Bia Hydrating Skin Superfood – £30.99
The Codex Beauty Bia Hydrating Skin Superfood is designed to provide instant and long-lasting hydration to your skin. This daily nourishing cream restores and repairs your skin barrier function, while providing relief to dry, flaking, and sensitive skin. Suitable for all skin types, this luxurious moisturiser protects and soothes the skin. The formula is clinically proven to increase hydration by 42.5%.
About dermoi!
dermoi! is an innovative treatment service where you choose what type of treatment you'd like, then a certified and vetted facial aesthetician will come to your home and deliver your treatment. The result? Fabulous skin!
There are plenty of treatments to choose from, including ones specially tailored to men, ones for acne-prone skin, and ones to help reduce the appearance of wrinkles. Whether you're looking to have a luxurious at-home pigmentation treatment, help treat your dry skin, or purchase some new skincare staples, dermoi! has got you covered.
There is also the dermoi! shop, where you can choose from a range of innovative skincare products and gadgets to transform your skin, including solutions for rosacea, acne, hyperpigmentation, dry skin, and so much more. And to treat your mum to something special for Mother's Day, there's a selection of skincare gifts to pick from, including gift cards for a pampering at-home facial and a micro peel kit.
dermoi! chose the selection of skincare on its shop very carefully because it's only interested in displaying scientific skincare that is backed by scientific study and does not contain anything harmful.
How to enter the giveaway
Enter for your chance to win the incredible Codex Beauty skincare trio. Keep the prize for yourself, or gift it to someone you love!
Submit your answers via this giveaway form for your chance to win this incredible prize.
Want to increase your chances of winning? For 5 extra entries, screenshot this giveaway blog post and share a story on Instagram tagging @awcblogsarah so that I can track your activity. It's as easy as that!
T&Cs
This contest is open to UK residents only. All entrants must be 18 or over.
By entering this giveaway, you consent to receiving emails from awomansconfidence.com and dermoi.com.
This contest will close on Monday 28th March at 12pm GMT. One lucky winner will be picked at random and will be announced on Monday 28th March at 1pm GMT.
The winner will be contacted via email from dermoi! to receive their prize and will have 48 hours to respond. If there is no response within this timeframe, another winner will be selected.
Good luck everyone!