Last Updated on 24th August 2023 by Sarah Sarsby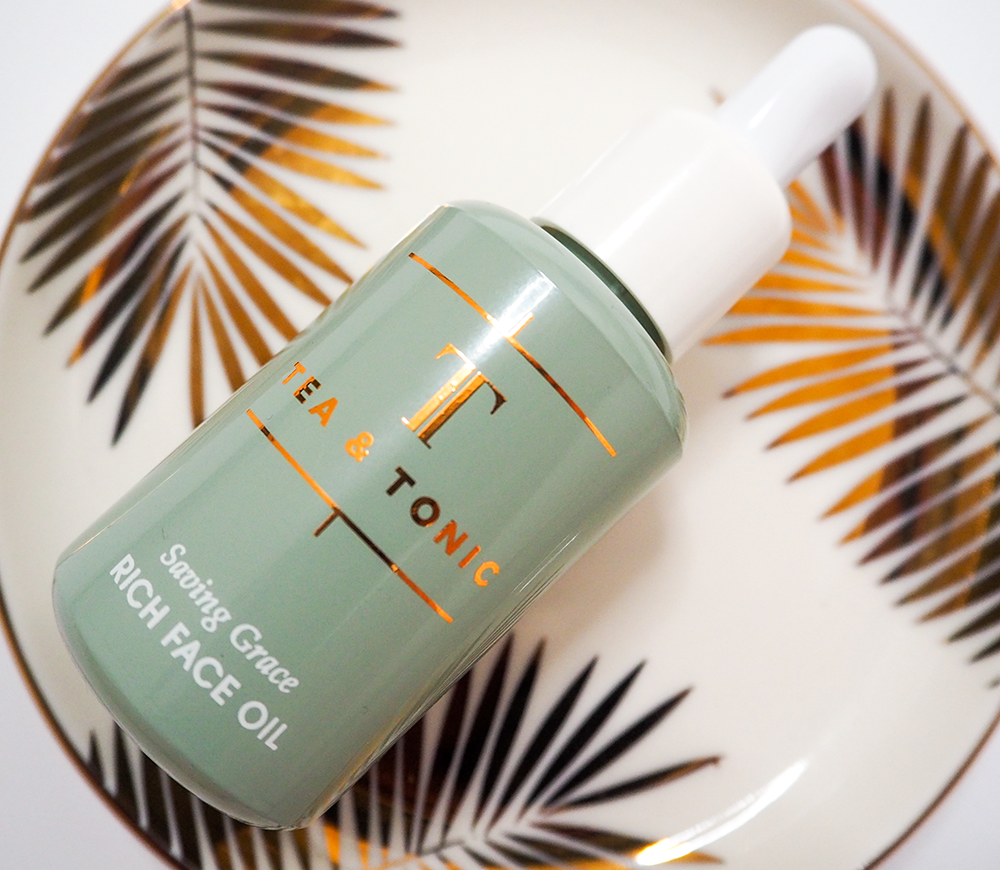 If you're someone who likes buying from British skincare brands and enjoys a sumptuous facial oil, you'll love reading my honest Tea & Tonic review.
As a facial oil obsessive, I've tried a lot of them. The good, the bad, and everything in between. The best facial oils are the ones that feel luxurious and nourishing but are still lightweight and absorbent. But striking that perfect balance can be difficult.
Enter the Tea & Tonic Saving Grace Rich Face Oil.
The brand says this rich facial oil will comfort and restore your skin, so I was very excited to try it. In this review, I'm going to talk more about the wonderful British skincare brand Tea & Tonic, take a closer look at the oil's ingredients, and share my honest experience with this product.
** This post contains some affiliate links. This means at no extra cost to you, I earn some commission if you purchase a product through my link. All thoughts are my own, though, as always. If you want to find out more, visit my affiliate disclosure page **
What is Tea & Tonic?
Tea & Tonic is a skincare and wellness brand that revolves around British-grown actives to deliver specific nutrients to the skin. This natural-led luxury brand focuses on sourcing high-quality ingredients that are as local, sustainable and fresh as possible.
Partnering directly with growers and our own herbalist's medicine garden, we infuse all our own herbal oils, creating 100% unique skincare with the highest level of freshness and potency.

Tea & Tonic
Tea & Tonic is cruelty-free and commits to having fully recyclable, biodegradable or compostable options. There is a range of cleansers, facial oils, wellness teas and body products to choose from.
Saving Grace Rich Face Oil ingredients and claims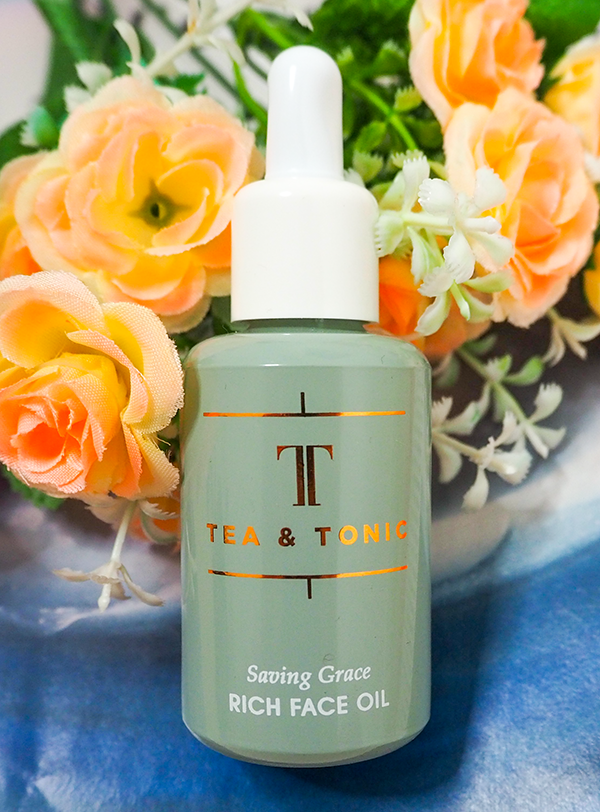 The Tea & Tonic Saving Grace Rich Face Oil promises to comfort and restore for smooth, supple, comforted skin. Perfect for nighttime, according to the brand, this vegan facial oil is deemed the "elixir for elasticity".
Key ingredients
The top 5 ingredients in the INCI list are:
Borago officinalis (starflower) seed oil: a non-fragrant plant oil that moisturises the skin and is a rich source of the essential fatty acid gamma linolenic acid
Crambe abyssinica seed oil: an emollient (softens and soothes the skin) plant oil for a silky and cushiony feel
Carthamus tinctorius (safflower) seed oil: a non-fragrant emollient plant oil that contains beneficial fatty acids to help combat dry skin
Ribes nigrum (blackcurrant) seed oil: an emollient
Camelina sativa seed oil: a plant oil loaded with nourishing fatty acids
See the full INCI list below:
Borago Officinalis (Starflower) Seed Oil, Crambe Abyssinica Seed Oil, Carthamus Tinctorius (Safflower) Seed Oil, Ribes Nigrum (Blackcurrant) Seed Oil, Camelina Sativa Seed Oil, Bacopa Monniera (Brahmi) Leaf Extract, Centella Asiatica (Gotu Kola) Leaf Extract, Panax Ginseng (White & Red Ginseng) Root Extract, Eleutherococcus Senticosus Eleutherococcus Senticosus (Siberian Ginseng) Root Extract, Phyllanthus Emblica (Amla) Fruit Extract, Ocimum Tenuiflorum (Holy Basil) Leaf Extract, Schizandra Chinensis (Schisandra Berry) Fruit Extract, Tocopherol (Vitamin E), Lavandula Angustifolia (Lavender) Herb Oil, Citrus Nobilis (Mandarin) Peel Oil Expressed, Citrus Aurantium Bergamia (Bergamot) Peel Oil, Santalum Spicata Wood (Sandalwood) Oil, Pelargonium Graveolens (Rose Geranium) Flower Oil, Citrus Aurantium Dulcis (Sweet Orange) Peel Oil Expressed, Citrus Aurantium Amara Leaf/Twig (Petitgrain) Oil
Honest Tea & Tonic facial oil review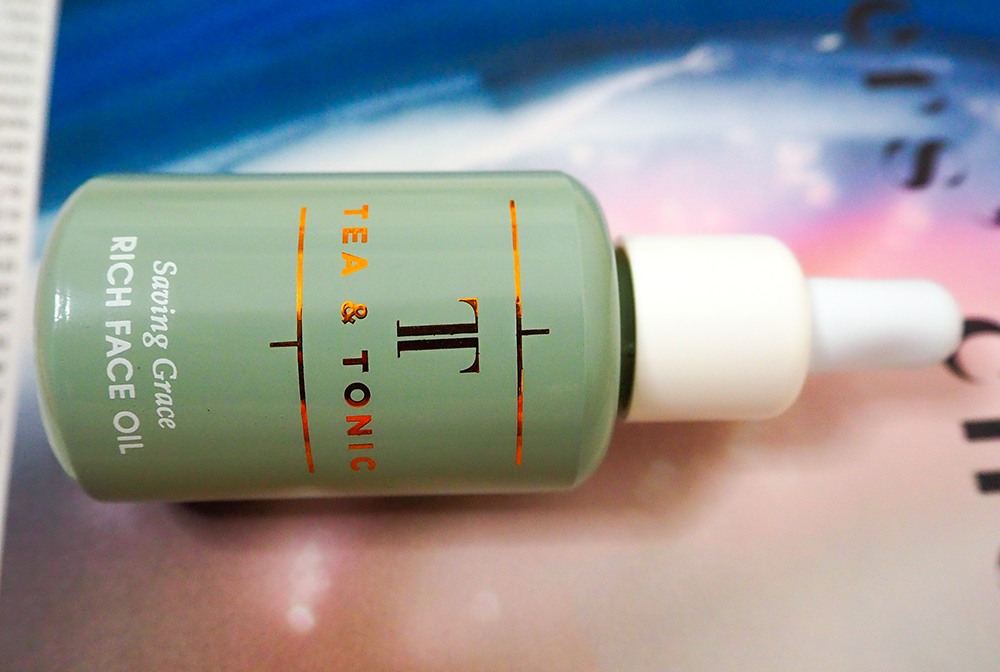 I love the Tea & Tonic Saving Grace Rich Face Oil. It feels luxurious and expensive and is a true treat for the skin.
It's very nourishing and soothing. After applying it, my skin feels super soft, smooth and hydrated. I notice an immediate difference in my skin. My skin has been a little dry recently since using my Dermatica prescription, but this vegan facial oil immediately helped my skin feel less dry and more comfortable.
Although this facial oil is rich, it sinks into the skin quickly and doesn't feel heavy. There is no stickiness or greasiness either, which means it works well with other skincare products. I love lightweight and highly moistuirising facial oils because it combines the best of both worlds.
The Tea & Tonic Saving Grace Rich Face Oil has a herbal scent, which I find very therapeutic. It reminds me of being at a spa. There is no added fragrance to this oil, so this is good news for people who hate added fragrance to their skincare products.
On a side note, the Tea & Tonic tea samples I received were also delicious!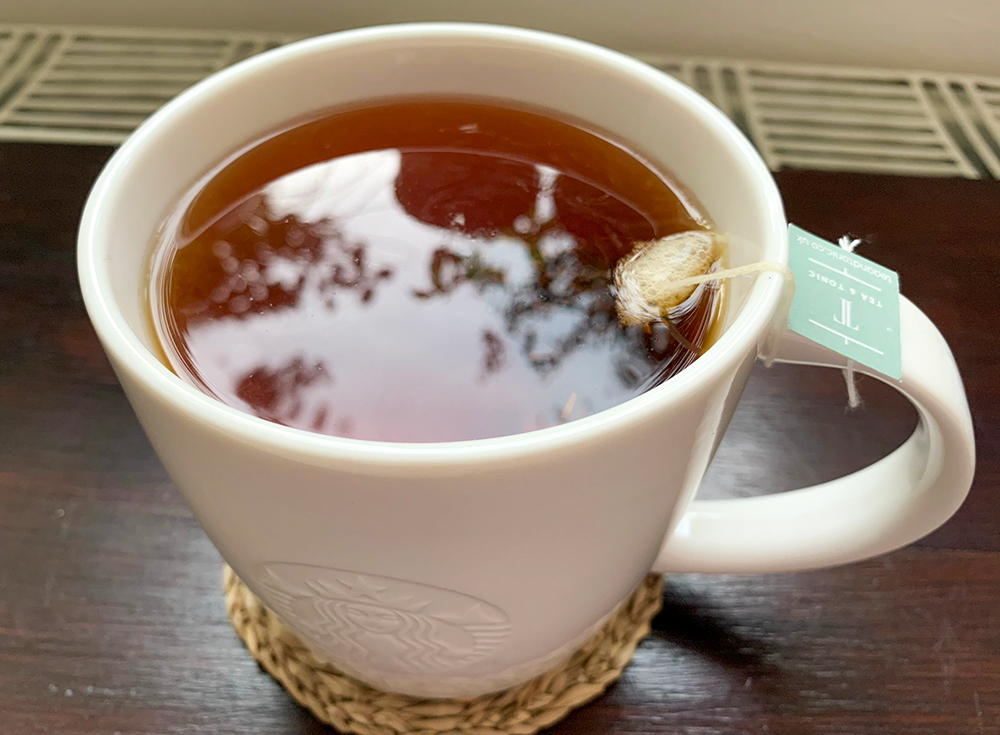 All in all, I'm very impressed with my Tea & Tonic facial oil. It delivers on all of its claims and makes my skin feel amazing. I can safely say this is one of the best facial oils I've used.
Where to buy
You can purchase the Saving Grace Rich Face Oil from Tea & Tonic for £45 for 30ml. I think this is a good price considering how well this facial oil works, the brand's approach to being eco-conscious, and how little product you have to use each time. 2-3 drops should be enough to cover your entire face. This oil should last quite a long time.
Do I recommend the Tea & Tonic Saving Grace Rich Face Oil ?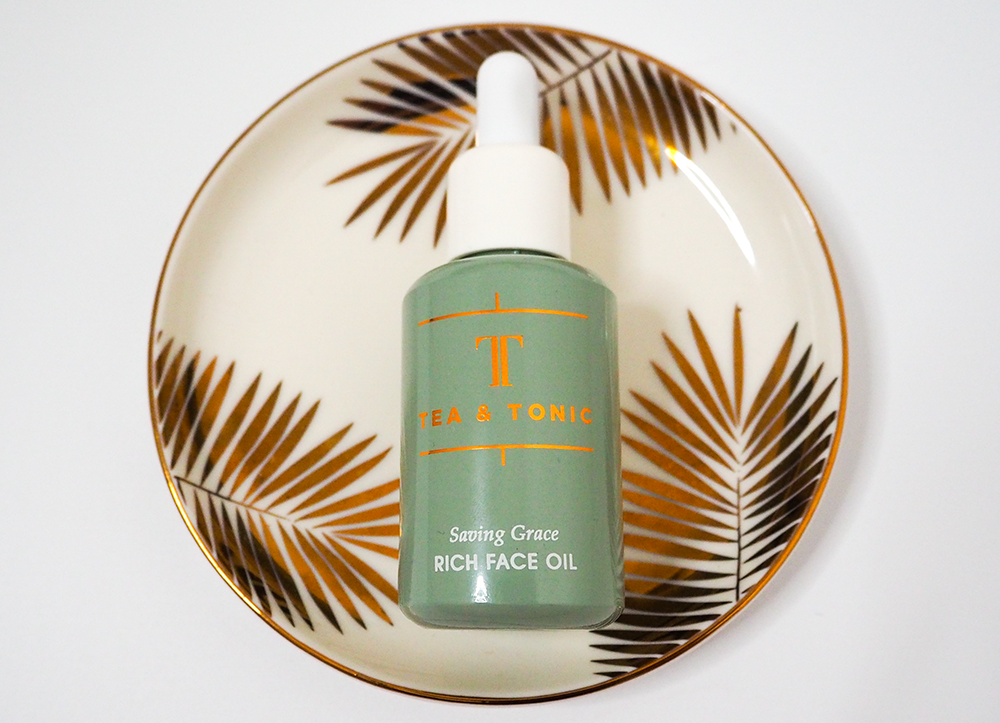 I love the Tea & Tonic Saving Grace Rich Face Oil. It works perfectly, and my skin feels better since using it.
Rating: 5 stars
I'd recommend this facial oil to anyone looking for a highly nourishing skincare product that still manages to be lightweight and non-greasy.
---
Do you like the sound of this facial oil? I'd love to hear from you in the comments