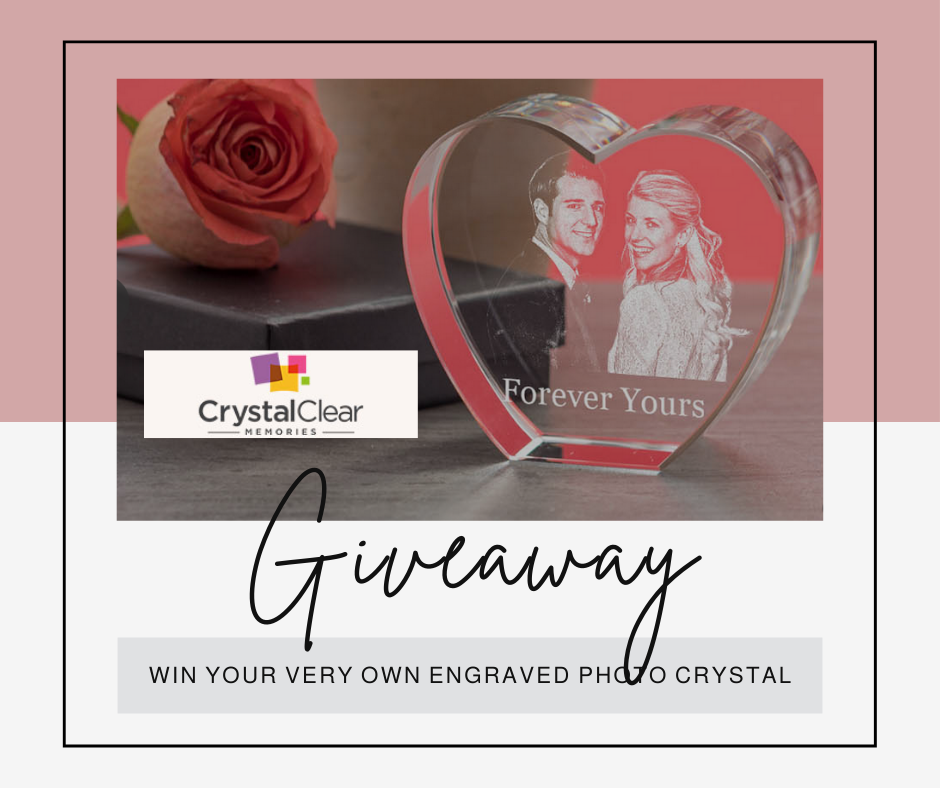 ** THIS GIVEAWAY IS NOW CLOSED **
New Year, New Giveaway! With Valentine's Day coming up fast, I've teamed up with US-based CrystalClearMemories.com for a limited-time prize giveaway! One lucky winner will win an electronic gift card worth $175 USD to create their very own personalized, 3D engraved photo crystal or memorial keepsake. That winner could be you! Read on for how to enter and win, but hurry, the contest closes February 14th!
The prize:
These gorgeous, high-quality, 3D photo crystals make the perfect romantic Valentine's Day gift for sentimental couples! Arriving in a sturdy and elegant, satin-lined gift box, your personalized photo crystal arrives ready for gifting and dressed to impress. Looking for a meaningful Valentine's Day gift for your girlfriend, boyfriend, husband, wife or 'special someone'? Show them you really care with a memory that lasts a lifetime from CrystalClearMemories.com!
ENTER below for your chance to win this amazing giveaway.
About Crystal Clear Memories
Crystal Clear Memories is an American-owned and operated small business based in Tampa, Florida, and their high-quality, 3D engraved photo crystals are 100% made in the USA. They offer high-quality engraved crystal keepsakes made to order, and customer happiness is at the forefront of everything they do. This is a company that truly cares about its clientele. If you're not happy they'll make it right.
No matter the occasion, turn any standard 2D photo into something far more special: a stunning 3D crystal display that glows with soft light, making an elegant home décor piece that doubles as a meaningful memorial keepsake. The optional but recommended light makes all the realistic detail in your 3D engraved image truly 'pop', so the subject in your photo (be it a person, pet or landscape) appears as if they are right there with you. The photo rendering is incredibly realistic, which beats a standard 2D photo for the ultimate Valentine's Day gift (or other special occasion gift) for someone special. Memorialize any person, moment, memory or milestone with a 3D photo crystal from CrystalClearMemories.com.
CrystalClearMemories.com's unique, made-to-order gifts are perfect for any occasion. Whether a heart-warming crystal for Valentine's Day, Mother's Day or Father's Day, a lifelike 3D photo from your first date, engagement, wedding or honeymoon (or any other memorable moment or milestone) or a birthday present for your best friend, family member or other loved one – there are endless personalization and gifting options available at CrystalClearMemories.com

Creating your own personalized 3D photo gift is easy and takes just a few short minutes. Just visit CrystalClearMemories.com, upload your photo, select your crystal size and shape (heart, tower, cube and more), add an optional engraved caption date, name or quote, and the live 3D photo preview will show you exactly how your crystal memorial piece will look before you place your order. Get the peace of mind that your sentimental crystal keepsake looks exactly how you want it to before you submit payment for your custom gift order.
I recommend adding an optional accompanying LED light-up base to truly bring your crystal 3D image to life and add a beautiful, ambient glow to any space They truly take your already-beautiful photo crystals to the next level. And who doesn't like a bit of atmospheric lighting anyway?
For those of you who just can't wait to order your own photo crystal, head over to the Crystal Clear Memories website now to get your Valentine's Day orders in ASAP. Save 15% on any crystal now, with my exclusive discount code CONFIDENCE.
How to enter
Enter to win your very own 3D photo crystal, personalized with any photo and quote or inscription you like. Keep it for yourself, or gift it to someone you love!
Here's how:
Submit your answers via this giveaway form.
Want to increase your chances of winning? For 5 extra entries, share this blog post on Twitter or Facebook using the social share icons at the bottom of this blog post, being sure to tag me on Twitter via @awcblogsarah and on Facebook via @awomansconfidence so that I can track your activity. Get even more chances to win by tagging your friends! Earn an extra entry with every friend you tag.
T&Cs
This contest is open to US residents only. All entrants must be 18 or over.
By entering this giveaway, you consent to receiving emails from awomansconfidence.com and CrystalClearMemories.com.
This contest will close on February 14th 2022 at 12pm PST. One lucky winner will be picked at random and will be announced on February 14th 2022 at 1pm PST.
The winner will be contacted via email from Crystal Clear Memories to receive their e-gift card and will have 48 hours to respond. If there is no response within this timeframe, another winner will be selected.
Good luck to all the entrants!
---
** This post contains some affiliate links. This means at no extra cost to you, I earn some commission if you purchase a product through my link. All thoughts are my own, though, as always. If you want to find out more, visit my affiliate disclosure page **