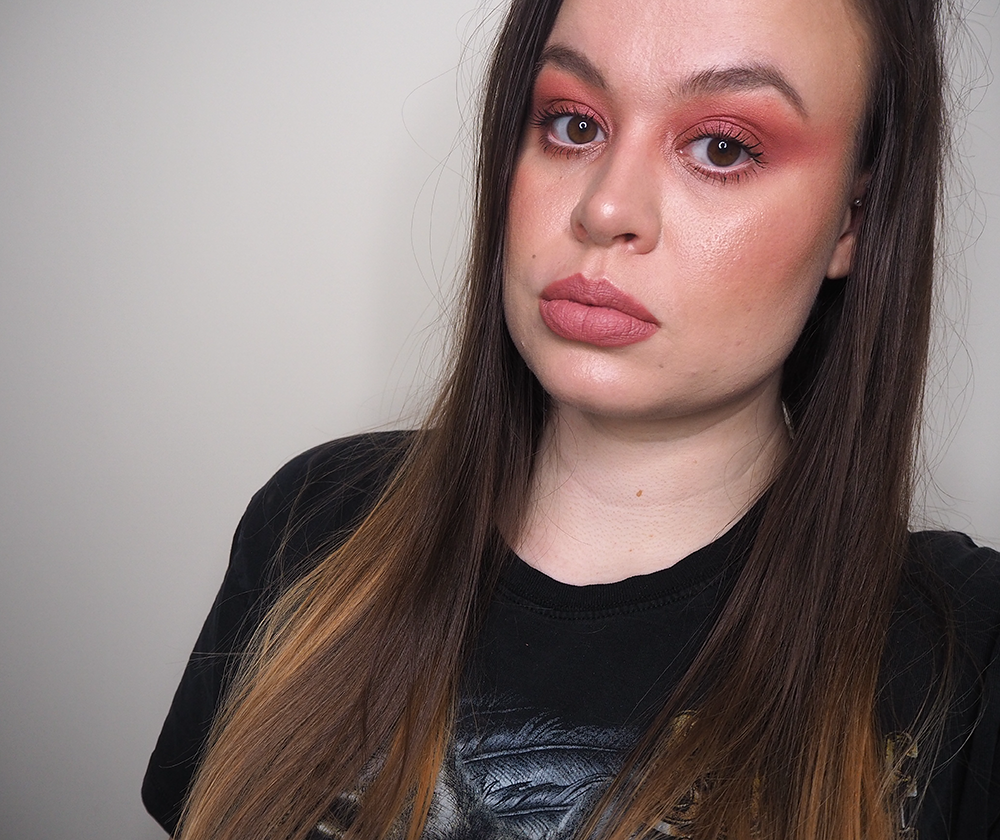 In this blog post, I'm sharing one of my favourite makeup looks that I've ever done, where I recreated one of Jamie Genevieve's looks.
If you're unfamiliar with Jamie Genevieve, she is a popular YouTuber and makeup artist from Scotland. She is probably best known for her smoky eye looks. Jamie is also the creator of makeup brand Vieve, which has done incredibly well since its inception last year. I have plans to purchase more products from Vieve in the future, but I absolutely love the one product that I've tried – the Modern Lip Definer.
To coincide with the launch of the Muse Palette a few months ago, Jamie created a host of modern romantic makeup looks. I particularly loved one of the looks she did, which I recreated and am sharing in today's post. If you're interested in seeing the original look and how I replicated it, then please keep on reading.
** This post contains some affiliate links. This means at no extra cost to you, I earn some commission if you purchase a product through my link. All thoughts are my own, though, as always. If you want to find out more, visit my affiliate disclosure page **
Jamie's original look
This is the look that Jamie Genevieve created, which I fell in love with: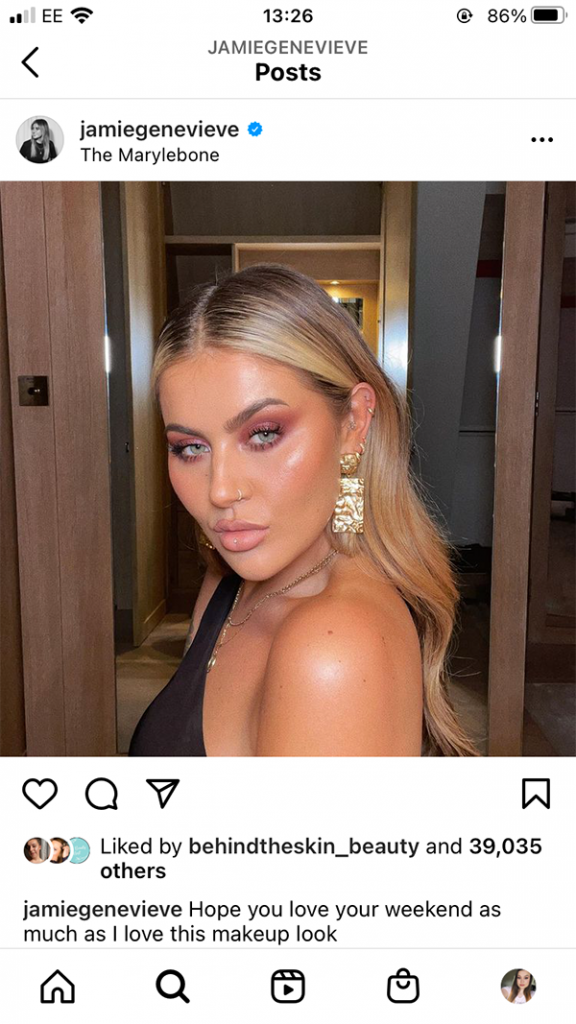 I absolutely love the smoky purple/pink/burgundy tones, the winged-out eyeshadow, sculpted cheeks, and nude pink lips. It's sultry and romantic, without looking super dramatic. This would be perfect for a date night, going out for cocktails, or any sort of evening event.
Recreating the makeup look
To recreate Jamie Genevieve's look, I tried to use some of my project pan 2021 products where possible, and I combined the Huda Beauty Desert Dusk Eyeshadow Palette and Huda Beauty The New Nude Eyeshadow Palette for the eye look.
After applying foundation, concealer and setting powder, I moved onto the cheeks. I used the Fenty Beauty Cheeks Out Freestyle Cream Bronzer in Butta Biscuit to sculpt my cheeks. This creamy bronzer is amazing to add some warmth and definition to your face. It works well with any base products you're wearing and is easy to layer and move around your skin.
I then took Glossier Cloud Paint in Beam and Essence Matt Touch Blush in Peach Me Up for my blushers to add some more warmth to my skin. Glossier Cloud Paint is one of the best blushers ever and has achieved iconic status in the makeup community. For highlighter, I used my absolute favourite highlighter Charlotte Tilbury Hollywood Flawless Filter in 2 Fair to add dewiness to my cheekbones.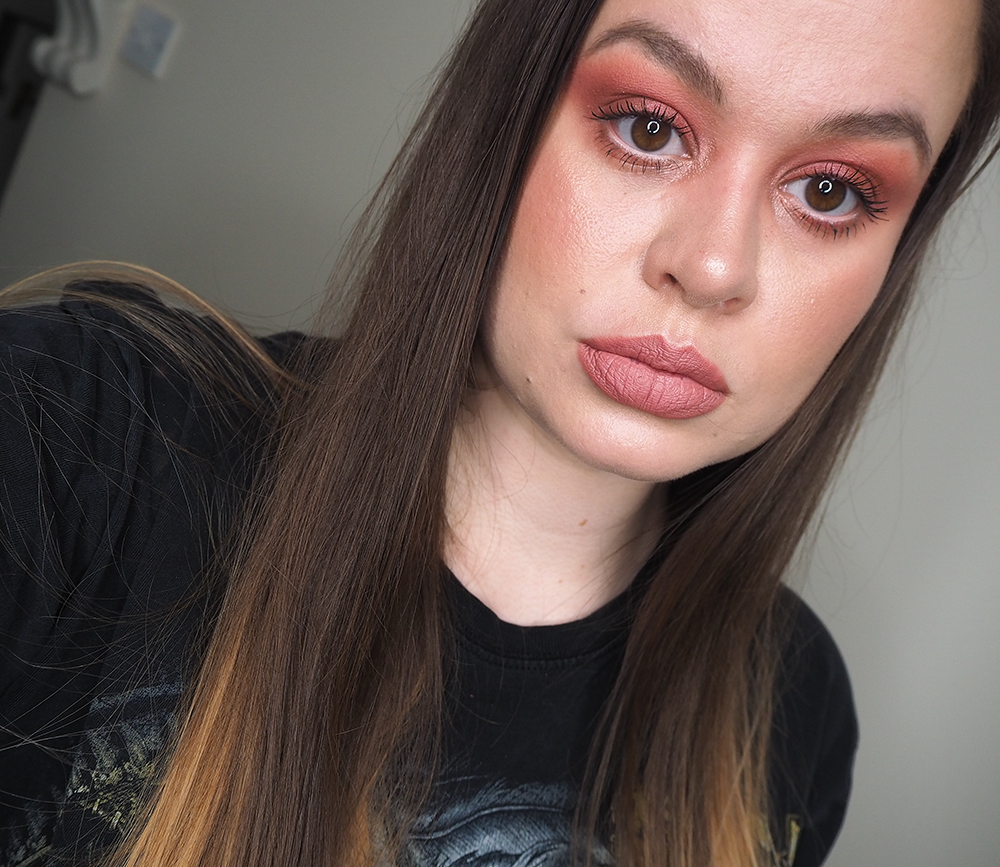 After doing my brows, I moved on to my favourite part of any makeup look – the eyeshadow.
From theHuda Beauty The New Nude Eyeshadow Palette (which is one of my favourite eyeshadow palettes ever), I used the shades Tickle, Spanked and Raw in my crease, outer corners and lower lashline for that smoky romantic look. The matte shades I used are a bit bolder and redder than the ones Jamie used, but I still think the look is pretty similar.
Then for the shimmer shades, I used the shades Royal and Blood Moon from theHuda Beauty Desert Dusk Eyeshadow Palette mixed together on the centre of my lid for a subtle yet deep shimmer. For my inner corners using the same palette, I applied the shade Cashmere to add some dimension to my eyes.
For the lips, I used a light nude lip liner and the Anastasia Beverly Hills Matte Lipstick in Petal for a soft light pink touch to complete the look.
Products used
I've listed all the products I used to recreate Jamie's makeup look below:
Base
Cheeks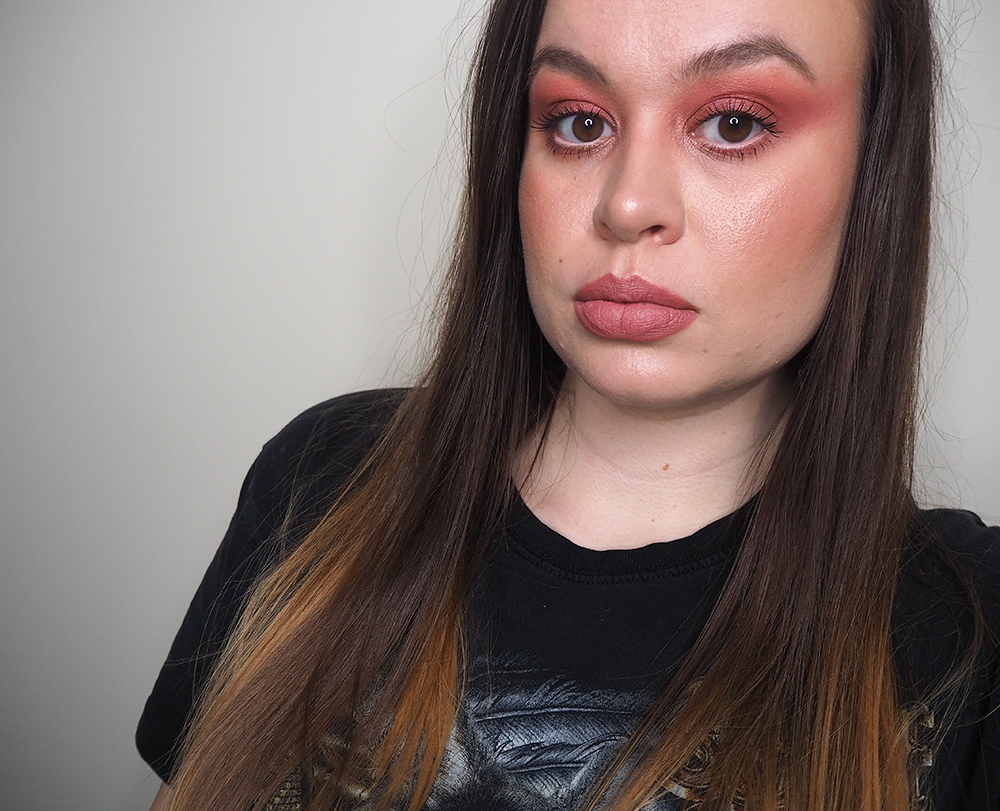 Eyes
Lips
Final thoughts on my Jamie Genevieve romantic makeup look recreation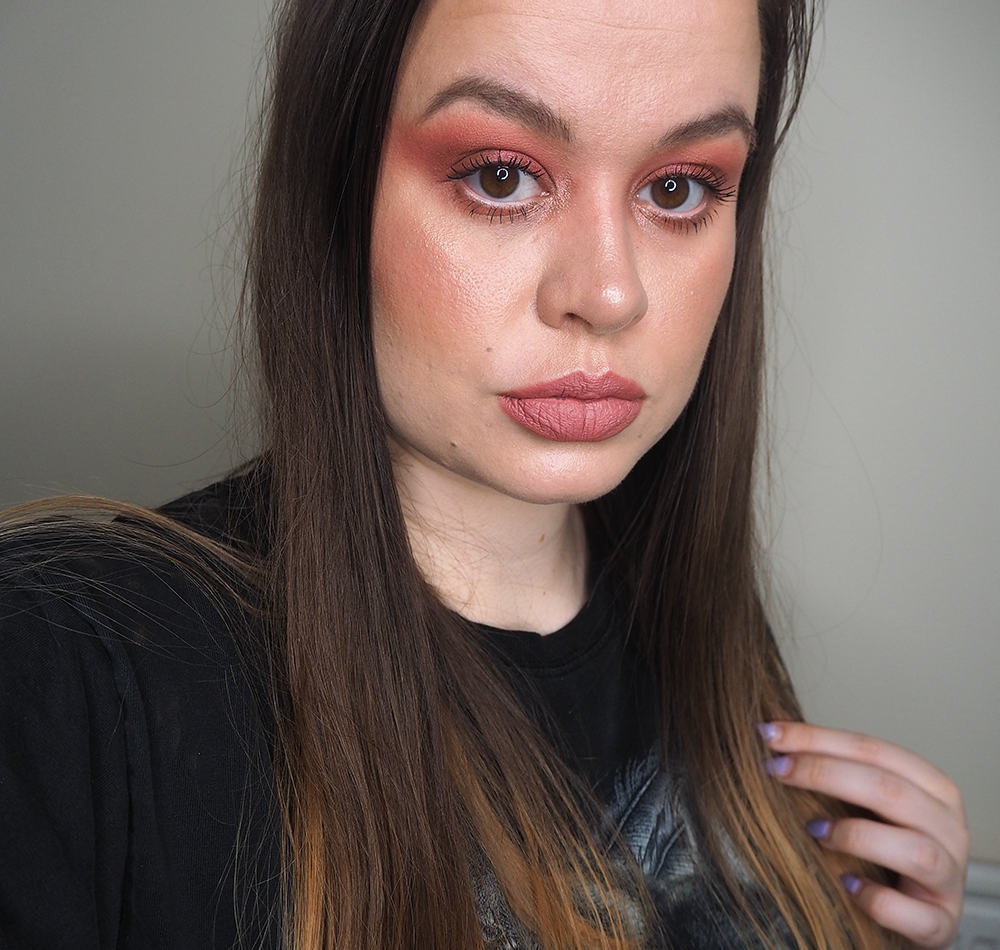 I love how my Jamie Genevieve makeup recreation turned out. It's not as good as Jamie's, but I love the smoky winged out eyeshadow paired with the sculpted cheeks and soft pink lips. Although I rarely do the same makeup look twice because I love experimenting, I will 100% do this look again in the future.
Thanks for the inspiration, Jamie!
---
What do you think about this makeup look? Would you wear this sort of look? I'm keen to hear your thoughts in the comments below