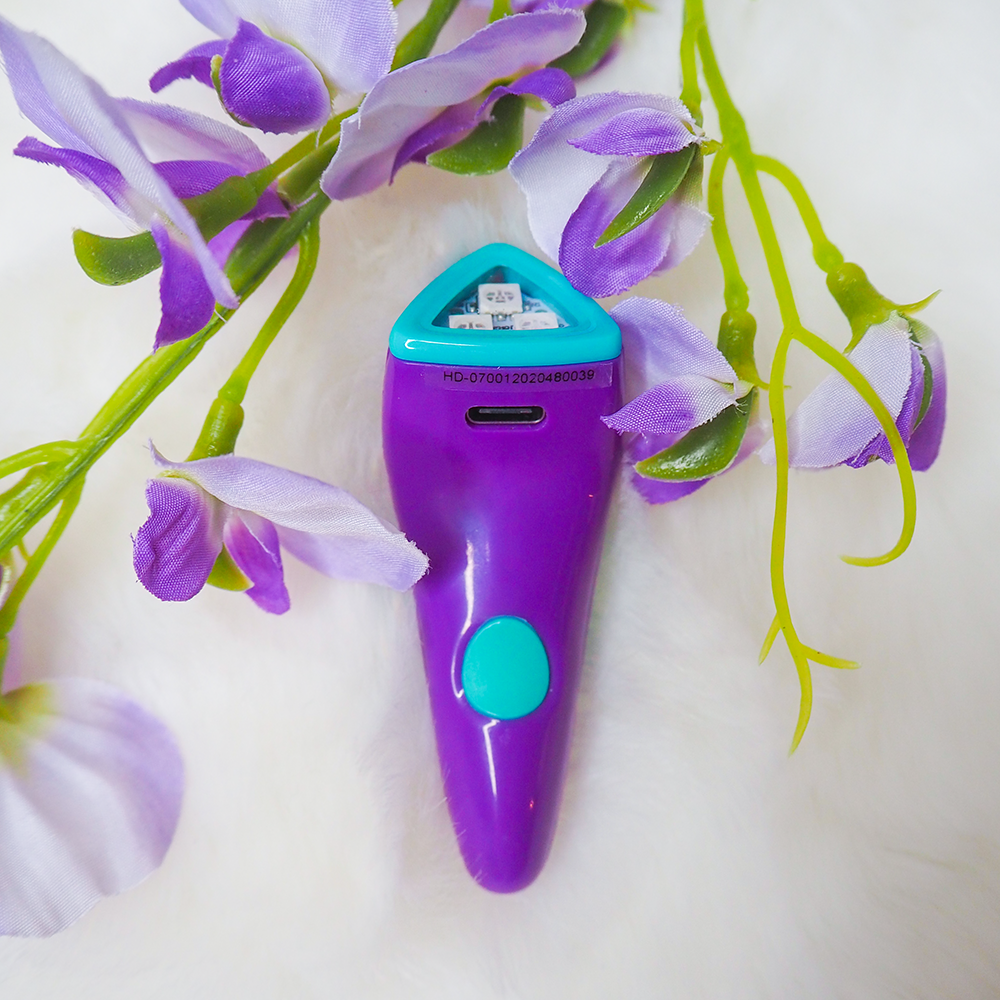 Have you ever wanted to try skin light therapy but found the professional options to be too expensive? Today, I'm reviewing DemarkQ POW, which is an affordable at-home device combining blue and red lights.
LED light therapy is a skincare treatment that uses varying wavelengths of light, including red, yellow and blue, to target different skin concerns. When used consistently, this treatment type can help improve the look and feel of your skin.
It's becoming increasingly popular in the skincare world. Depending on which colour light you use, skin light therapy has been shown to help treat acne, reduce redness and inflammation, and decrease signs of ageing. Getting a professional treatment from an aesthetician can be expensive though, so more people are turning to at-home LED light therapy devices.
Enter DemarkQ POW: a tiny, handheld tool that aims to get rid of spots and help clear acne. But does this inexpensive option work well or does it leave more to be desired? I share my honest thoughts in this review. Plus keep on reading for my exclusive discount code when shopping at DemarkQ.
What is DemarkQ?
DemarkQ is an at-home LED light therapy skincare brand that aims to provide safe and effective solutions for acne, minus the side effects. The brand launched a year ago and has developed 3 devices so far, aimed at Gen Zs.
DemarkQ POW claims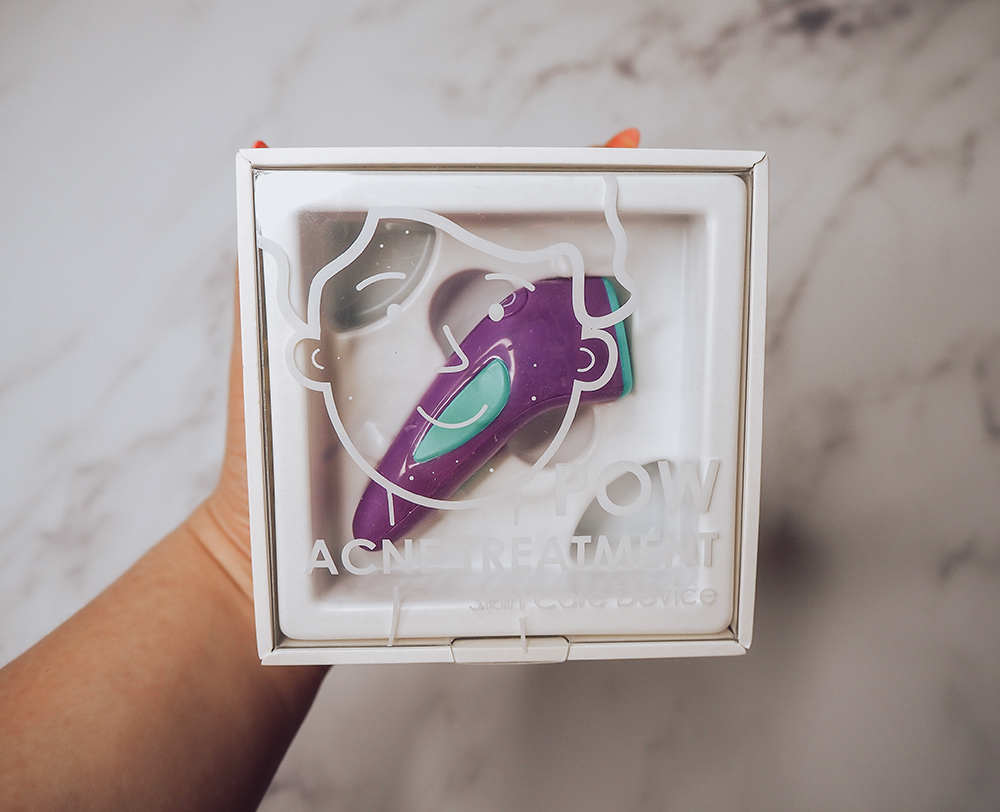 DemarkQ POW is an FDA-approved mini LED light therapy device that promises to dry out your spots and not your skin. It claims to be free from side effects and to quickly get rid of any zits that show up on your skin. It also promises to be great at getting rid of any under-the-surface pimples before they surface.
Clear zits while keeping your skin even, hydrated, and healthy.

DemarkQ
Blue light's (415nm) antibacterial properties will shrink pimples, kill acne-causing bacteria, balance sebum production, calm irritation, and help spots disappear faster, DemarkQ says. Red light (630nm) reduces inflammation – which fast tracks recovery – stimulates collagen production, and calms redness. The treatment promises to be professional-quality.
With inflamed zits, you should notice that the inflammation goes down, and the zit should disappear faster and be less bumpy, the brand says. With underground spots, either they will calm down (be less bumpy) or surface and disappear much faster than normal.
How to use the light therapy device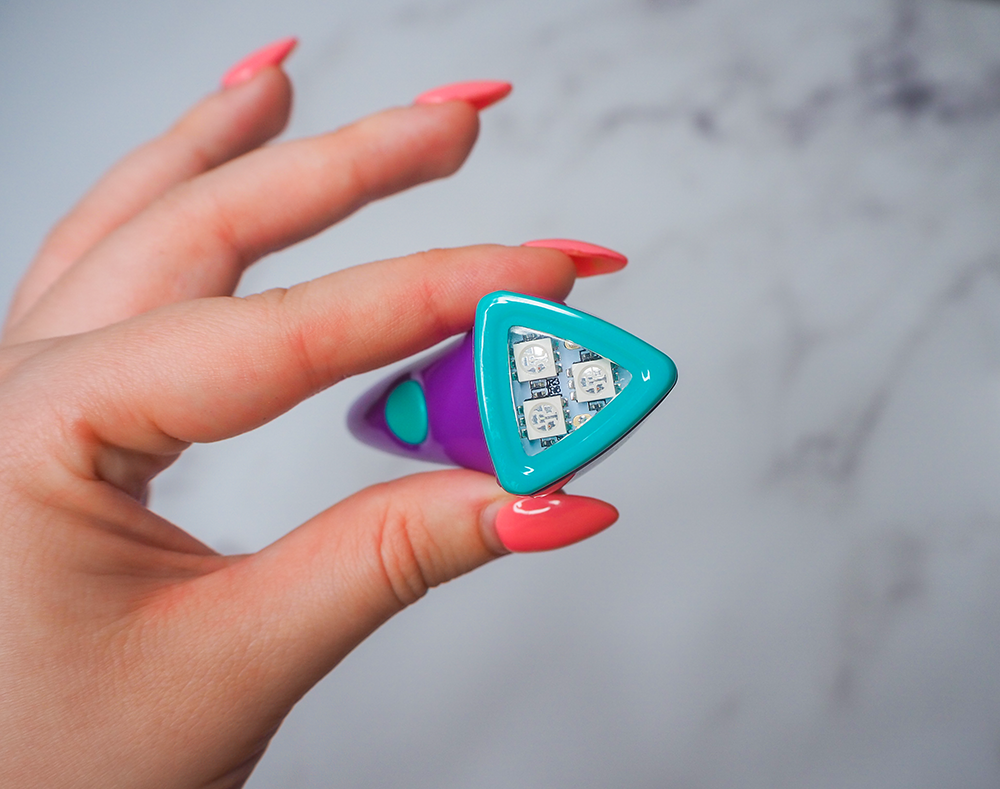 Use DemarkQ POW on clean skin (after cleansing but before serums and creams) and directly press the device against your skin. The less distance light has to travel, the better. You should never shine the light directly in your eyes, so you should always use protective eyewear when using the tiny zit zapper.
The treatment lasts for 3 minutes for the targeted area, and the device will turn off automatically once it's complete. After 3 minutes has passed, you can move onto a different area if necessary and repeat the above steps.
You can use the device several times a day, depending on the severity of the spots. Basically like a spot treatment: use DemarkQ POW on underground or inflamed spots until they disappear. Although many people see results after their first use, DemarkQ says that results will be seen after 4-6 weeks of daily use.
My experience using DemarkQ POW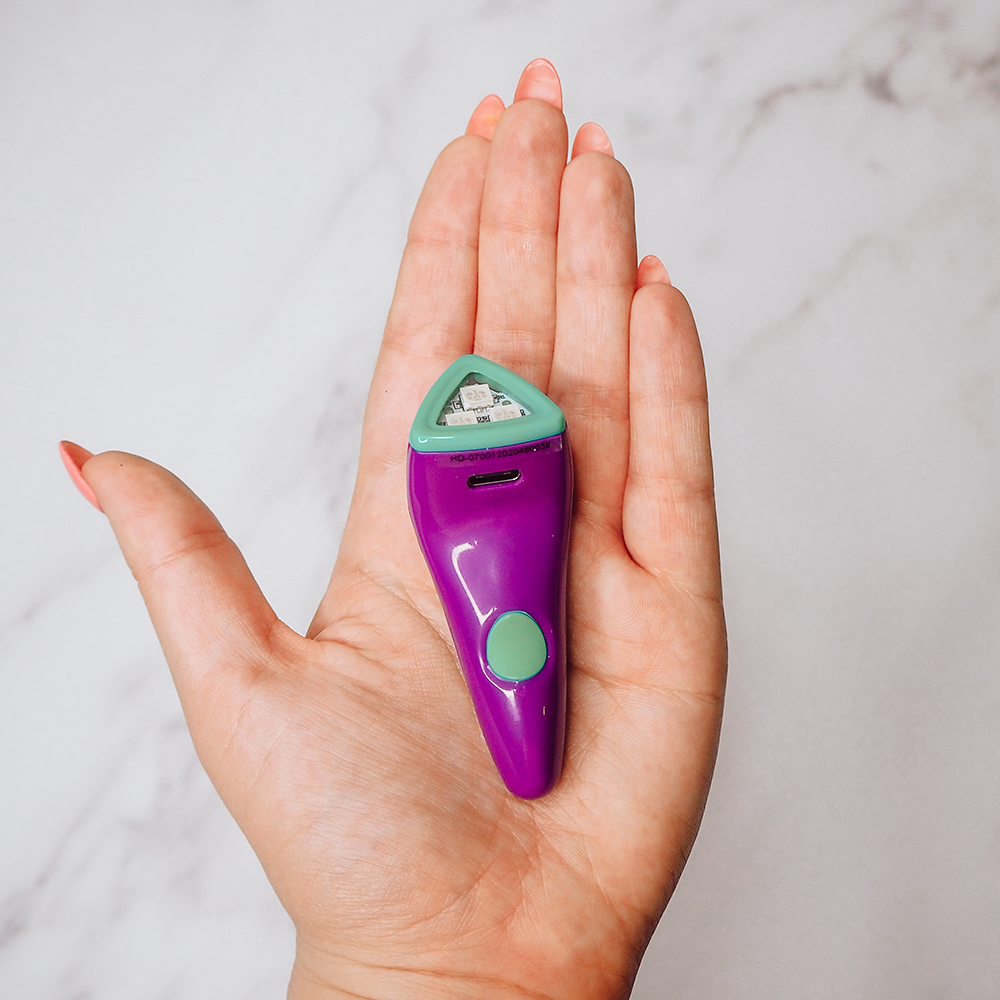 The first thing I noticed about DemarkQ POW is how tiny and lightweight it is. The device weighs next to nothing, which is great news, as it means your arms won't get tired when holding this device on your skin. Due to its light weight and small size, the device is very travel-friendly. It would take up next to no space in your handbag or suitcase. This makes the tool very convenient, and it makes me want to use it more.
For a device this small, the light sure is bright and powerful.
I don't have acne, so my results were never going to be 'transformative'. I do get the odd spot here and there, but I'm not particularly spotty. So I used this LED light therapy device to help get reduce any spots and to prevent any under-the-surface ones from forming.
And I'm thrilled to say it works!
With under-the-skin bumps, I found that DemarkQ POW really sped up the whole process. Spots formed and disappeared much faster than usual, meaning they didn't hang about on my skin for longer than a day. With any spots that had formed, the device helped reduce bumpiness and redness.
Overall, I 100% agree that this device helps get rid of spots, and calm redness and inflammation. I'm pleased with the results. The device is easy to use, and I haven't experienced any side effects. I haven't noticed any difference in my sebum regulation or any anti-ageing effects as of yet. I personally think retinol, chemical exfoliants, and antioxidant serums work better for anti-ageing.
However, if you're somebody who gets clusters of spots, you'd be better off with one of DemarkQ's larger devices – POP or WOW – as these will target much larger surface areas. Otherwise, you'll spend ages using POW over different parts of your face, which isn't time-effective.
Where to buy
Retailing for £43.71/$59, you can purchase DemarkQ POW on the brand's website. Plus my exclusive discount code 'SARAH12' for 12% off ANY DemarkQ purchase! This saves you £5.25/$7.08, bringing the LED light therapy device down to £38.46/$51.92. This is a fantastic price for such an effective at-home treatment.
Depending on where you go, you could end up paying more than this for just one session with an aesthetician. Don't get me wrong though, professional treatments are amazing, and aestheticians will know exactly what's best for your skin, something an at-home device can't share with you, but salon treatments aren't always accessible for people.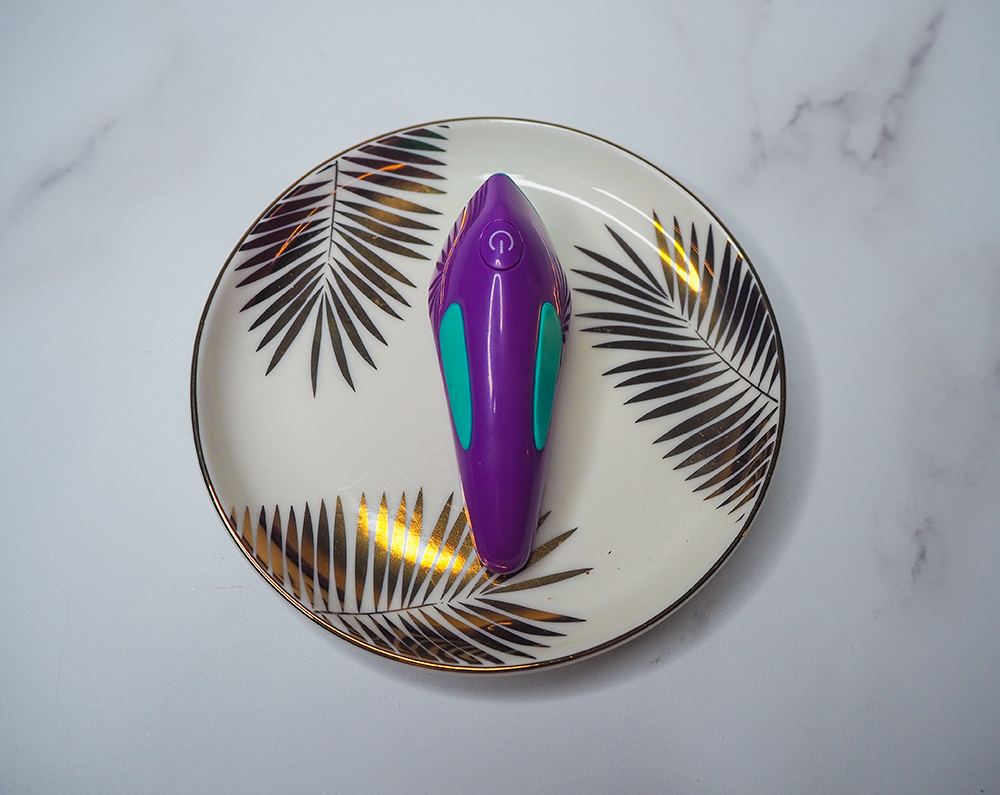 Pros
Tiny and lightweight
Travel-friendly and convenient
Helps reduce redness and inflammation
Easy to use
Gets rid of underground and fully formed spots
No side effects
Affordable
Cons
Targets a small area of your face
Not the best for anti-ageing
Better products out there for sebum regulation
Do I recommend this tiny zit zapper?
Yes! People who get the occasional spot will loveDemarkQ POW.
Rating: 4 stars
I'm pleased with the results of using this skin light therapy device. I'll continue to use it going forwards too.
---
Interested in reading more skincare device reviews? Check out my blog posts on PMD Beauty Personal Microderm Elite Pro, Dermaflash Mini and TOUCHBeauty 3-in-1 Beauty Device.