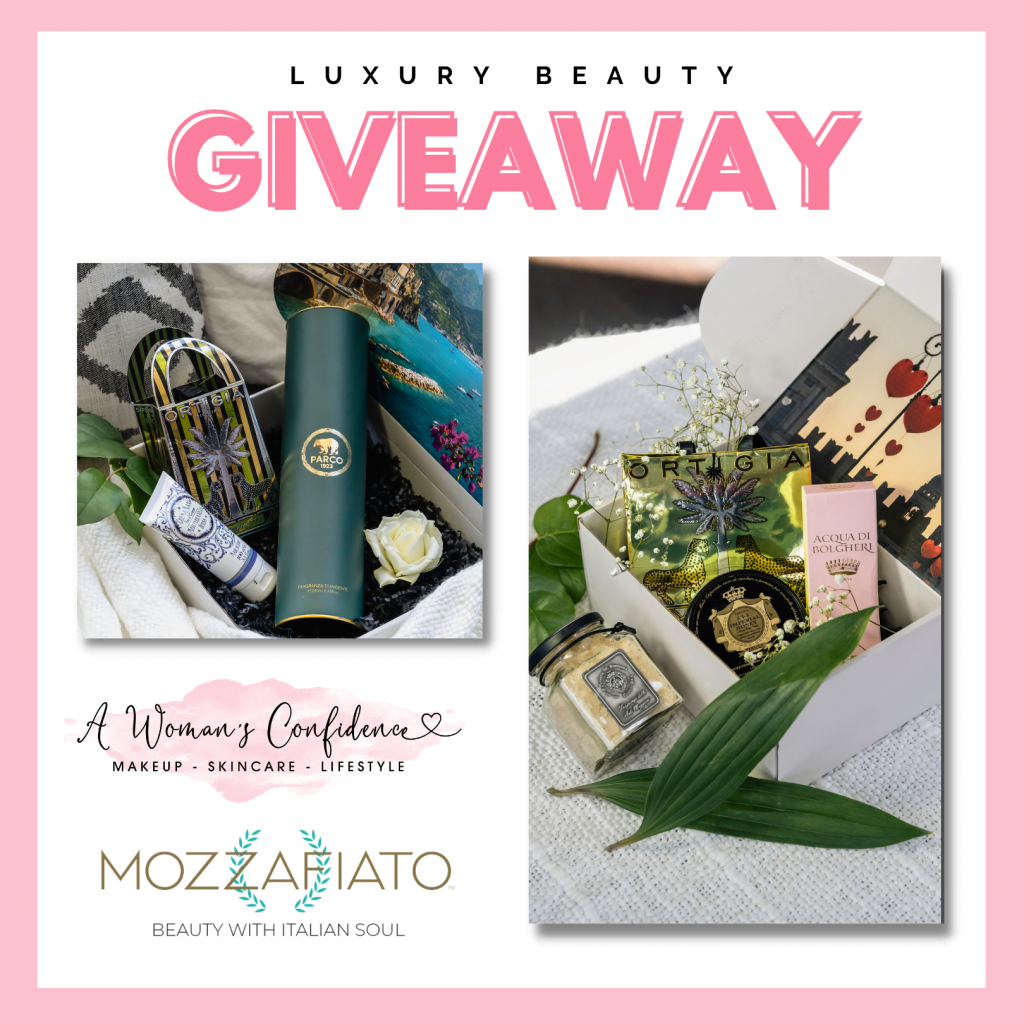 THIS GIVEAWAY IS NOW CLOSED
I've teamed up with US-based Mozzafiato.com (like Sephora, but carrying exclusively, high-quality Italian brands for men and women) to give one lucky person a chance to win a 1-year, quarterly beauty box subscription worth $197.
Giving you the opportunity to discover 17 affordable luxury brands curated especially for Mozzafiato customers and find your new favourite products and scents, this is the ultimate prize for any beauty & fragrance junkie, lovers of Italy and for all who appreciate the quality and design of high-end Italian products for bath, body and home.
Enter below for your chance to win this incredible giveaway!
About Mozzafiato
Mozzafiato is an online U.S. retailer that sells a large range of luxurious, yet affordable imported Italian beauty, grooming, home and fragrance brands for men and women. The high-quality and unique collection contains stunning yet practical products for all budgets.
You can see some of the lush beauty products that I'd love to try from Mozzafiato and get some gift inspiration ahead of Christmas in my recent blog post.
The prize
A free subscription to Mozzafiato's brand-new box, which offers 4 boxes throughout the year with seasonal discovery.
Like an upscale Italian version of "Fab Fit Fun" subscription boxes, The Mozzafiato "Discovery Year" subscription offers four seasonal boxes of fragrant, Italian products, delivered every three months for an entire year.
The Discovery Year subscription box is designed to allow the recipient to experience a variety of new brands seasonally and to discover new favourite products and scents, with each box delivered.
With a retail value of $197 (USD), this is just one of four subscription boxes available at Mozzafiato.com.
Mozzafiato's family of curated brands include popular favorites like Ortigia Sicilia, Rudy Profumi, Marvis, Saponificio Varesino 1945, Acca Kappa and Skin & Co, to name just a few.
Each box contains at least two full-size products such as hand creams and soaps, plus at least three sample sizes of other products. They also contain unique postcards from Italy, telling the story of each brand contained in the box. What's more, each box contains an additional surprise item from Italy.
Boxes are delivered in October, January, April, and July.
One lucky winner will enjoy the indulgent Italian pampering for themselves, or to share with a friend or loved one. The holidays are coming!
What better way to say "I care" than with a gorgeous, subscription box from Mozzafiato.com? With a completely new box of luxurious, fragrant, seasonal products delivered every 3 months, it's the gift that keeps on giving.
Discover the full range of brand-new luxurious Mozzafiato subscription boxes here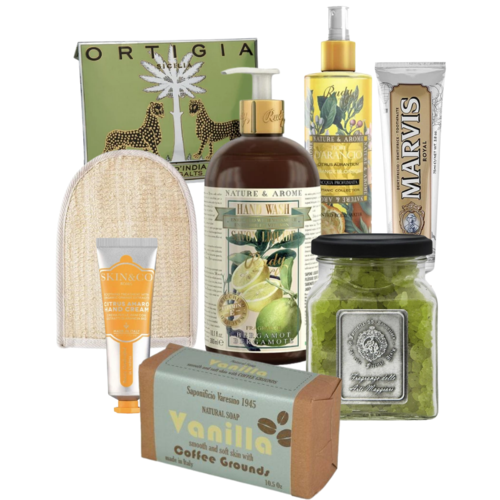 How to enter
Enter to WIN your very own Mozzafiato Discovery Year Subscription Box:
1. Visit Mozzafiato through this link, then tell us in the comments below on this blog post which luxury product you'd love to try
2. Enter the giveaway via this form
For up to 5 extra entries, follow @awcblogsarah and @iammozzafiato on Instagram! Must follow both accounts to earn your 5 extra entries.
Terms & Conditions of Sweepstakes
This contest is open to US residents only. All entrants must be 18 or over.
By entering this giveaway, you consent to receiving emails from awomansconfidence.com and mozzafiato.com.
This contest will close on November 7 at 1pm PST. One lucky winner will be picked at random and will be announced on November 8 at 1pm PST. The lucky winner will receive their first box in January 2022.
The winner will be contacted via email from Mozzafiato and will have 48 hours to respond. If there is no response, another winner will be selected.
Good luck everyone!