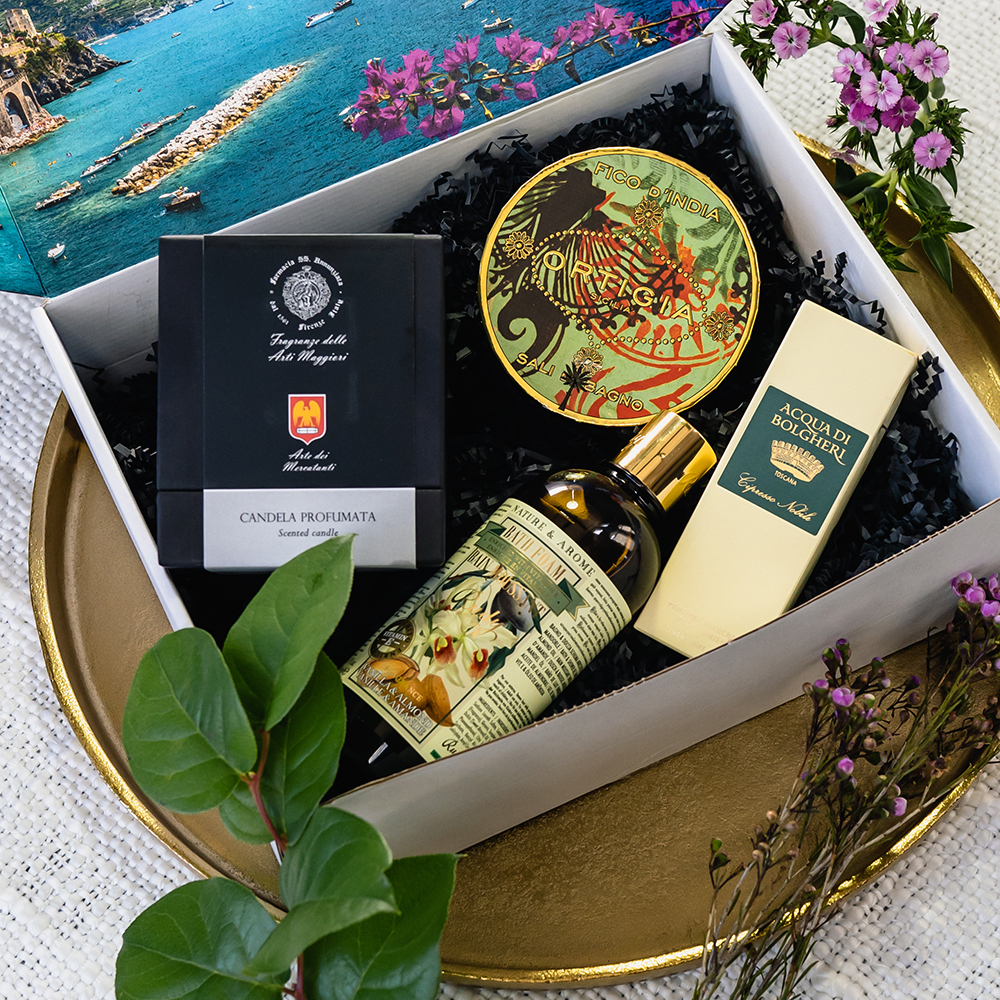 If you like lavish, high-quality and unique beauty products, then you need to check out U.S. online retailer Mozzafiato.
Meaning "breathtaking" in Italian, Mozzafiato features a large collection of imported Italian beauty, grooming and skincare brands for men and women as well as gifts and practical yet beautiful home décor pieces like candles, aromatherapy fragrance diffusers, and more. They also carry luxurious hand soaps or rich and decadent hand creams in gorgeous, quintessentially Italian, artisanal style bottles that double as accent décor, perfect for gift giving or looking fantastic on the countertop. The product assortment has been curated for U.S. shoppers who appreciate the quality and long-standing excellence behind Italian beauty brands.
As more than 60% of the world's cosmetics are produced in Italy, it's easy to see why people fall in love with the country's sophisticated beauty products. And now, U.S. shoppers can access these high-end European products from the comfort of their own homes.
In this blog post, I'm sharing 4 reasons why you should shop at Mozzafiato.
1. High-end, unique and quality products
Whether you are looking for sumptuous bath oils, high-end men's grooming products, effective skin serums, or a new signature fragrance, Mozzafiato has a broad range of items to choose from. Each product is unique and beautiful.
"Every product in the Mozzafiato collection meets our highest expectations of quality, authenticity and performance."

Mozzafiato
Here are just a handful of products I'd love to try from this Denver-based Italian beauty retailer:
Borghese ENERGIA Retinol Renewal Night Oil – an effective overnight facial oil that helps improve skin texture and address multiple signs of premature ageing
Rudy Profumi Vanilla & Almond Oil Hand Cream w/ Vitamin E – a sumptuous hand cream enriched with precious oils and vitamin E
Mozzafiato Italian Fragrance Discovery Kit – a trio of unique fragrances. Think scent profiles including lemon, lavender, white musk, cedar wood, bergamont and much more
Perlier Royal Elixir Cleansing Cream for Face – a velvety, delicate cleanser containing honey, royal jelly, beeswax and other ingredients
The selection of products is fantastic and there is a range of price points to suit all budgets.
2. Ideal luxurious gifts for many occasions
Mozzafiato is not just the ideal destination to shop for yourself, it's also the perfect place to purchase high-end gifts for special people in your life for many different occasions.
If you need to get some housewarming gifts, you could pick up some fancy soaps or lotions for something a bit different.
Wanting to get your Christmas shopping done early this year? You could pick up some exclusive bundles for a selection of sumptuous items, like the Italian Beauty Treasures bundle, which contains a purifying mud mask, protective honey hand cream, exfoliating hand wash, a flowery and sensual perfume, and a fresh home diffuser.
There's also a wonderful selection of bridal party gifts, whether it's for the bridesmaids, maid of honour, mother of the bride/groom, or the bride herself! I'd love to receive the Bride to be Bundle, which comes in a beautifully packaged gift box and features refreshing drawer sachets, relaxing bath salts, a rich honey and camellia body butter, and a delicate rose petal perfume.
Need a gift for the bride and groom? The Newlywed Bundle will take away the stress of gift shopping on their very special day.
I love that Mozzafiato caters to many different occasions. From new mums, your best friend's birthday, Valentine's Day or congratulations presents, you'll be sure to find something suitable online.
3. The world's best heritage Italian brands all housed under one roof (your favorite hard-to-find Italian brands now easily accessible at Mozzafiato.com)!
One of the best things about Mozzafiato is the exclusivity and convenience of shopping 17 carefully selected, authentic Italian brands all from one convenient location. Otherwise, these brands can be hard to find in the United States, as lovers of Italian products, may lament.
"Brands selected to be part of Mozzafiato represent the best of Italy's incomparable beauty culture. Their deep Italian heritage, stories, and quality offer everyone an opportunity to discover the generational knowledge, insights, and craftsmanship that only Italy can deliver."

Mozzafiato
Choose from popular brands like Borghese, Carthusia, Ortigia Sicilia, Perlier, Skin & Co Roma and many more. Their products are just as fancy as they look and are deeply rooted in Italy's rich history. Surprisingly, they don't break the bank with the most affordable products priced in and around the $15-20 mark (think body sprays, hand creams and more). There's truly something for every budget.
4. Great customer service
And if the above points haven't quite persuaded you yet, it's important to mention Mozzafiato's commitment to excellent customer service. The retailer offers free US shipping on all orders over $75. For added peace of mind, if you aren't happy with your purchase, Mozzafiato accepts returns within 30 days of purchase and pays the return shipping so you don't have to.
Last but not least, Mozzafiato promises complete supply chain transparency to ensure partners are held to ethical, legal and socially responsible standards. You can read more about this here.
---
Are you going to be picking up any products from Mozzafiato this weekend? Have you bought from Mozzafiato in the past and/or are you familiar with their brands? What's your experience been like? I'd love to hear from you!