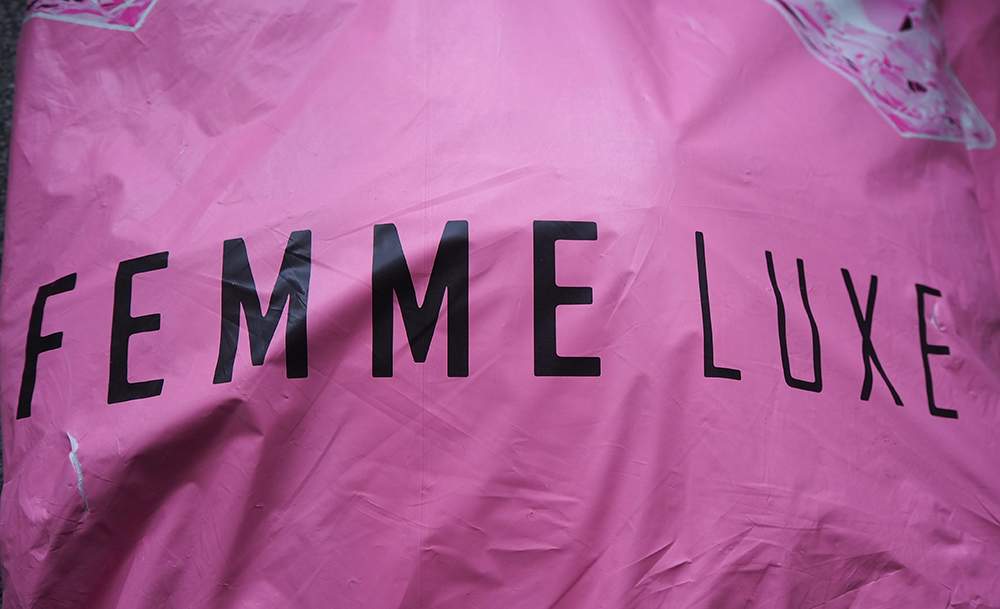 I don't know about you but during lockdown, all I've worn is loungewear because I'm indoors most of the time, hardly see anyone and want to be comfy. It's made me realise that I love feeling cosy and stretchy clothes. It's also made me realise that my wardrobe could do with an update.
In my previous Femme Luxe haul, I picked 4 cute pieces of clothing and was overall impressed by the quality and feel of them. For this lockdown haul, I selected 4 more outfits for free from Femme Luxe and opted for 3 cosy loungewear pieces with 1 gorgeous midi dress for when going out for cocktails is allowed and safe again.
If you're interested in seeing what items I picked for my Femme Luxe lockdown haul, how they fit and whether I recommend shopping there, then please keep on reading.
I've included all of the standard retail prices for the pieces in this blog post for reference. At the time of writing this post, though, everything is on sale. If you're wanting to do a Femme Luxe haul, now is the time!
Outfit 1: Chocolate Cuffed Joggers – Lizzie
£19.99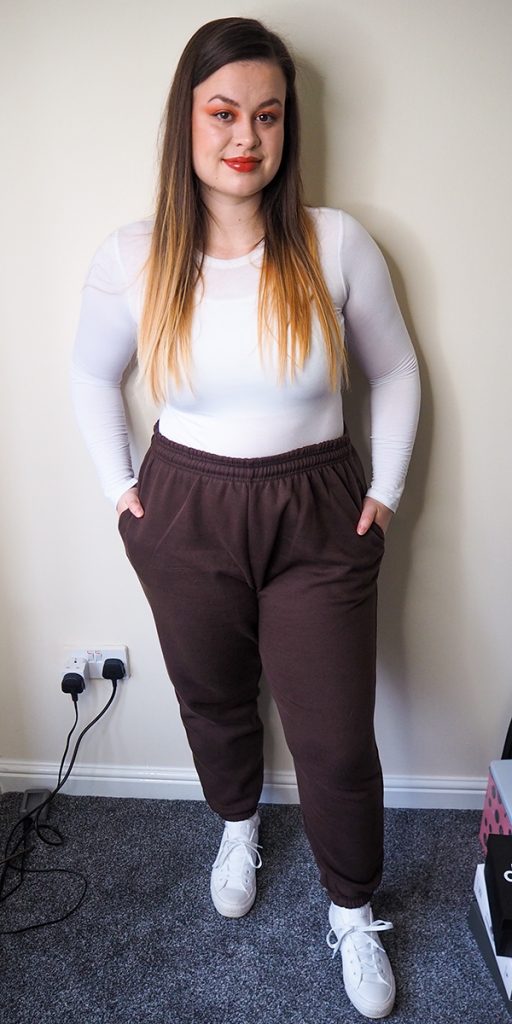 The Femme Luxe Chocolate Cuffed Joggers are super comfy. I was a bit hesitant about choosing loungewear initially as the previous set I received was a bit too small. With this in mind, I sized up with all of the loungewear pieces in this haul and that worked a treat. If you're torn between 2 sizes, I'd recommend sizing up as some of Femme Luxe's clothing comes up a bit small.
These cuffed joggers are super comfortable and have a fleece-y inner lining, so you feel warm and snug. I also love the deep chocolate colour. It's something a bit different and the shade pairs perfectly with white.
Although Femme Luxe is very affordable and therefore not everything is high-quality (i.e., you get what you pay for), these joggers don't feel scratchy or tight and I think the overall fit is great. They're definitely comparable with more expensive joggers I've purchased in the past.
Outfit 2: Black One Shoulder Ruched Slinky Midi Dress – Savannah
£39.98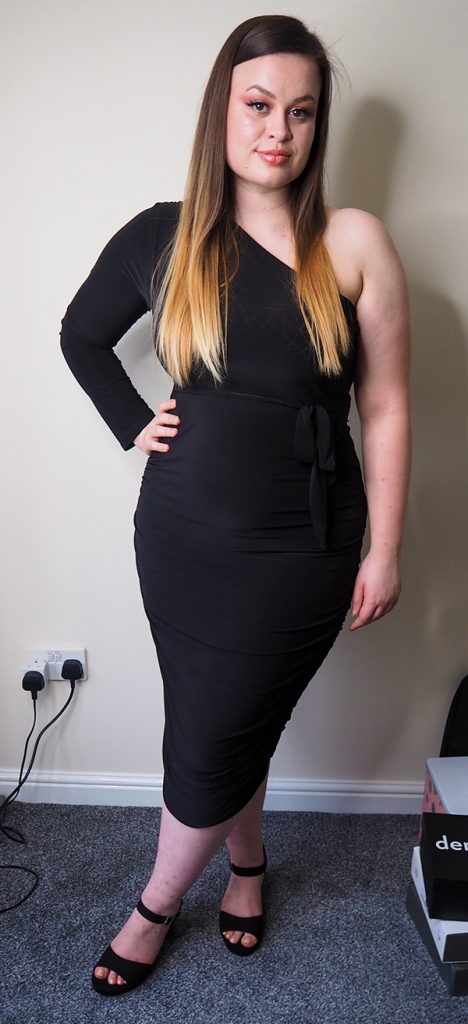 Although I won't be wearing this One Shoulder Ruched Slinky Midi Dress any time soon, I couldn't resist getting a fancier dress for when things start to feel a bit more normal. It's sophisticated and understated, which makes it great for plenty of occasions. You could wear it for nights out, fancy meals or weddings (if you got a different colour).
I got this dress in red in my previous Femme Luxe order and loved it, so I got it in black too.
It's flattering and fits very well. From the sleek one-shoulder look through to the silky smooth feel on the skin, I'm totally in love with this midi dress. I didn't size up and it fits perfectly, so you should get your normal clothing size with this dress.
There are loads of gorgeous midi dresses to check out on Femme Luxe and it was hard to know which one to get.
Outfit 3: Grey Marl Oversized Front Pocket Pullover Hoodie Cuffed Joggers Loungewear Set – Alexia
£34.99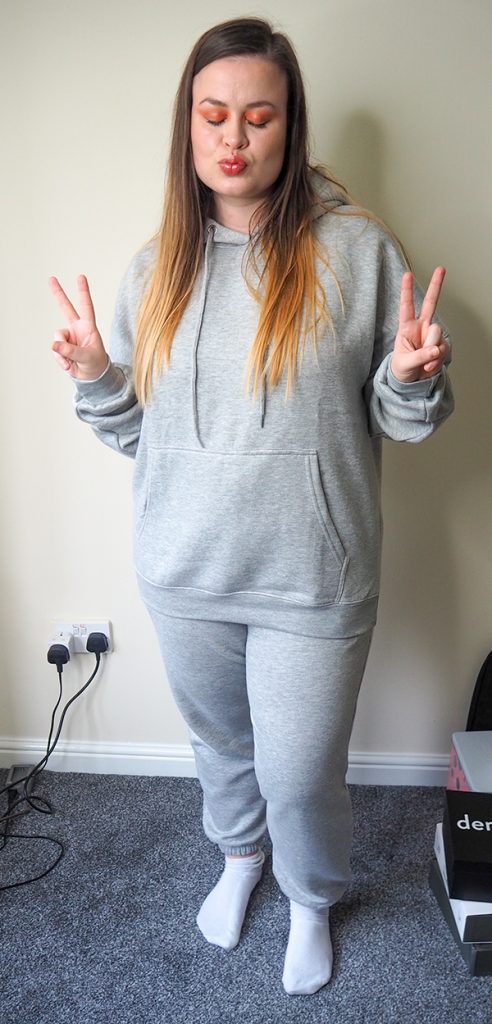 Now time for a classic grey loungewear set – the Grey Marl Oversized Front Pocket Pullover Hoodie Cuffed Joggers Loungewear Set. This grey hoodie and joggers combo is a total vibe. It's super comfy, particularly the oversized hoodie, which makes me want to drink pretty coffee just for the aesthetic lol.
I love that the joggers are cuffed because then they fit your legs better. It also means you can roll them up for some versatility. Who said that lounging around at home didn't have to look super cute too?
Outfit 4: Blue Off The Shoulder Knitted Loungewear Set – Alisa
£36.99

The final item I got from Femme Luxe is the Blue Off The Shoulder Knitted Loungewear Set, which is potentially my favourite loungewear piece.
I sized up for this knitted loungewear piece because I was worried that the material wouldn't have any stretch or would be scratchy. Even though it's turned out to be too big for me, it's so comfy and the knitted joggers have a drawstring waist, so they don't fall down. I actually love the baggy feel with all of the extra material and the baby blue is simply adorable.
It's also not see-through or 'holey' and I thought it would be, so that was a pleasant surprise. This means you could wear this knitted set out if you wanted to.
The set is something a bit different and absolutely ideal for lockdown. I've shared pictures with my sister and best friend and this is their favourite loungewear piece from this haul as well.
Final thoughts on my Femme Luxe lockdown haul
I'm really happy with my Femme Luxe lockdown haul. All of the items fit well, are very comfortable and look great on. Although I didn't pay anything for these clothes, the prices are all fantastic too. Femme Luxe frequently holds sales, so you can pick up a pair of joggers for about £12 a lot of the time – what a bargain!
Just remember to size up when in doubt.
---
What's your favourite outfit from my Femme Luxe lockdown haul? Have you ever picked anything up from Femme Luxe?