October is finally here. 2020 has been dragging and it's a miracle that we've managed to get through this much of this disastrous year.
However, I'm really happy that we're in October as this month marks the start of autumn. I love autumn: hot chocolates, warm baths, pretty warm-toned trees and leaves, autumn fashion and dressing up for Halloween.
Autumn is my favourite season, so I'm feeling good about setting myself some new personal and blogging goals for October. After completing my blogging e-course last month, this month, my main blog focus is going to be to update old posts.
Setting yourself manageable goals is a great way of staying focused, while providing you with a sense of accomplishment once you've smashed them. If you're feeling a bit uninspired or demotivated at the moment, I hope this blog post gives you some new motivation and goals to achieve.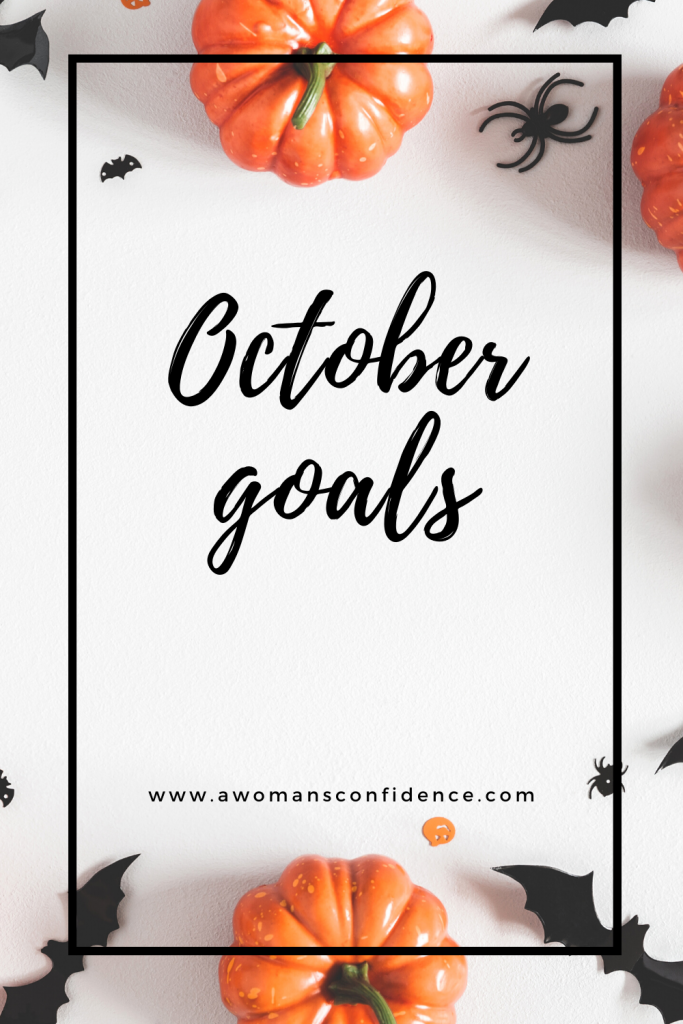 Personal goals
1. Continue with Chloe Ting workouts
I've been doing a lot of Chloe Ting HIIT workouts on youTube recently. My upper body strength has improved a lot since doing these workouts, which I'm so happy about. Now I just need to sort my eating out lol…
2. Save as much money as I can
Me and my boyfriend are saving up to move out. Although I put quite a lot of my income away every month, for this month in particular, I really want to put away as much as I can.
With Christmas around the corner, I know I'll be spending a fair bit on presents, so I'd like to tuck away as much as I can before that!
3. Make more progress on my project pan 2020
I feel I've been doing pretty well with my project pan 2020. Since my last progress report, I've managed to use up another 3 beauty products. I'm going to be sharing a new progress report on the blog very soon, so stay tuned!
4. Declutter my shoe collection
Although my shoe collection isn't particularly big, I have quite a few pairs of heels that I wore for nights out when I was younger. I certainly opt for more sensible heels now and will continue to when I start going back out for cocktails with the girls, so it would be a good idea to get rid of some of my high heels. My poor feet can't take the pain anymore lol.
Blogging goals
1. Focus on updating old blog posts
Although I've been steadily updating some of my older blog content, this month, I want it to be my main focus. I find setting myself one main goal each month and then smaller goals to accompany it works really well for me.
2. Update old blog post imagery
For my October goals, I also want to update some of my old blog post imagery. I got a mirrorless camera towards the end of 2019, so some of my old blog posts feature pictures I took on my iPhone. Whilst they're decent, my Olympus camera takes way better shots, so I'm aiming to update some of my old imagery as well as the content.
3. Write guest post
I've not written a guest post for a long time, so I'd love to write one again. Guest posts are a great way to tap into somebody else's audience, get your blog out there and showcase your awesome work.
---
What goals are you setting yourself in October? I'd love to hear all about them in the comments below