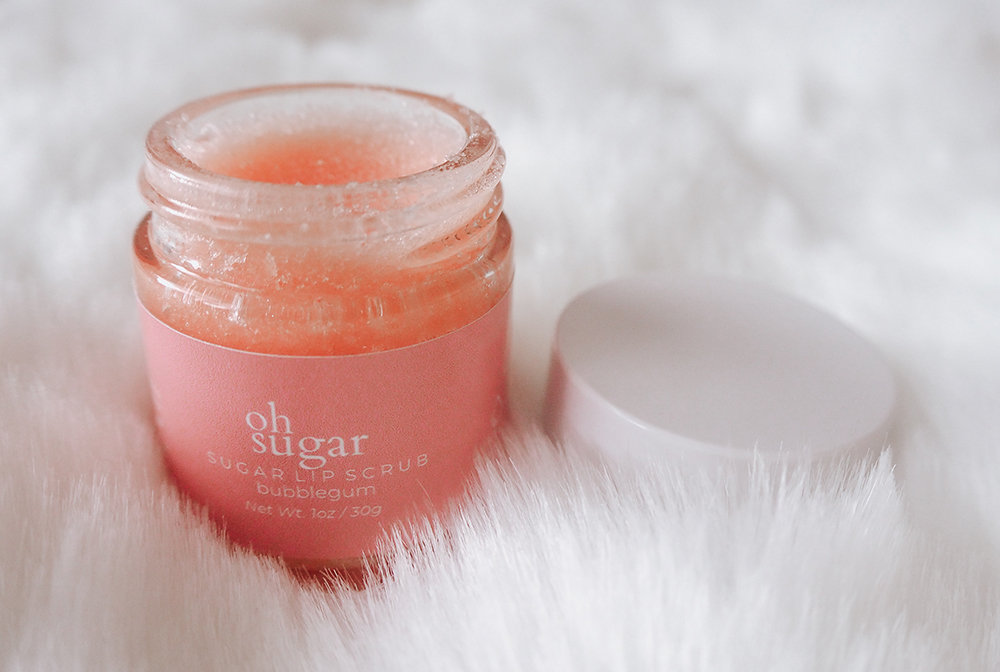 In this blog post, I'm going to be reviewing the Oh Sugar Bubblegum Lip Scrub, which the company kindly gifted to me.
I haven't reviewed a lip scrub on A Woman's Confidence before, but I use them a lot. My lips often get quite dry and chapped, so I find I need to use lip scrubs around 3 times a week. This means I've managed to try quite a few lip scrubs in my time.
Is the Oh Sugar Bubblegum Lip Scrub a keeper? Or are there better lip scrubs on the market? Keep on reading for my honest review.
What is Oh Sugar?
Founded in 2020 by a young female entrepreneur who has an obsession with everything to do with beautiful lips, Oh Sugar is a UK-based vegan and cruelty-free lip care company. Its products aim to soften, plump and smooth the lips.
Oh Sugar also places a strong emphasis on sustainability. Each lip scrub comes in a glass jar, which can be reused many times and can be recycled easily. All shipping boxes can be easily recycled and the inside packaging is made from biodegradable foam.
However, the lids of the glass jars cannot be recycled.
Bubblegum Lip Scrub ingredients and claims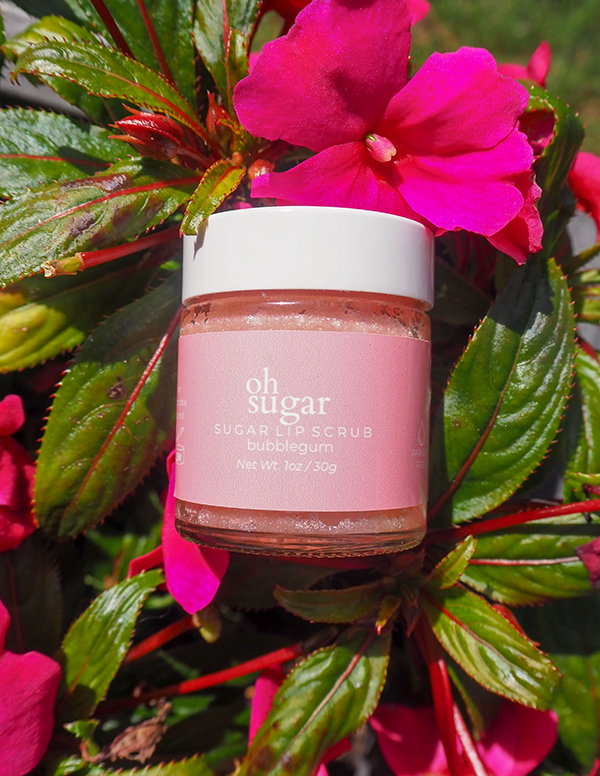 Our Bubblegum lip scrub creates a natural barrier on your lips against pollution and dry weather conditions!

Oh Sugar
The lip scrub also claims to prevent your lips from becoming dry, while providing deep exfoliation to get rid of any dead skin on the lips.
Ingredients list
Sucrose, Caprylic/Capric Triglyceride (Coconut Oil Fractionated), Simmondsia Chinensis (Jojoba) Seed Oil, Tocopherol (Vitamin E), Aroma, Mica (CI77019), (CI77891), (CO77491), (CI77861).
Important: Oh Sugar uses bone char free sugar, which means the sugar does not contain any animal bones in the process of refining, making it vegan.
How to use
To use the lip scrub, apply a pea-sized amount directly onto your lips. Gently scrub onto both lips and leave for about 30 seconds for some added hydration. Remove the lip scrub by gently dampening a reusable cotton pad and wiping it across your lips to remove the product.
Packaging, sustainability and lip scrub size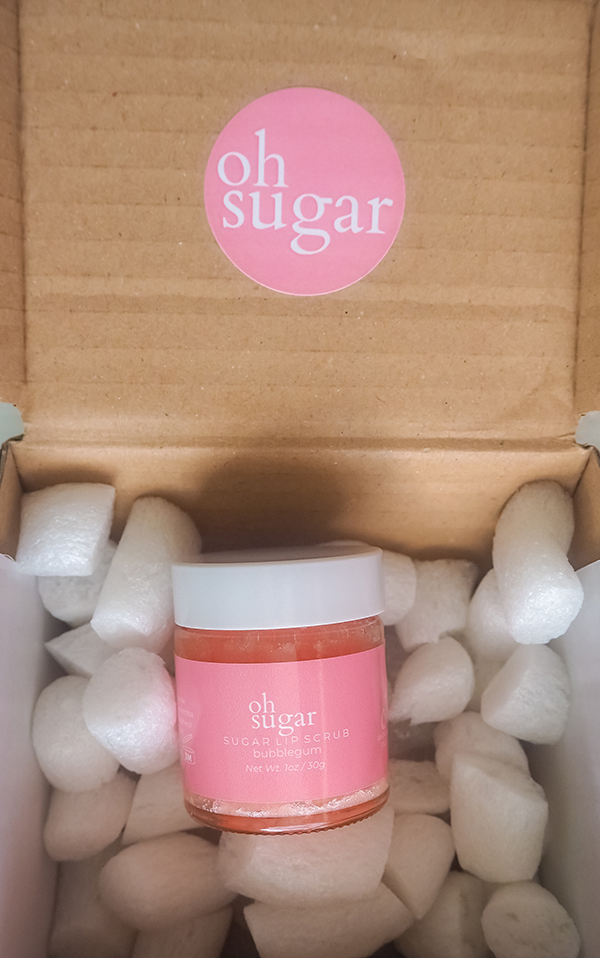 There are 3 Oh Sugar lip scrub flavours to choose from: cherry, vanilla and bubblegum. I opted for bubblegum because it sounded amazing and I loved the pink packaging.
Although the packaging is nothing incredible, I love that it's all pink. Pink is so pretty and it's one of my favourite colours, so this is very me.
Also, the jar is big. It's bigger than any other lip scrub I've used in the past. For comparison: the Oh Sugar scrub costs £14 for 30ml, whereas the MAC Cosmetics lip scrub costs £16 for 14ml.
I love that Oh Sugar is a sustainable beauty brand. The packaging is all recyclable or biodegradable. Plus, each lip scrub comes with instructions and a heart-shaped seed paper, which you can plant into your glass jar and watch it grow. This is such a cute idea and I love the eco-conscious approach.
My experience with the lip scrub
The Oh Sugar Bubblegum Lip Scrub smells absolutely divine. It definitely smells like sweet bubblegum. Delicious.
The sugar particles are very small in comparison to other lip scrubs I've used in the past. I found this much gentler on my lips and it didn't feel abrasive.
After following the instructions on how to use the lip scrub, my lips felt lusciously soft and smooth. The scrub added some hydration to my lips too, which was an added bonus.
This is undoubtedly the best lip scrub I've used. It's gentle but still manages to get rid of any dryness on my lips effectively. Since using the Oh Sugar Bubblegum Lip Scrub, my lips don't get as dry or chapped anymore either. However, for those times where they do get a bit dry, this lip scrub quickly eliminates the issue.
I've been very impressed with this vegan lip scrub and would love to try the other 2 flavours!
Where to buy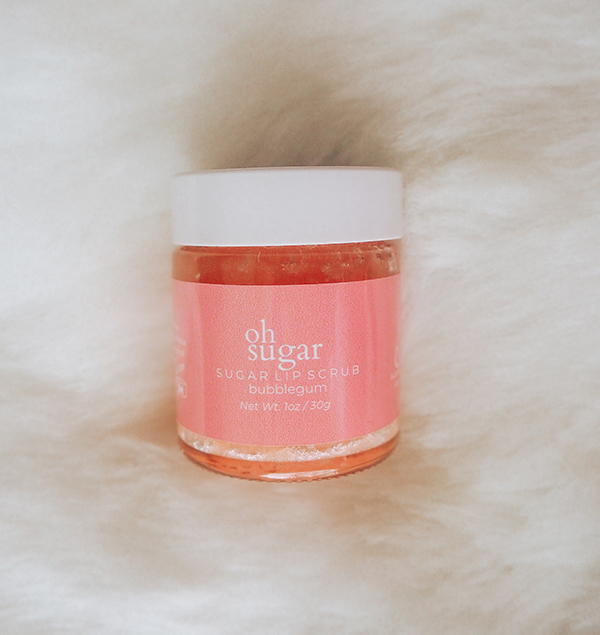 All of the Oh Sugar lip scrubs retail for £14 and can be purchased from the Oh Sugar website. The company also sells some mini metal applicators and reusable bamboo cotton pads.
For the size of the jar (30ml), I think £14 is a good price. It'll take you a while to get through the lip scrub and it's really good. These scrubs would make great Christmas or birthday presents too!
Final thoughts on the Oh Sugar Bubblegum Lip Scrub
I'm really impressed with the vegan Oh Sugar Bubblegum Lip Scrub. Great scent, great results and great price. What more could you want? Plus, it's great to support smaller businesses, particularly those that take an eco-friendly approach like Oh Sugar.