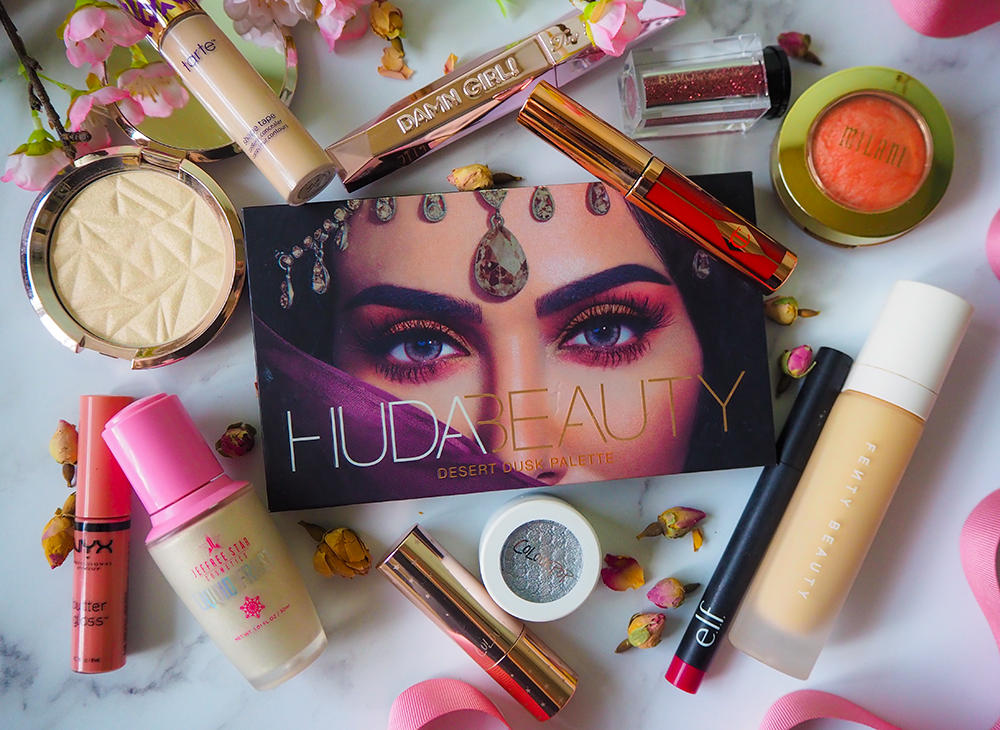 I'm back with another beauty blogger tag and, this time, I'm sharing my answers to the Boujee Beauty Guru Tag.
I first saw this beauty blogger tag on The Newbury Girl, who is one of my favourite bloggers. It's a fun tag which gives you insight into your own makeup purchasing habits and whether you prefer luxury beauty products over drugstore products.
Boujee is hip-hop slang for something "luxurious in lifestyle yet humble in character"

Dictionary.com
After having so much fun participating in The Beauty Blogger Tag and The Bad & The Boring Beauty Tag, I wanted to participate in the Boujee Beauty Guru Tag. Here are my answers to this tag, which reveals whether or not I am a boujee beauty blogger.
1. Would you rather buy one expensive/luxury item or buy several items with the same amount of money?
It really depends but if I had to give you an answer, it would probably be one expensive item. Some drugstore makeup products are amazing and I've had wonderful experiences with them and some luxury items have been a complete flop for me.
However, overall, I think expensive items perform better, especially when it comes to eyeshadows, foundations and highlighters.
2. When it comes to beauty products, do you believe the phrase "you get what you pay for"?
On the whole, yes. I've had some incredible steals in the past where I can't believe how good the product is for the price. But if I pay more for a product, I expect it to perform well and I've generally found this to be true.
3. What's the most expensive beauty item you've purchased with your own money?
I generally spend more on skincare, but the Boujee Beauty Guru Tag is focused on makeup. The most expensive makeup product I've purchased is the Charlotte Tilbury Pillow Talk Instant Eyeshadow Palette which cost £60. I don't think this is awful but obviously it's still expensive for an eyeshadow.
However, it's probably my favourite eyeshadow palette in my entire collection and the formula is unreal, so I don't regret it. At all.
4. Are you willing to buy products at full price or do you usually wait for a sale or discount code?
I'm willing to buy products at full price. If I know a website/brand holds sales often, I'll generally wait for them to crop up. But, if I really want a product, I'll just buy it.
Maybe I should review this spending habit but I don't think I'm terrible with my makeup buying habits. I'm 100% worse with skincare products lol.
5. Where do you shop for beauty products the most?
My favourite places to shop for makeup products are Beauty Bay and Cult Beauty. However, I also like shopping at Boots, Selfridges and Space NK for makeup.
6. How often do you get your nails and/or hair done?
Besides getting it cut every 3 months, I never get my hair done. I just don't care about it and I've given up with the notion that my hair will ever look anything like those pretty styles on Pinterest. I've got fine, long and straight hair, which is prone to going greasy quickly. It's easy to maintain and I'm over it lol.
On the other hand, before the COVID-19 lockdown, I'd get my nails done every month. I miss having long nails and getting them done at the salon.
7. Do you prefer long or short nails?
Long nails. However, short nails are more practical and I still like them.
8. Which makeup brush brand is your favorite?
A good question because I haven't tried enough brushes from a large variety of brands to truly give a fair answer. I love my Jeffree Star Eye Brush Collection, though!
9. High-end or drugstore mascara?
I'm going to go with drugstore mascara. I've had some great, inexpensive mascaras in my time and I don't think high-end mascaras always perform better.
10. Think of your favourite makeup brand, is it drugstore, high-end, luxury or Indie?
My favourite makeup brands are Anastasia Beverly Hills, Charlotte Tilbury, Huda Beauty and Fenty Beauty, which all lean towards high-end beauty. I love Colourpop and think Makeup Revolution, e.l.f. and Maybelline do some great products, but I definitely lean towards more luxurious beauty brands.
11. Considering your answers to these questions, do you think you're boujee?
Although my answers might suggest otherwise, I wouldn't class myself as boujee. I generally believe that you get what you pay for, but I'm definitely not a brand snob and I'm always happy to try drugstore makeup products.
I think I fall somewhere in the middle between boujee and frugal. Sometimes I want a cheap buy and other times I want something more luxurious. It just depends.
My thoughts on the Boujee Beauty Guru Tag
The Boujee Beauty Guru tag is an interesting tag to participate in. It gives you insight into your own spending habits and whether you think luxurious beauty products hold an unreasonably high price tag or not.
In my opinion, the drugstore has some wicked products and so do the high-end beauty brands. They also both have some absolute misses. Both are worth exploring, so just reserve your money for the high-end products that you really want or believe will be worth the price tag.