I'm back with another instalment of my monthly goals series, which helps me reflect on my progress from the previous month and enables me to think about what I'd like to achieve in this upcoming month.
I'm going to be honest: I should've done a lot better with my April goals. As I've been furloughed, I don't have the excuse that I haven't had the time to achieve my goals because I've been at work.
The truth is, sometimes, I've just not wanted to do much. This lockdown life has taken a bigger toll on my mental health than I was expecting. Normally, I'd be harder on myself, but this time, I'm just rolling with the punches. It's fine to not want to do much. It's okay if you don't meet all of your goals, you have plenty of time to achieve them.
I pride myself on being a productive person and while I've definitely made some progress during this lockdown, sometimes the best progress is being kind to yourself.
With this in mind, my May goals are going to largely focus on tasks that will benefit my mental health and wellbeing.
**This post contains affiliate links. This means that at no extra cost to you, I earn commission for anything you might purchase through my links. All thoughts are my own, as always. For more information, you can check out my affiliate disclosure**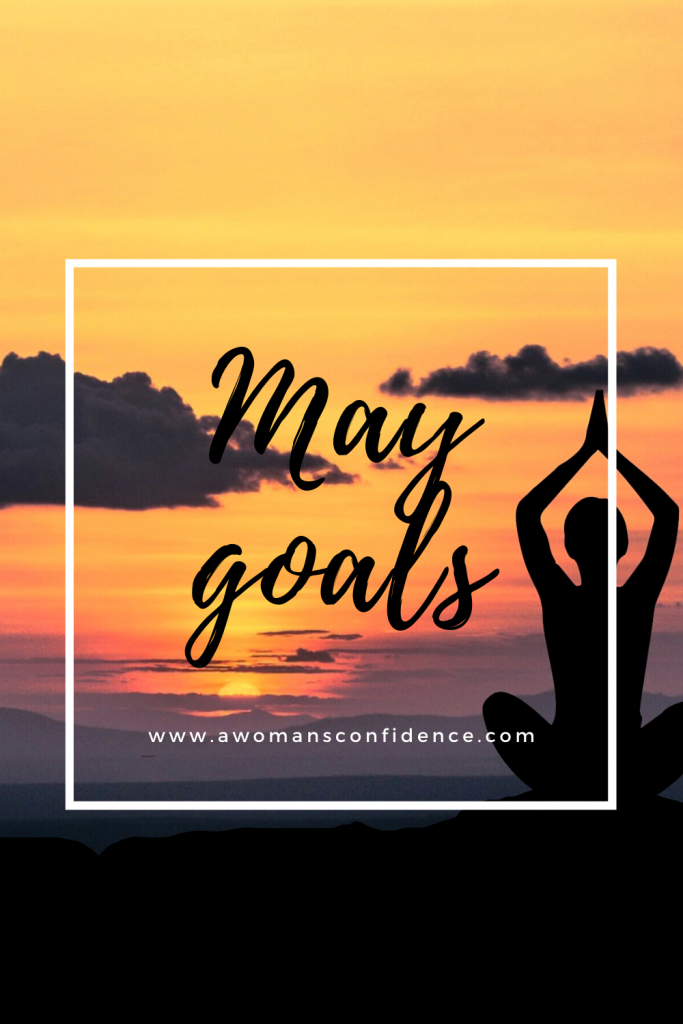 Personal goals
1. Do more of Yoga with Adriene
When I do one of Yoga with Adriene's practices, I always come away feeling much better mentally and physically. I love Adriene because she teaches you to be kind to yourself and honour where you're at. I never feel bad if I can't quite do a pose because she gives you modified versions of challenging poses.
Adriene provides various 30-day yoga series, where she encourages you to practice yoga every day. These series are designed to help you build strength, flexibility and balance throughout the 30-day period.
I loved my experience of doing the Dedicate series and I'm currently working my way through the Home series, which is equally as brilliant.
2. Continue reading
I'm currently reading Girl, Wash Your Face and Noughts & Crosses. The former book is great for self-development and the latter is a masterpiece in storytelling.
I sometimes forget how much I love reading but these two books are helping me get back into reading for pleasure.
3. Watch makeup tutorials
Once upon time, I used to watch makeup tutorials on Youtube all of the time. However, I've not been doing that so much recently because I've been busy doing other things. But, I love watching makeup videos and while I'm not at work, I'd love to be inspired to create some fun new makeup looks.
4. Get back into journalling
Not only is journalling a great way to vent, let out any emotions you might have and process your own thoughts and feelings, it's also a great writing exercise. I've not done journalling for a while, so I thought including it in my monthly goals would encourage me to get back into it.
Blogging goals
1. Take a blogging course
This is something I still need to do. Blogging courses are a great way to boost your knowledge, elevate your blog and learn some new skills. I've not taken a blogging course in a while, so now would be a great time to learn something new or brush up on the skills I already have.
2. Play around with camera settings
Once again, I've still not got my camera off the 'Auto' mode lol. It's seriously about time that I sorted this out and learned how to use my camera properly. I'm hoping this will improve the images on my blog and also give me a particular photography style.
3. Write another guest post
I recently reviewed The Inkey List Snow Mushroom on The Skincare Culture, which was a great opportunity, so I'd like to write another guest post for a blogger this month. If this is something you'd be interested in, please drop me an email at sarah@awomansconfidence.com and I'll be happy to discuss further.
4. Add "brands I've worked with" page on site
I just need to get a few more blog posts live but once I have, I want to add a "brands I've worked with" page on A Woman's Confidence. This is a great way to showcase some of the brand collaborations you've secured and help build your reputation as a blogger.
5. Get ahead with blog posts
Once I start back at work, it's going to pretty manic, which means I'll have less time to dedicate to my blog. So, while I'm not working, one of my major monthly goals this May will be to get ahead with my blog posts to take some of the pressure off when I start back at work.
---
What goals are you setting yourself this month? Always remember to set yourself goals so you stay focused and motivated every month