3 cute outfits I got from Femme Luxe
Disclaimer: Femme Luxe gifted me these items, but all of my opinions remain unbiased and honest
Ever feel like your wardrobe needs a serious sort out? Recently, I'd felt uninspired by my wardrobe and had fallen out of love with wearing nice outfits. My sister is really into clothes and she always looks stylish, so I decided I needed to clear my wardrobe out so I felt motivated to wear cute outfits again.
This meant going through my wardrobe and clearing out items that didn't suit me anymore, didn't fit properly or ones I simply regretted buying. I said goodbye to the crop tops I used to like when I was 16 and got rid of any items that I felt uncomfortable in. After, I took my bags of clothes to a dedicated recycling point or a charity, where I knew my clothes could be made good of use of.
And I felt much better for it.
All this new space in my wardrobe made me want to wear pretty outfits again and made me think about the sort of style I wanted going forwards. So, when Femme Luxe offered me the chance to try out some different pieces from its collection, it couldn't have come at a better time.
Femme Luxe is a clothing store that's always been on my radar, but I hadn't tried anything from it before.
After placing my order, I couldn't wait to find out how the clothes would fit and look on. In this post, I'm going to be sharing the different outfits I picked up from Femme Luxe and discuss how they fit, feel and look on.
Outfit 1: Grey loungewear set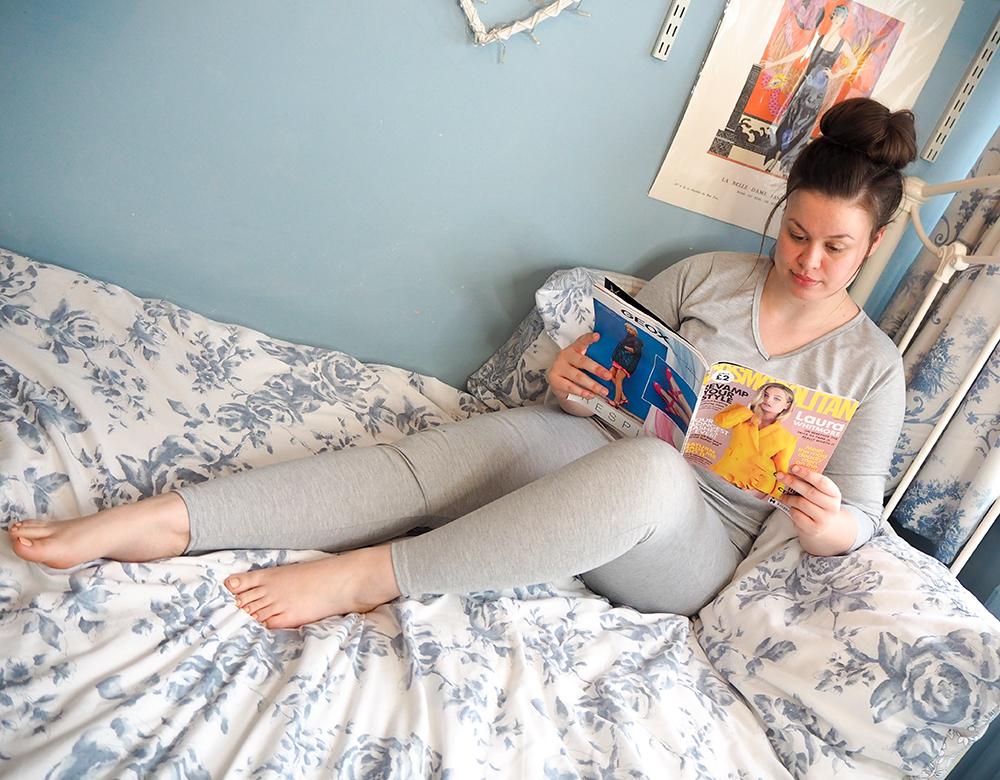 The first outfit I got from Femme Luxe was the Grey Long Sleeve V Neck Leggings Loungewear Set. Loungewear is very relevant at the moment as we're all spending a lot more time at home due to the lockdown. I don't know about you, but I want to feel comfortable during the lockdown, and this cute loungewear set from Femme Luxe is very comfy.
I love grey loungewear sets, so I'm really pleased with this one. Personally, I'd prefer it if this loungewear set was a little more elasticated, but it's definitely comfortable!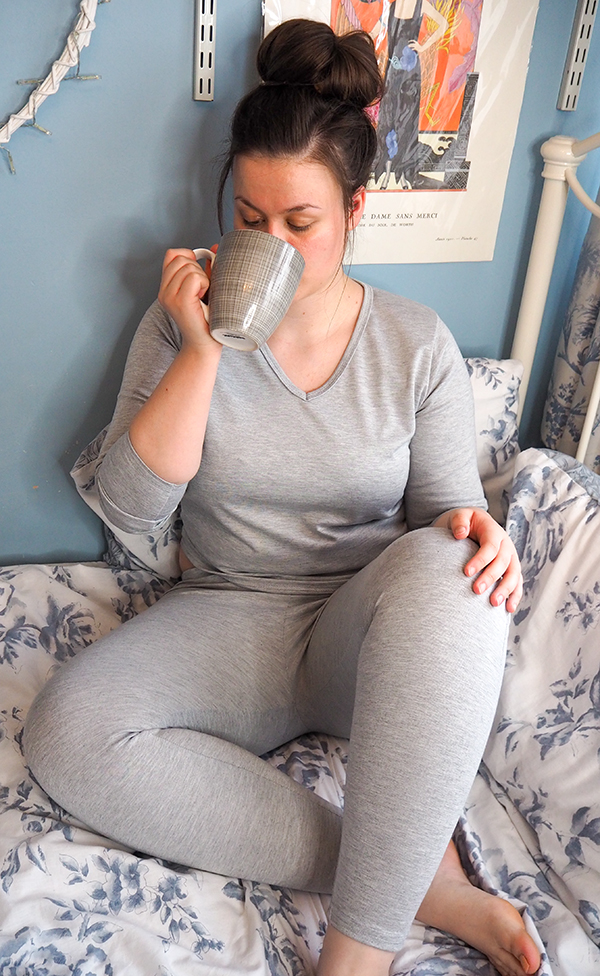 When I wear this set and read one of my favourite magazines, it's definitely a mood. I work from home lot and I know a lot of people like to dress as if they're going into the office even if they're at home, but I prefer being comfy, so this loungewear two-piece will come in handy then.
I think Femme Luxe has some of the nicest loungewear sets out there, so snap some up while we're in quarantine so you can chill in style.
Outfit 2: Khaki trousers and a black t-shirt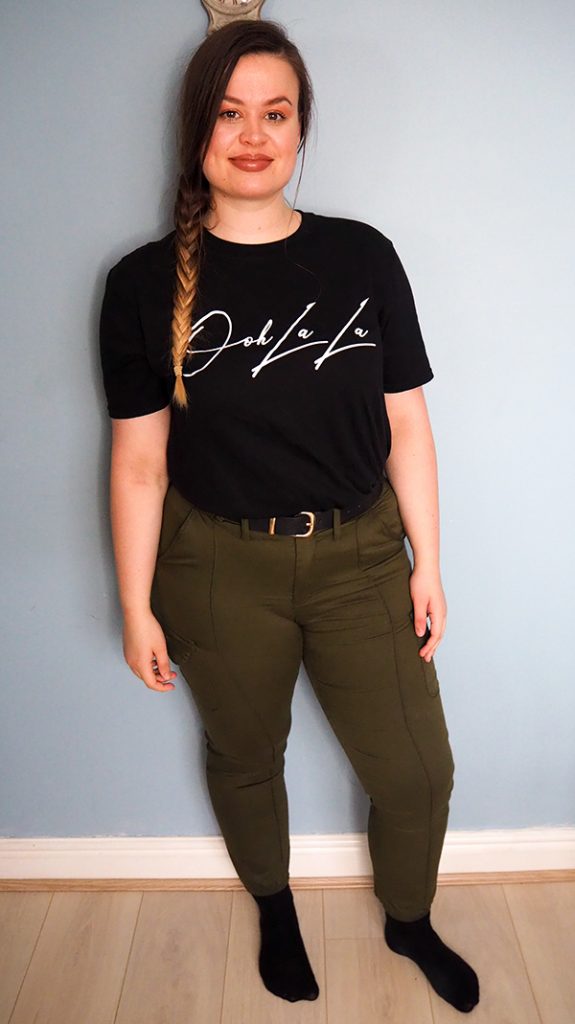 I put together this outfit by pairing the Khaki Green Cargo Slim Fit Trousers with the Black 'Ooh La La' Oversized T-Shirt.
Genuinely, I can't tell you how long I've been looking for a decent pair of khaki trousers. The ones I'd tried previously either didn't fit well, were too formal or were really uncomfortable. However, these ones from Femme Luxe are perfect.
They're very flattering because they're elasticated and slim fit, so I don't find the trousers cling to me in the wrong places. This makes me feel confident and empowered because there's nothing worse than not fitting into a pair of trousers that you've ordered.
I have a mild obsession with khaki clothing, so I'm in love with these trousers. Femme Luxe also offers these trousers in a cute grey camo print and stone, which I know I'd be obsessed with as well!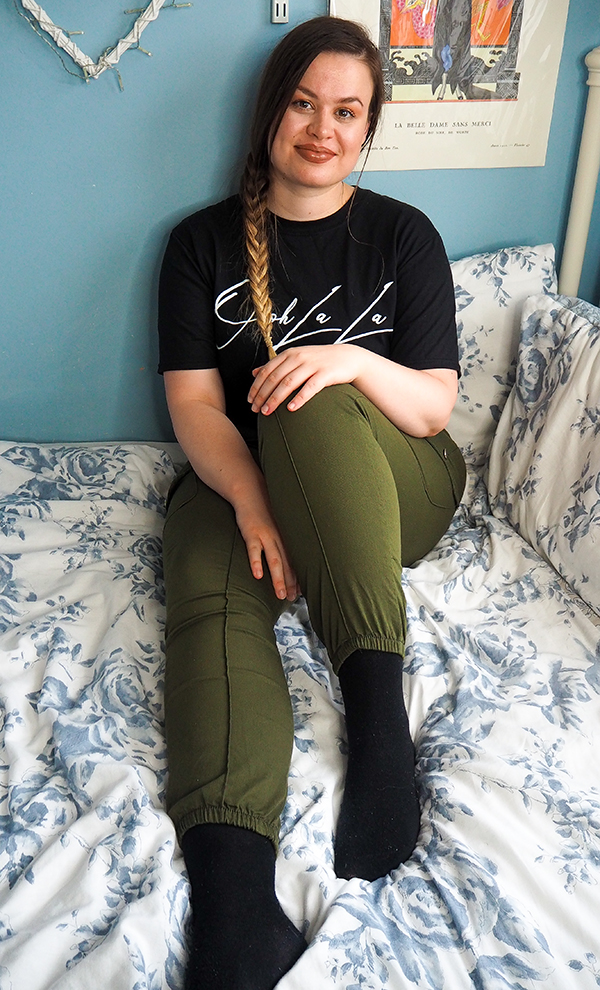 The Ooh La La top is also cute. I love slipping into a comfy, oversized t-shirt because they just work with anything. I didn't intend for this outfit to work together so well when I ordered the items, but I'm so pleased that it looks good together.
There are plenty of slogan tees out there but I particularly like the font on this Femme Luxe t-shirt; it's simple but chic. It's also incredibly soft! For those of you who enjoy a simple oversized t-shirt, I'd definitely recommend looking at Femme Luxe's oversized t-shirt range.
Outfit 3: One Shoulder Ruched Slinky Midi Dress

Now onto my favourite outfit from Femme Luxe: the Wine One Shoulder Ruched Slinky Midi Dress.
I'm obsessed with this midi dress. First of all, I love red dresses because they always look glamorous. I'd definitely wear this to one of my work's black-tie awards. Secondly, midi dresses are my thing. I think they're really flattering, feminine and sophisticated, so this is a length I often opt for.
But most of all, I love how this dress fits and feels on. The material is so soft and because the dress is elasticated, I don't feel like it clings to me in the wrong places.

The ruched detail is another feminine, flattering touch that I feel really complements the overall look of the dress. I also love the one-shoulder detail.
This has to be one of my favourite dresses in my entire wardrobe; my mum and sister love it too.
I'd happily have one of these midi dresses in each colour. Femme Luxe offers a fab range of colours for this dress, such as brown, emerald, black and light blue. I had a hard time deciding which one to get!
If you're wondering about what size to get, I'd say the sizing is spot on, so get the size you'd normally go for – you won't have any issues.

There are plenty of pretty midi dresses on Femme Luxe, so if you can't wait to go on a few nights out once this lockdown is over, I'd definitely recommend buying a couple.
Final thoughts on my pieces from Femme Luxe
I'm really impressed with my items from Femme Luxe. I tried to get a variety of pieces to showcase the different products you can purchase and I'm happy with all of them.
In particular, I love the wine midi dress, but the khaki trousers are another standout piece for me. The clothes definitely exceeded my expectations in terms of fit and quality because you don't always know what you're going to get when clothes are a decent price.
To summarise: Femme Luxe offers clothes at a great price, which fit well and look fabulous on. What more could you want?