Following on from my new monthly goals series, I'm sharing my personal and blogging goals for April 2020.
This month's goals are going to be quite different to usual as I'm on leave for 2 months from work due to the coronavirus outbreak. This means I'm going to be able to dedicate a lot more time to my blog as well as things I want to achieve in my personal life.
I'm so excited to be able to have a chunk of time dedicated to A Woman's Confidence and have been contemplating all the different things I'd like to do with it during this 2-month period. There are a lot of longer and more time-consuming tasks I'd like to tick off my blog 'to do' list.
I love setting goals and achieving them, so here are my goals for a productive April.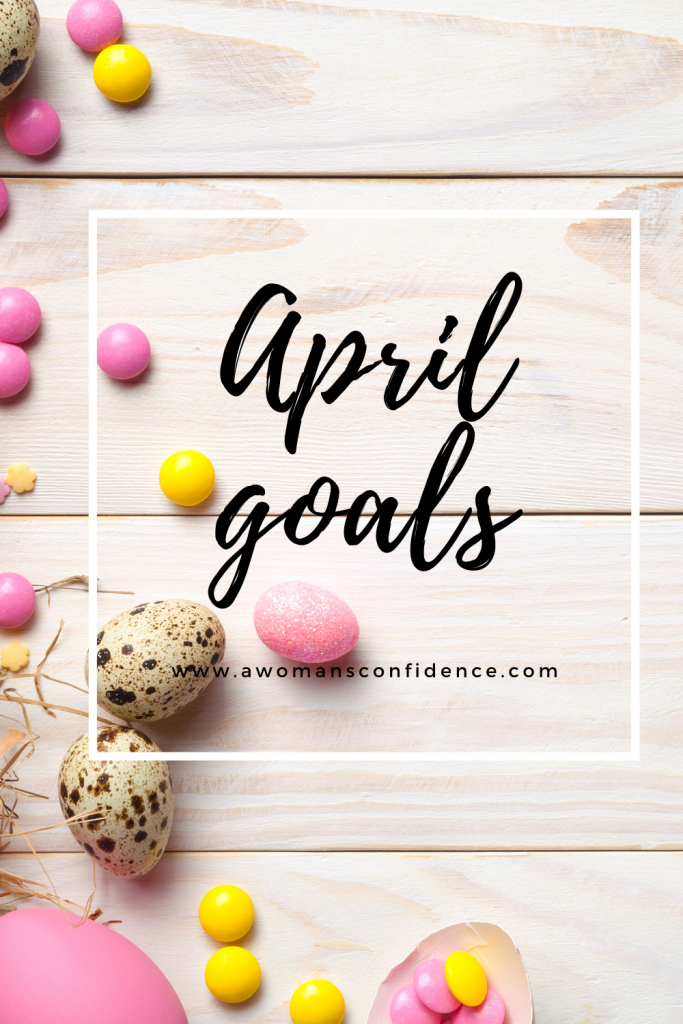 Personal goals
1. Do yoga and HIIT/weight training every day
Following on from my March goals, I want to continue doing yoga as much as I can but also incorporate HIIT and weight training each day. This might be a fairly ambitious goal but seeing as I have a lot more free time, I don't want to make excuses. Even if I do a quick session, I will train every day.
2. Thoroughly clean and declutter my room
I want to really go through my room and sort everything out from top to bottom. This includes dusting, throwing out things I don't need, rearranging and organising items etc.
3. Read more
I associate reading with work because I'm constantly reading in my role as an editor so I don't normally read for pleasure. I'd like to read some more poetry and novels during my leave.
4. Cook new things
I love cooking (not as much as I love eating, though, lol) so I'd love to explore some new dishes. I've seen some hot sauce, focaccia and ramen bowl recipes that I want to try out.
5. Play around with makeup
Now I have 2 months to myself, I'd like to experiment with new makeup looks. I especially want to try looks that I don't usually go for and head to YouTube for inspiration. Plus, I want to make a start on my 2020 project pan (more on that in an upcoming blog post this month).
Blogging goals
1. Install a font plug-in
I still haven't got around to doing this from last month but I really want to install a font plug-in on my site to vary the look of A Woman's Confidence.
2. Update old blog post images
Seeing as I have a lot more time on my hands, I'd like to update some of my older blog post images. When I first started out, I didn't have a proper camera and just used my iPhone. However, now I've got a camera, it would be good to get some better shots.
3. Get ahead with blog posts
I'm never usually ahead with blog posts and find myself writing two new posts every week. It would be nice to get ahead of the curve for once, which will free up my time and allow me to focus on other blog-related things during this 2-month period.
4. Write some guest blog posts
As I have some more time to play around with, I'd like to write a few more guest blog posts too.
5. Create Canva pins for old blog posts
There are quite a few blog posts that spring to mind where I've neglected creating Canva artwork for them. I'm hoping that by creating some Canva pins for my old posts, this well help bring more traffic to my blog through Pinterest. Plus, they look pretty and who doesn't like pretty things?
6. Take a blogging course
I've not done a blogging course for a while, so it will be good to learn some new tricks and boost my blogging knowledge.
7. Monetise my blog
Honestly, this is something I've neglected for such a long time. I've had quite a few products gifted to me which has been wonderful but it would be great to monetise my blog and slowly start turning blogging into a career. I intend to look at advertising, sponsored posts, affiliate marketing etc.
I think this will take me a while and I imagine for some time, I probably wont earn much at all. However, over time, hopefully this will grow and my hard work and dedication will become profitable. It's my dream to blog full-time, so here's hoping!
---
I hope you enjoyed my second monthly goals blog post. I've added more goals this month as I have more spare time to get through longer and bigger tasks. Setting goals is really important so you can stay focused and productive, so this blog post will hold me accountable for achieving my goals.
What are your goals this month?