Last Updated on 30th December 2019 by Sarah Sarsby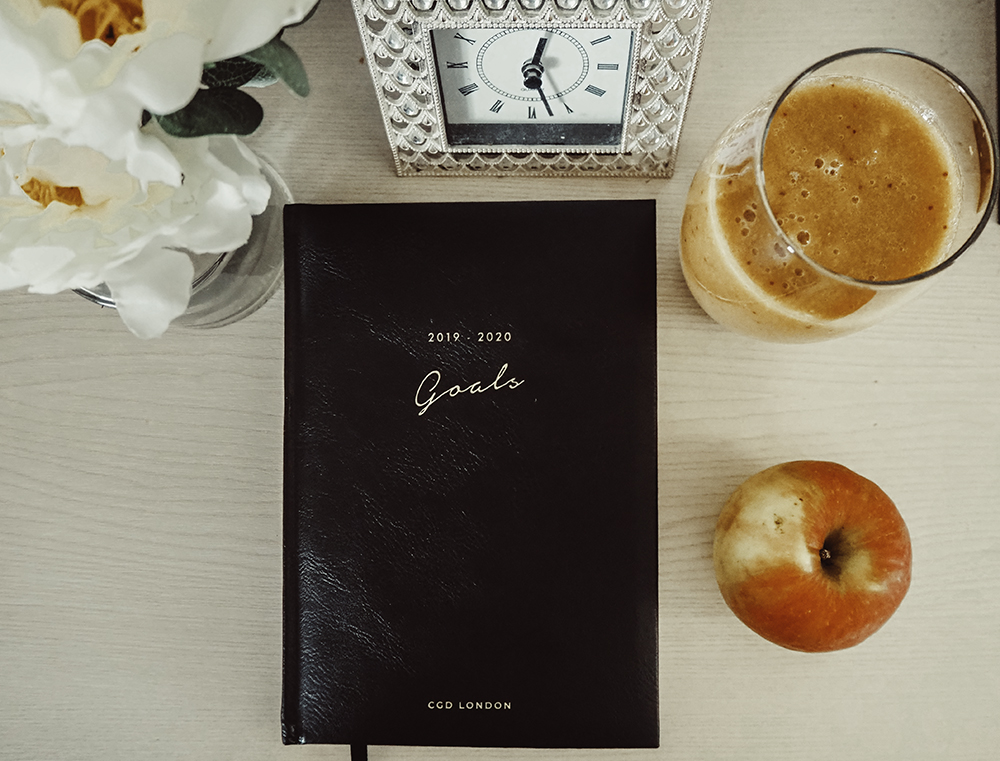 Disclaimer: CGD London gifted me the 2020 Goals diary for review purposes
Can you believe 2019 is almost over? It's crazy how quickly a year goes by. I find this even more apparent as I'm an editor, so I'm constantly working to deadlines ahead of time, which makes each week whizz by.
Anyone who knows me knows that I'm a planner freak. I wouldn't be without my daily notebook and diary. Being organised is something I'm good at and planners and diaries help me stay focused and motivated.
CGD London very kindly reached out to me to see if I'd be interested in its Goals 2019/2020 Diary. I've actually purchased the Getting Stuff Done planner from CGD London in the past, which I adored, so when the company gifted me the 2020 Goals Diary, I was ecstatic.
Although this product was gifted to me, I've not been asked to write a biased review, so all thoughts are my own.
So here's how to make 2020 a memorable year with the CGD London diary by staying ahead of the curve and keeping organised, focused and motivated.
Monthly overview and goals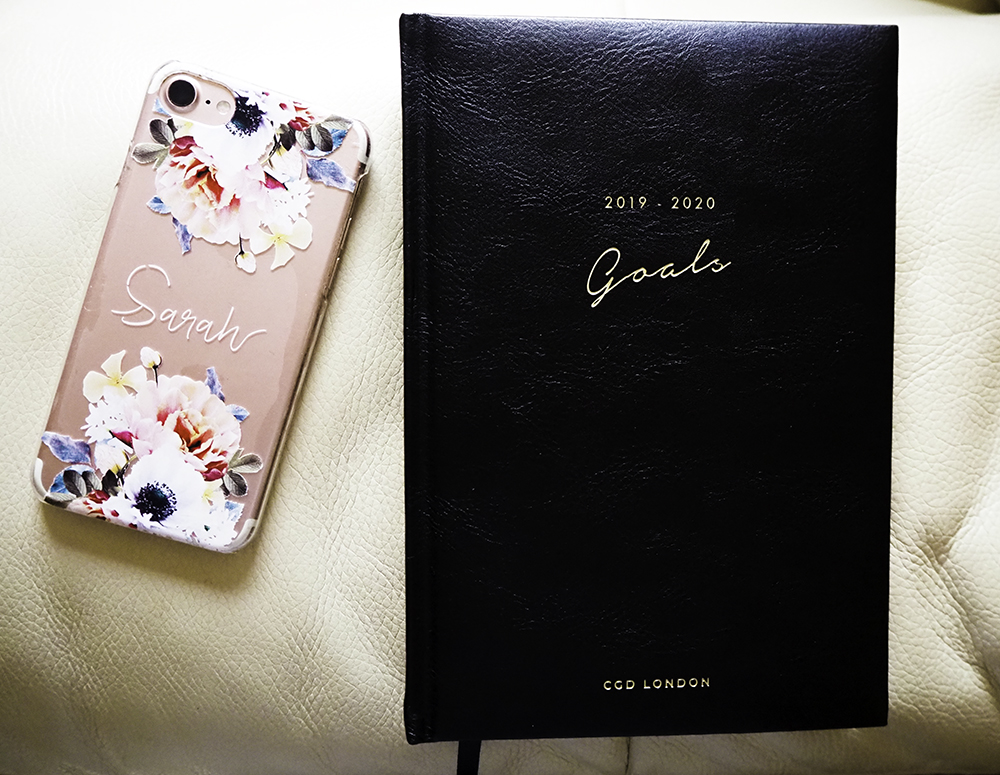 At the beginning of each month, the Goals 2020 diary has a grid-style calendar, showing an overview of the whole month. This is where you'll write down key events like birthdays, work events, days out etc. A monthly overview is a cool idea as you can see what the month ahead is going to look like.
This feature made my planning brain very happy. I'm used to working from weekly diaries, so I love that I can now look at my plans from a monthly perspective.
Now for the fun part: goal setting. At the start of each month, there's a column where you can write down that month's goals. This is awesome because it forces you to think about what you'd actually like to achieve for the month, rather than bumbling about aimlessly.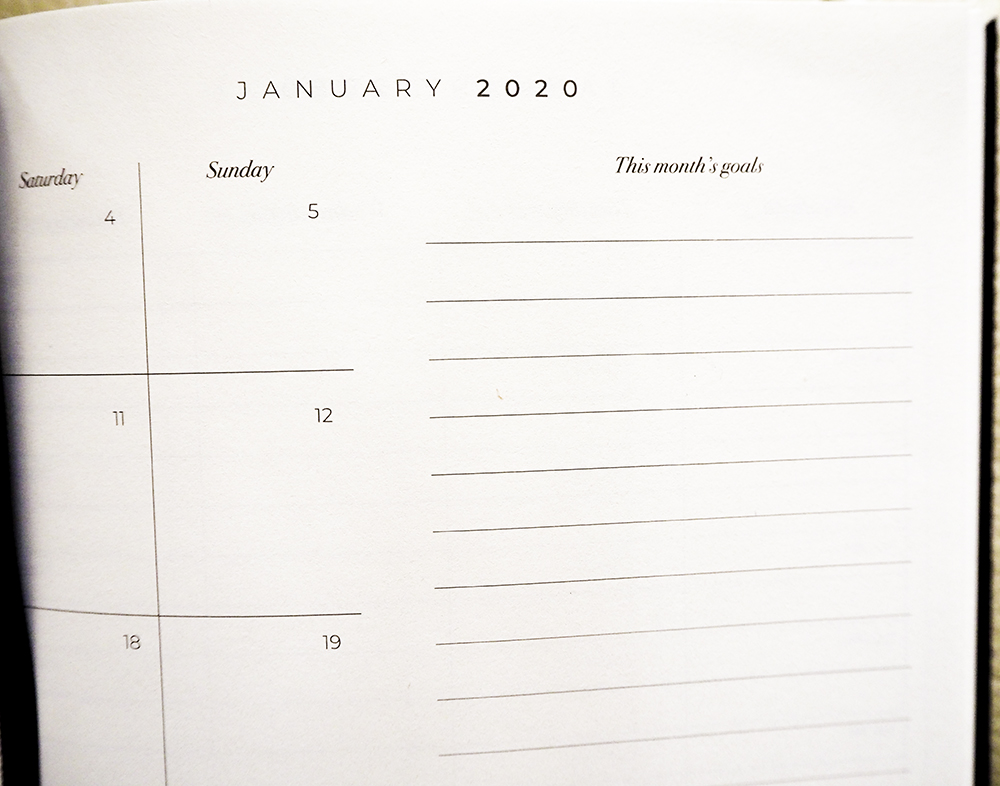 I'm great at writing to-do lists but not so much at goals, so this feature is hugely beneficial to me. At the end of each month, you can reflect back on your monthly goals to see how much you achieved, if your goals were unrealistic, if you wrote down too many big goals or if you can push yourself to do more next month.
Reflection is a time for growth and progression, which is very fitting as we're coming towards the end of 2019.
Weekly breakdown and goals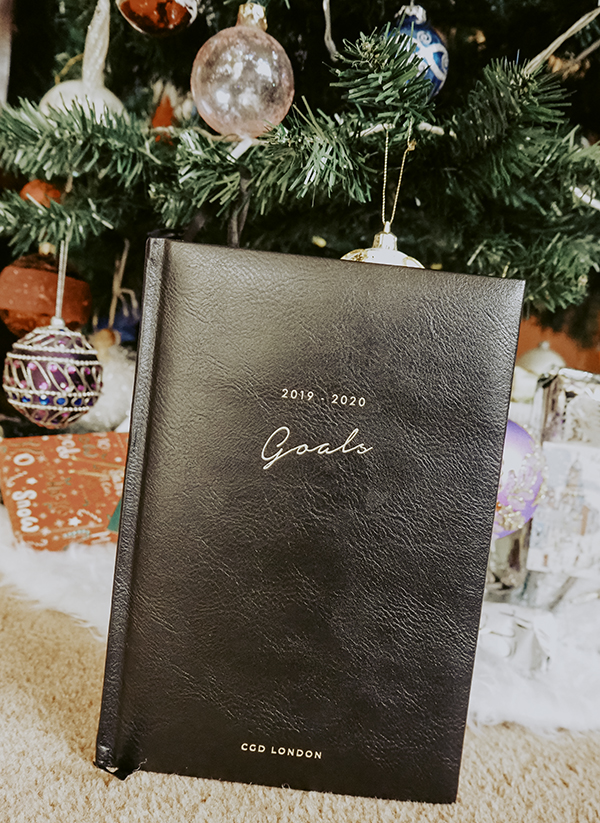 After the monthly breakdown comes the weekly breakdown. This allows you to plan your week out more specifically and create smaller goals. There's also a to-do list on the side of the page.
Each day of the week is laid out across a double-page spread in the 2020 diary and for each day, there are time slots. This is ideal for people who are self-employed and have to manage their own diary in detail. It's also great for anyone with a busy schedule or for people who want to block out their time thoroughly.
These time slots will come in handy for me at work when I have deadlines, exhibitions or meeting. So I'm thinking I'll use CGD London's 2020 diary as a work diary.
My only criticism is that the time slots are for 8am-8pm. I'm always up earlier than 8am and normally go to sleep around 10pm, so I wish there were more time slots.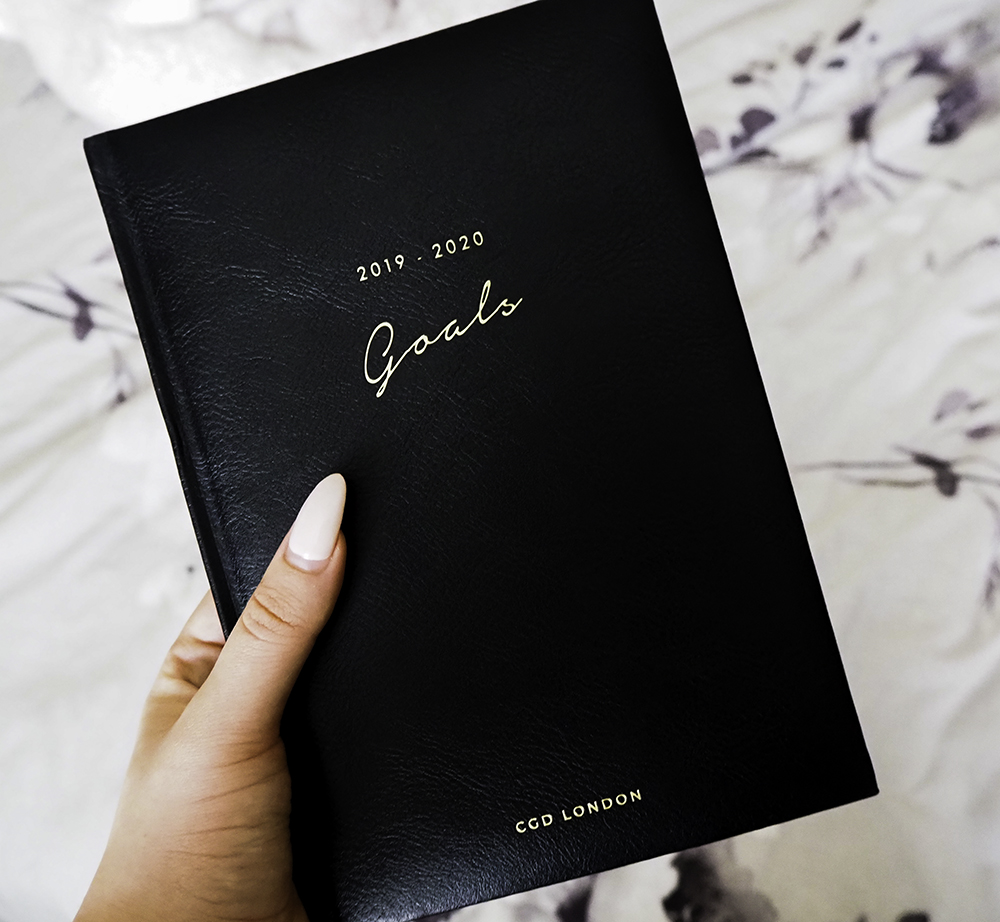 The goals section in the weekly breakdown is much smaller than in the monthly one. So, you can pick out a few goals from the monthly breakdown and transfer them to your weekly goals list to break your goals down into manageable chunks.
One of the key elements to being organised is writing everything down and approaching tasks in bite-sized chunks. Being organised also helps you stay focused and motivated (more on that here). So, I love that this 2020 diary gives me the option to break down my monthly goals each week.
Then, there's a 'To Do' section for each week. Here's where you write down your chores for the week such as: do meal prep, deep clean the bathroom, sort out cupboards, call Nan and Grandad etc. You know what you need to do each week, so just jot it down as a reminder.
To-do lists, addresses and notes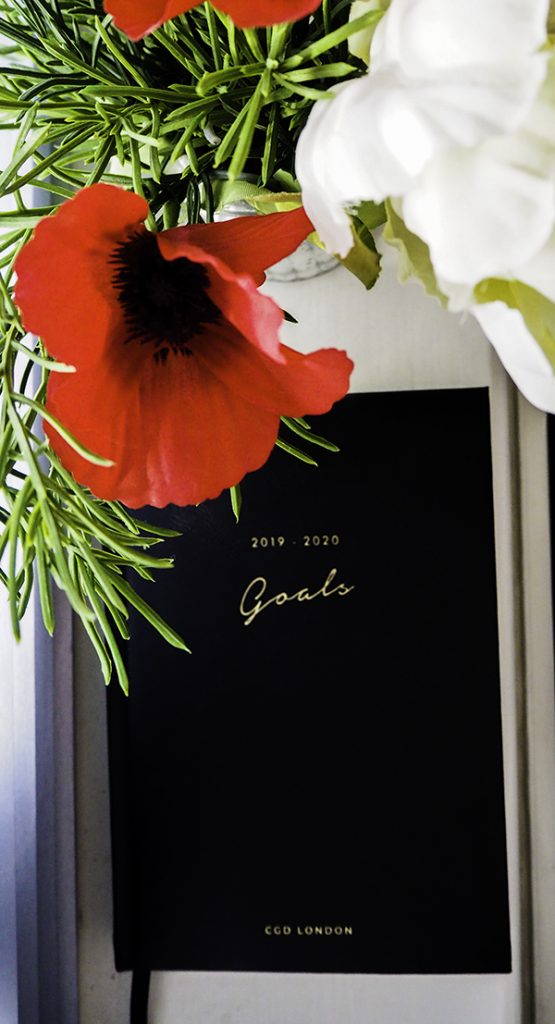 Finally, at the back of the 2020 diary, there are some pages dedicated to to-do lists, addresses and notes.
If you fill up your to-do list one week, transfer your tasks to the back of the diary. This is a cool idea that I don't see enough planners take on board as some weeks are just busier than others. I love creating to-do lists, so I can't wait to exploit this section.
You know what to do with the notes section. If something comes up and you need to write it down quickly, the notes section is your new best friend.
I personally won't use the addresses section as I just message my friends if I need their address but some people might like this feature.
Ready to plan?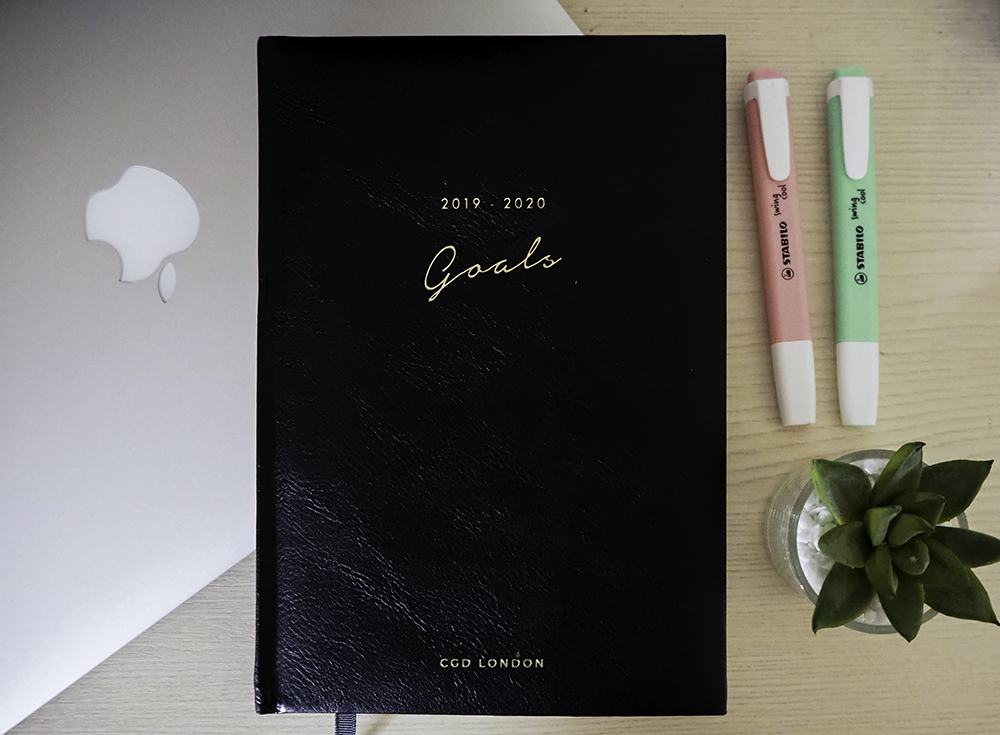 Here's how I'm going to be using the CGD London 2019-2020 diary to stay ahead of the game. I'm so grateful to have received such a gorgeous, functional planner. It looks sleek and sophisticated and will allow you to plan in detail.
Ready to smash 2020? Allow yourself to plan your goals in using the CGD London 2019-2020 Goals Diary. You won't regret it!
---
Want some advice on how to get organised? Please feel free to drop me an email via sarah@awomansconfidence.com and I'll be happy to help