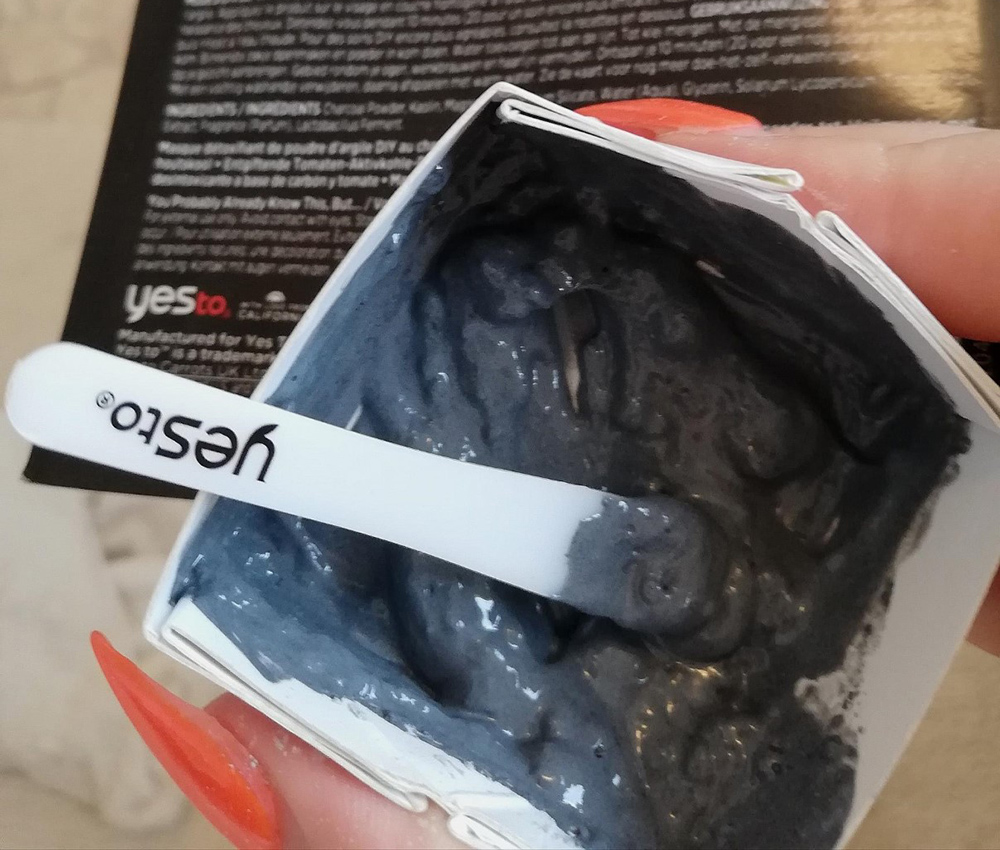 ---
Today, I have a wonderful guest post from the beautiful Chantelle over at That Yorkshire Girl Chantelle.
First and foremost, thanks so much Chantelle for writing this post for me. Writing guest posts is time-consuming and can take a while to put together, so I really appreciate the time you've taken out to create this post.
Chantelle is one of my favourite bloggers because she's also a makeup and skincare addict like me and she always has plenty of interesting and informative posts going up on her site which I always check into. Plus, we seem pretty similar, from our skin type down to the products we enjoy – who knew, eh?
Her post reviews the Yes To Tomatoes DIY Powder-To-Clay Mask, which is aimed at breakout-prone skin. I've been dying to try the Yes To range because I've heard such glowing reviews on the products, so seeing this guest post has reignited that flame.
I hope you enjoy reading the post just as much as I did! Chantelle's blog and social media handles are linked down below, so don't forget to follow her. Especially for my fellow beauty lovers out there!
---
About Chantelle
Chantelle is a 24-year-old makeup and skincare junkie from, you guessed it, Yorkshire. She is currently living in a little city in West Yorkshire called Bradford, which is near Leeds.
Her blog mainly focuses on beauty and lifestyle, and she shares a variety of blog posts containing her experiences, reviews and tips. It's definitely one to follow if you're into skincare and makeup.
She's also fabulous at creating beautiful and fun makeup looks – I'm totally jealous!
---
Hey! I just want to start by saying a huge thanks to A Woman's Confidence for letting me guest post on here!
I'm going to be doing a little review of Yes To Tomatoes DIY Powder-To-Clay Mask.
Now, if you haven't used any Yes To products before, then I highly recommend you try them out, I absolutely love their face masks. I'd go as far as saying they are probably one of my favourite brands to get face masks from!
Personally, I just think they do the best products for oily skin with large pores like mine.
Yes To Tomatoes Detoxifying Charcoal DIY Powder-To-Clay Mask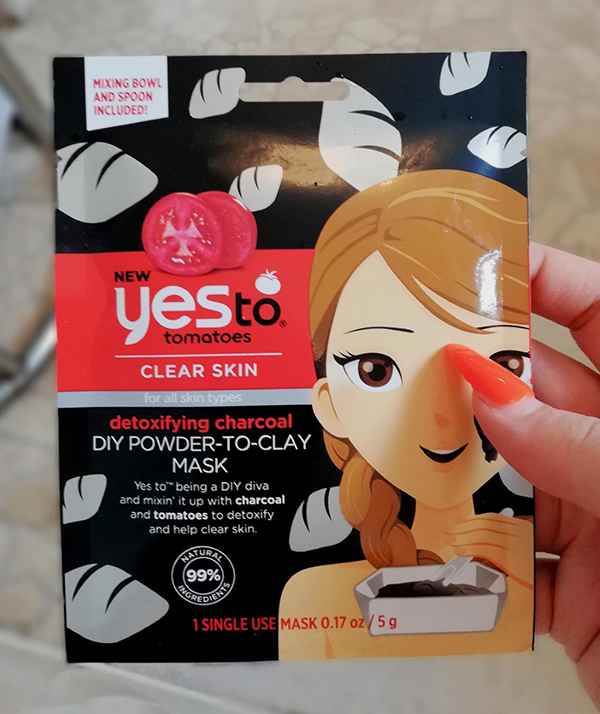 So, I actually bought this mask last year when I was in America. As soon as I saw it I was just like wow, I've never seen anything like it before and I just had to get it. I'm the sort of person that sees 'new' on the corner of something and I'm like ohhh I have to try it!
I don't know what it is, but something about the concept of mixing my own mask up was just calling out to me. With this, the base is obviously charcoal which aims to detox the skin. But, you can get it in the different variations that Yes To do, such as coconut, cucumber and grapefruit.
The whole idea is that the Yes To Tomatoes Detoxifying Charcoal DIY Powder-To-Clay Mask is formulated for breakout-prone skin. You then mix the powder (in what I can only describe as the cutest little tub ever) with a natural ingredient of your choice to give you some added benefits.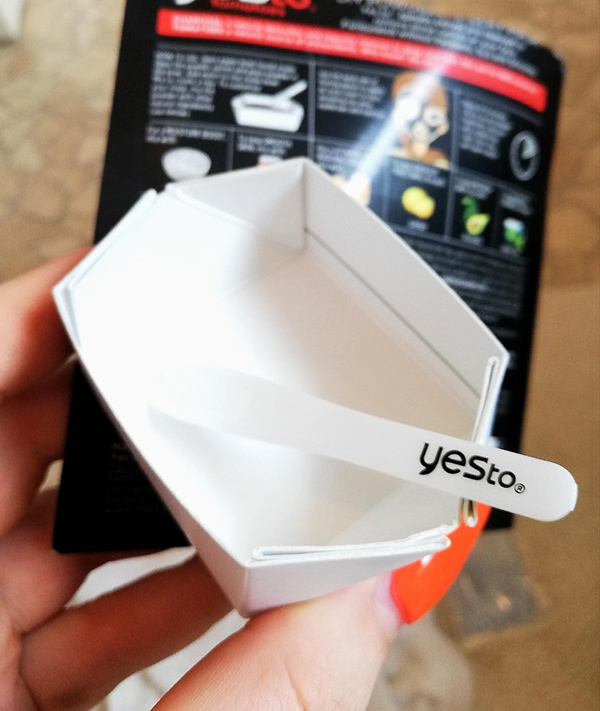 On the back of the packet there are a couple of ideas of the types of ingredients you can use, but I mean this is your time to experiment, you don't have to stick to them! A couple of examples are yoghurt, honey, orange juice, lemon, avocado and green tea.
I decided to go with lemon, which helps to energise tired skin.
I have to admit when I first put the mask on, after mixing it all together, there was a slight tingling. But, I think this was just the lemon juice working.
Once I had washed it off, my skin was so soft and felt refreshed. Also, I feel like it really made my skin tone look more even.
100% would recommend and I will definitely be purchasing this or one of the other DIY masks again. I love how many different variations there are to try out.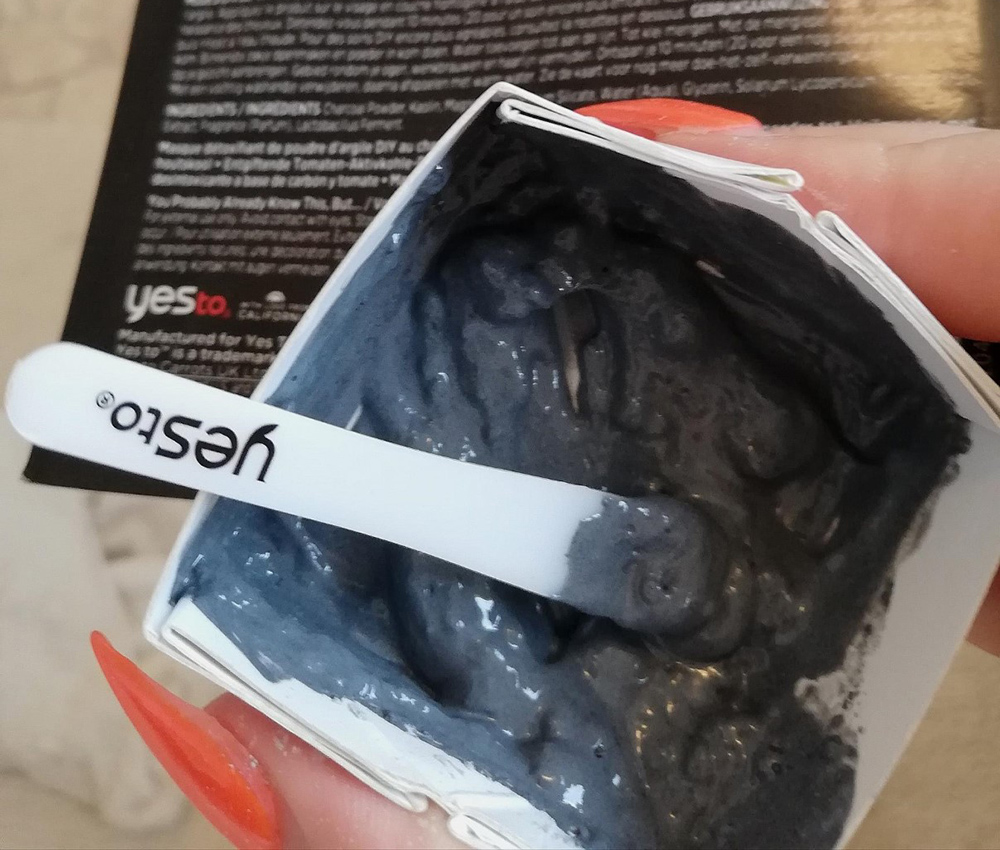 A couple of other Yes To products I've tried
Yes To Tomatoes Detoxifying Charcoal Paper Mask – I have actually used this quite a few times now! I am obsessed with sheet masks – click here to read a recent review I did of Mask Time a sheet mask subscription box. I find this sheet mask, due to the charcoal, gives the deepest cleanse and really cleans your pores out.
Yes To Grapefruit Vitamin C Glow-Boosting Mud Mask – Again, I believe I bought this back when I was in America. Mud and clay masks are another of my favourite types of face masks, after sheet masks. This one left my skin feeling so refreshed and gave an instant boost and glow.
A couple of Yes To Products I want to try
Yes To Tomatoes Detoxifying Charcoal Micellar Cleansing Water – I bought the cucumber version of this for my sister last year and she loved it! It has the handiest pump to dispense the product.
Yes To Tomatoes 2-Step Nose Kit
Yes To Cucumbers Calming Super Eye Mask
Yes To Tomatoes Blemish Fighting Bubbling Paper Mask – These are honestly some of the best masks. Even if just to laugh at yourself with a face full of bubbles! I didn't even realise Yes To did one of these. Now I really want to try it.
Have any of you tried out any Yes To products? If so I'd love to know what you thought. I will leave a link to my social channels below so feel free to give me a message!
Blog – That Yorkshire Girl Chantelle
Instagram – thatyorkshiregirlchantelle
Twitter – Chantelle_TYG
Pinterest – thatyorkshiregirlchantelle
Chantelle
xoxo
---
Oh man, this face mask sounds incredible and like it would be really beneficial for my skin. I know the Yes To range is very affordable as well, which makes it all the more tempting.
As a fellow face mask lover, some face masks that I'd personally recommend are the Lush Fresh Face Masks – there are a great range and something for every skin type.