For this week's post, I have a great post from Rachel over at WATCHA Guru on vegan and cruelty-free beauty products.
As always, I wanted to say a huge thank you to Rachel for writing such an in-depth and informative piece. I wasn't aware of the differences between cruelty-free and vegan products, but this post has taught me everything I need to know and more!
I've really enjoyed reading this post and discovering many new cruelty-free and vegan beauty products that I didn't know about before. Vegan and cruelty-free products are on the rise, so this is the perfect post for those of you who want to transition into a vegan lifestyle.
I hope you love this post just as much as I did. I've linked Rachel's blog and social media handles down below, so you should go and give her a follow. Her blog is extremely varied, interesting and well worth reading!
---
About WATCHA Guru
Rachel is the writer behind the wonderful WATCHA Guru blog, with weekly blog posts around vegan living, travel tips, creative art projects, mindfulness, adventure insights, 30 day challenges and lots more.
Her blog was inspired after she came up with the 6 components that were most important to living her most authentic self, which spelt WATCHA: Well-being, Art, Travel, Creativity, Health and Adventure.
From this, she decided to create inspiring content in the following three categories:
Travel and Adventure
Health and Well-being
Creativity and Art
---
Transitioning to veganism
So, I became vegan at the start of 2018. It's now been over a year and I feel great! It was something I had been thinking about for a while and with the advent of 'Veganuary', which comes around every January, I took the plunge.
I'd already started removing certain foods, like meat, cheese and eggs, from my diet a few months beforehand, as well as switching everyday food items like milk and butter to plant-based alternatives.
The change to a vegan diet has been relatively straight forward and I've discovered so many more foods to enjoy that I might not have given a chance if I was still eating meat. Check out my blog post 'Becoming vegan one year on' for the full low down.
It's not just food
So along my journey, as I'm sure other vegans experience, it's not just food that applies to a vegan lifestyle.
Unfortunately, in this modern age we live in, animals are used and exploited in about every way imaginable, including for food, alcohol, clothing, makeup and skincare products. So whilst I concentrated on changing my diet in the beginning, I then slowly started to focus on other areas such as beauty products.
If you're thinking of transitioning to becoming vegan, be kind to yourself. It's really difficult to do everything at once if you want to make a long-lasting sustainable change, so take it step by step.
I have also made some allowances, for example with my existing leather and suede clothing items, I've decided to keep and continue using until they're no longer in good condition. I've also done the same with my beauty products. I've continued using existing products until they have run out.
The reason for this is that I'm mainly vegan for ethical reasons and disagree with any kind of animal exploitation but I also support and adopt a vegan lifestyle because of the benefits to our planet. So throwing away lots of products and items which can still be used just doesn't make sense at all!
Vegan and cruelty-free beauty products
Upgrading my beauty products has been a slightly longer process to transition. I made the decision at the beginning that I didn't want to be wasteful and throw away my existing products, so started to use them all up.
Then I started to research vegan and cruelty-free products. Let me tell you, it's a bit of a minefield! So the first point to get your head around: there is a difference between 'vegan' products and ' cruelty-free' products.
Cruelty-free
So what does cruelty-free mean?
Cruelty-free is when the manufacturer does not participate in any animal testing of its product or its ingredients on animals. Sadly many of the top beauty companies do test on animals. Including companies such as:
Estee Lauder
Clinique
Bobbi Brown
NARS
Benefit
The purpose of animal testing is to test the safety and hypoallergenic properties of products for use by humans. Tests usually measure issues such as allergic reactivity, skin sensitivity, toxicity, and dermal penetration.
The tests are ordinarily carried out on small animals, such as mice, rats, guinea pigs and rabbits, and procedures often include:
Injections with chemicals
Topical application of chemicals
Sadly, these tests can result in the animal experiencing inflammation, itching, skin abrasions, seizures, convulsions, loss of motor function and finally death.
So, cruelty-free means that the product and/or its ingredients are not tested on animals at all.
However, cruelty-free doesn't necessarily mean that a product is vegan! Often companies, such as The Body Shop and Nip + Fab, do not test on animals at all so are cruelty-free, but some of their products will still contain animal derived ingredients.
Vegan
What are vegan beauty products?
Just as a product can be cruelty-free but not vegan, a product can also be vegan but not cruelty-free. Confusing right?
So to be a vegan product, the ingredients must not contain any animal-derived products.
What are the animal-derived products that are often used by the industry?
These often include ingredients such as:
Lanolin – emollient derived from sheep wool. A common ingredient in lip products and hair products
Glycerine – generally originates from animals fats. Usually found in soap, hair care, makeup and moisturises
Casein – derived from cows milk. It is commonly used for conditioning products for the hair and face
Squalene – extracted from shark liver oil. Generally found in lip products, deodorant, and moisturisers
Guanine – created by scraping scales off of dead fish. Often used to create sparkly products such as eye shadow, nail polish and bronzers
Once I learnt more about the processes of animal testing and animal-derived products, I firstly couldn't believe I was using all of these ingredients on my body without realising and also became even more passionate about phasing it out completely.
So my aim is to only purchase products which cover both of these aspects and tick the boxes in being both cruelty-free and vegan.
You don't have to compromise on quality or range either. There are a wealth of companies out there dedicated to producing cruelty-free and vegan products.
Sometimes it can be difficult to tell whether manufacturers are cruelty-free and if their products are vegan. I've found the most useful way of checking is using reputable websites which regularly update their 'cruelty-free and/or vegan' listings, such as:
My favourite vegan and cruelty-free brands
So like I said, even though lots of brands will now be off limits to you, there are still some fantastic brands out there that are both cruelty-free and vegan!
Below are some of my favourites.
Although all of the brands mentioned are cruelty-free, only a selection of their products are 100% vegan, so you'll need to check each product listing. There is usually more information on the retailer's FAQ section on their website. If in doubt you can always contact them directly if you're unsure.
Lush
Everyone loves the smell of Lush right? You can't really walk past one of their stores without being enticed in by the wonderful smell.
I haven't tried a huge selection of their vegan beauty products as of yet but did purchase several different bath bombs as stocking fillers for my friends and family at Christmas and they loved them! They have a huge range and their bath bombs are great for that extra special treat or pick me up.
Nip + Fab
I first tried Nip + Fab as there was a huge sale on and I also had a student discount at the time, so was able to pick up some bargains! These were my three favourite products which really stood out.
Deep Cleansing Fix
This product smells beautifully sweet (but not sickly) and is so versatile to use. I used it as a face cleanser primarily, working it into my skin and cleaning off with a washcloth.
Once a week or every 2 weeks, though, I also used this as an intensive moisturiser. I would just slather on a thin layer after I had completely cleaned my face, then let it sink in whilst I snuggled up to watch a movie.
Nearly all of the products just soaks into your skin, leaving it beautifully plump and moisturised. The tub surprisingly lasted quite a long time too!
Kale Fix Moisturiser
I used this as my daily moisturiser before changing to my current Body Shop moisturiser.
I had purchased this during the winter months because my skin had become rather dry and the Kale Fix Moisturiser seemed to fix the problem. It is quite a thick moisturiser and a little sticky, but I'd just let it soak in for a minute or two and then start applying my make-up. It was a great base for my foundation and left my skin feeling moisturised all day without feeling greasy.
Viper Venom Eye Fix
This product has a very soothing metal ball at the end for the liquid to come out. As you roll it around your eye it is very soothing, especially after a long day.
Sometimes, though, I have been a little overzealous and applied too much product and woken up with slightly stingy eyes the next day. So be warned when applying eye creams or serums!
I did purchase this item as I wanted to reduce the shadows under my eyes. Unfortunately, it didn't really work on this area, but I have now come to realise I think the dark shadows are just caused by the share of my eye socket and cheekbone as there hasn't been any eye cream out there that's made a dent of improvement.
Superdrug
Superdrug also have their own makeup range which is cruelty-free and vegan, although I am yet to try it!
I can, however, vouch for their suncream range 'Solait' which is cruelty-free and vegan. The price of the suncream, as it is Superdrug's own brand, is extremely reasonable and they are often on offer – 3 for 2 or buy one get one half price.
I found it quite difficult to locate cruelty-free and vegan suncream for my upcoming holiday, but was pleasantly surprised when I found Superdrug's range. I came back from my holiday with a beautiful golden glow. Although I must confess I did get burnt (I know, a big no-no for skin care – it was my own fault for not reapplying during the day often enough – lesson learned).
The Body Shop
The Body Shop is 100% cruelty-free, although, surprisingly, they do still use animal derived ingredients in some of their products. Their website is easy to navigate in specifying vegan products only and when I've visited stores, the staff are always very knowledgeable in helping me choose vegan products which are also right for me.
The Body Shop has become my favourite retailer for cruelty-free and vegan products!
My favourite products
After trying a few different brands, I have really grown to love The Body Shop. The ease of use of ordering online or visiting the store is great.
They also have The Body Shop 'card' where you can earn points and in exchange get money off, and every little helps! Especially initially, when I thought their products were quite expensive compared to the usual high street brands I would have gone for.
However, their products seem to last forever because they're such good quality. Not only that, their products are amazing! Each product always smell gorgeous.
Here's a round up of my favourite products I use myself on a regular basis.
For tired feet
Peppermint Cooling Foot Lotion
This cooling foot lotion is extremely minty and really thick and moisturising. Wonderfully cooling when you've been on your feet all day or in the height of summer.
It also spurs you on to give yourself a little foot massage whilst you're rubbing in the lotion. I also like to give myself an extra nourishing treat by slathering on a pretty thick layer after using my foot file and then slipping on some socks so the lotion can soak in. They are baby soft when I take the socks off!
For a deep facial cleanse
I've purchased these products from The Body Shop when I'm having a tough time with my skin and experience flare-ups. Although, I think my skin is pretty hormonal so it's tough to fight against that.
Now, though I'll try to use one of these products at least once a week for a deep cleanse and exfoliation and then use my Tea Tree Night Lotion before bed.
Himalayan Charcoal Purifying Mask
This mask is very powerful. As soon as you put it on you will feel a cool tingly sensation – that's good! I've had another mud mask before that just straight up burned when I used it.
Just apply a thin layer and let it do its work. Once it's dry, with a damp washcloth gently remove the purifying charcoal. My skin is practically glowing when I take it off, it's great.
Vitamin C Glow Revealing Liquid Peel
When I'm a little more pushed for time and want to add in another quick step to my usual beauty regime, I'll go for one of my liquid peels. They are so easy to use, you just apply to clean dry skin, and work in the liquid until it starts to dry up and form into little bits (sounds odd I know).
The Body Shop representative told me that these bits are little skin cells which are gently being removed, which is a much softer way of exfoliating without the need of any physical abrasives like microbeads.
The Vitamin C is a great liquid peel when I think my skin is looking pretty good and just offers that extra pick me up.
Drops of Light Pure Resurfacing Liquid Peel
The Drops of Light Pure Resurfacing Liquid is my go-to when, I've maybe had some problematic skin, like spots, or dry areas, so I tend to then use this one for those occasions.
Cleanse and remove makeup
Ok, my confession first…I don't always remove my make-up before bed.
I know I know send me to beauty jail. Sometimes just climbing into bed is all I can muster after a long day. However, when I'm on my A-game – which is most of the time to be fair to myself – these are my favourite products.
Camomile Sumptuous Cleansing Butter
I've not used a cleansing butter before this one – it really is like the condition of butter, as opposed to the 'Deep Cleansing Fix' by Nip + Fab, which had more of a thick moisturiser consistency.
The cleansing butter feels so nourishing and the scent is divine. I love camomile and try to regularly drink a cup before bed too!
You just need to use a small amount, massage into the face and you will see your makeup just melting away. Use a washcloth and wipe off any residue. I like to then use a really hot washcloth over my entire face to get all those last bits.
Camomile Gentle Eye Make-up Remover
This has been the most gentle eye makeup remover I've ever used. Often, even 'gentle' formulas from other manufactures cause my eyes to sting. However, this one from The Body Shop knocks it out of the park and melts away my mascara and liquid eyeliner without any difficulty.
Although I don't currently use waterproof mascara, The Body Shop does have another makeup remover especially for longer wearing eye makeup and lipstick I'm yet to try.
Coco Calming Face Mist
So the calming face mist isn't really a cleanser or makeup remover, but I've added it in here as I like to use it as a final spritz after I've removed all my makeup and then before I apply my Tea Tree Night Lotion.
Technically, you can use the spray over makeup for an extra moisture boost – ideal if you're stuck on a long haul flight or in a drier or windy climate.
For glossy hair
Strawberry Clearly Glossing Shampoo and Conditioner
I absolutely love this shampoo and conditioner. Initially, I was a little disappointed with The Body Shop vegan range for hair products as there are only a few options.
I usually like to purchase hair products for 'fine hair' or those that have a volumising effect. As my hair is quite fine and very straight, it can sometimes look lacklustre.
However, I needn't have worried, this shampoo and conditioner combination leaves my hair looking super glossy and silky smooth, but equally doesn't weigh it down. Then, I just simply add a little volumising hair product before I blow dry to give it some extra oomph.
Skincare for everyday use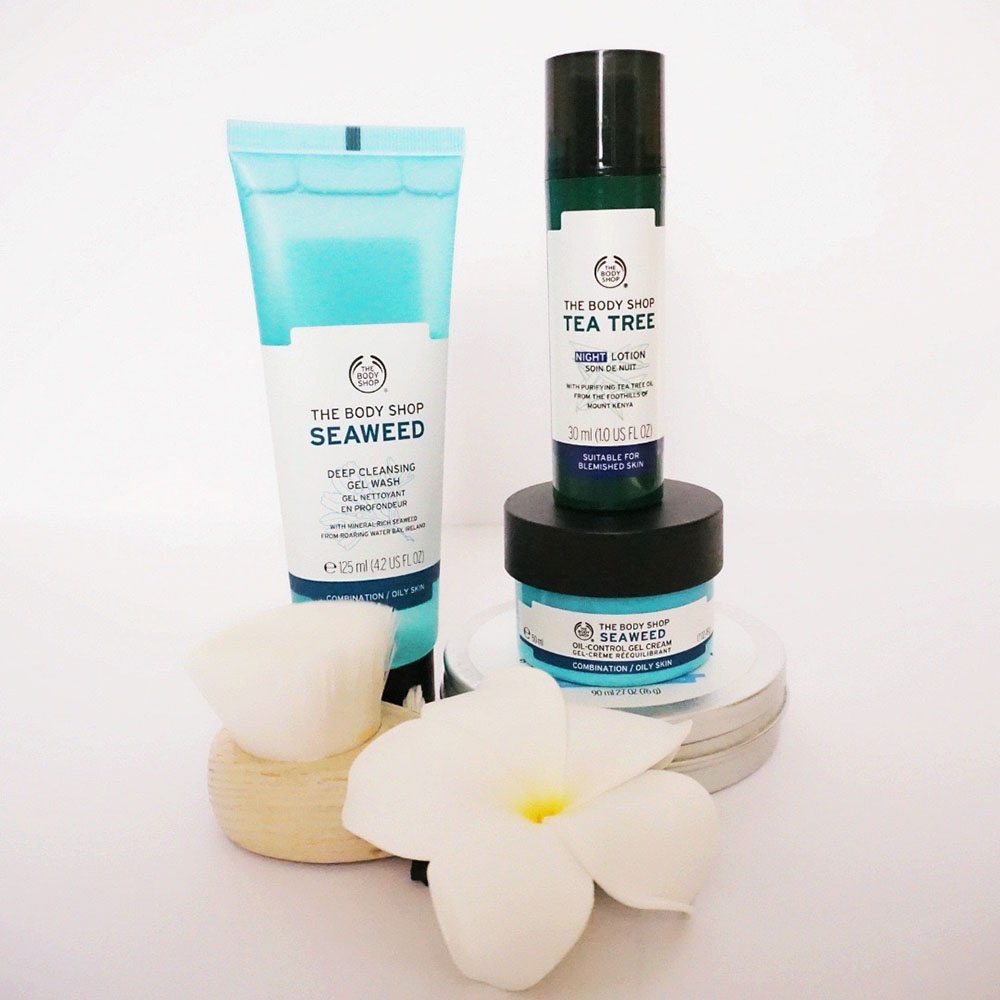 Here are my three go-to products which I use every day.
Seaweed Cleansing Gel Wash
A simple face wash for combination skin. During my teens, I'd always go for the harsh exfoliating face washes which I would use every day. My poor skin. Now though, nearing my thirties, I'm going for the gentle approach and I think it is working a treat!
Seaweed Oil Control Gel Cream
Again, as I have combination skin, I follow up the face wash with a great moisturiser and let it soak in for a few minutes before I start applying any makeup.
Tea Tree Night Lotion
Lastly, to keep those pesky blemishes and spots at bay, I swear by using the Tea Tree Night Lotion. I've loved using tea tree for years and also had a tube of tea tree cream which I'd use as a targeted spot treatment. Now, though, the Tea Tree Night Lotion is pretty effective all by itself.
If you're thinking of making the move to cruelty-free vegan beauty products…
Don't throw away all your current products!
Unless you feel so passionately about it and can't stand to use them, then at least gift them to people you know. We live in such a throwaway culture, and there are always mounting problems with waste disposal and environmental concerns around waste. It doesn't make sense to just throw everything away.
I hope you enjoyed reading if you'd like to find out more about becoming vegan I highly recommend visiting the following websites:
---
Blog: Watcha Guru
Email: admin@watchaguru.com
Instagram: watcha_guru
Facebook: Watcha Guru
Twitter: watchaguru
Pinterest: Watcha Guru
How awesome was this post? I know now what the difference is between vegan and cruelty-free cosmetics and feel like I can confidently go out and buy these products myself.
I'm really happy to see Lush and The Body Shop make an appearance in this post because I love both of these stores.
Do you use any vegan or cruelty-free products? Let me know in the comments down below