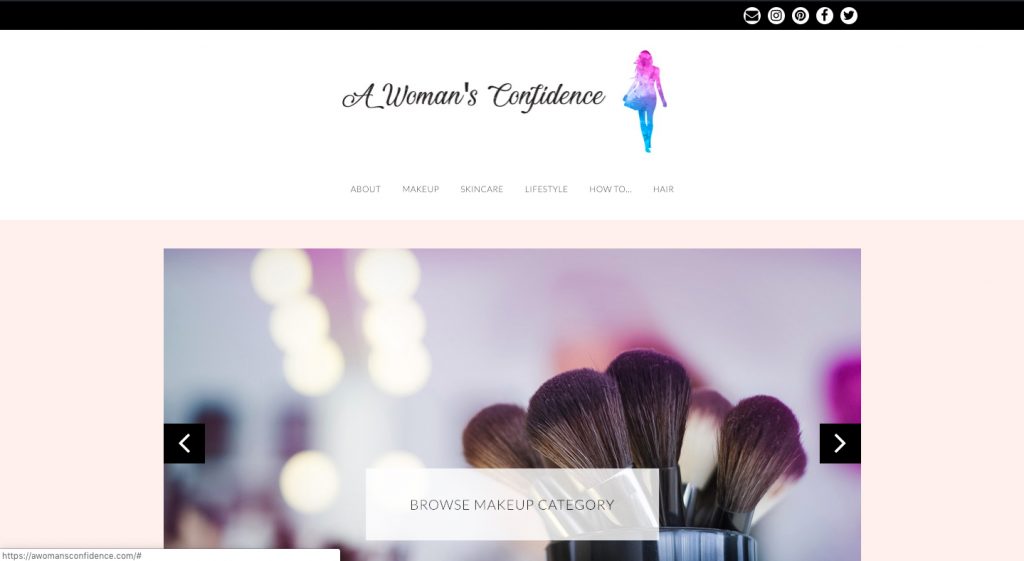 So, I decided to completely change the theme of my blog.
This was something I'd been considering for a long time. As much as I loved my old theme for A Woman's Confidence, I just felt like it was beginning to look clustered, it wasn't the easiest to navigate and I thought it would look better for more photo-based websites.
I spent some time searching for a new, modern and minimal theme, as I felt it would work well with the content and style of my blog.
Olivie theme
For my new theme, I downloaded the 'Olivie' theme from a website called Bluchic.
It was a bit of a gamble for me as I'd never heard of the site before and the theme cost $79 (around £60), so it wasn't the cheapest of themes available. However, I absolutely fell in love with the theme and after doing a bit of research, I decided to just go for it.
I've got to say, I'm super impressed with the theme. It downloaded really quickly, it was incredibly easy to install, the style of the theme is 'drag and drop' which makes it very simple and user-friendly, and Bluchic provides a whole host of support documentation and tutorials.
My experience of using this theme has been fabulous and Bluchic also has a tonne of other beautiful themes, I found it difficult to know which one to get!
If you're looking for a new theme, I would thoroughly recommend heading over to Bluchic because I'm sure you'll find something you love.
New, new, new
I love that my site has had a refresh.
I think it's important to always look over your blog to consider whether anything needs updating or could be improved, such as your 'About' page, images, links etc. You want to stay current and relevant. If you land on a site that looks outdated, you'll probably feel put off by it, so keep reviewing your own.
Here are the bits I like the most about my new theme:
I love this slider bit! I think it makes my theme look more stylish and sleek. My old theme never had this option (for free, at least), so I'm really enjoying playing around with it.
I like the layout of the context next to the sidebar; I feel like this makes my site easier to navigate.
This is my favourite bit! I have an Instagram feed section at the bottom.
The Olivie theme has a specific widget area dedicated to Instagram and I really like how this has integrated into my blog. It makes my blog look more modern and doesn't look like it's just littered with text.
Final thoughts
I'm over the moon with my new blog theme and I can't wait to keep playing around with it and seeing what I can do with it!
---
What do you think to my new theme? Do you like it more than my old one? Is there anything different you'd like to see? Let me know in the comments down below, I'd love to hear your feedback!