I'd been wanting to try Charlotte Tilbury for ages, so when I saw her Beauty Advent Calendar, I thought it would be a good (and expensive) way to try out a load of her products.
I've been seeing Charlotte Tilbury products all over social media recently, particularly Instagram, with a lot of reviews praising her products, so I wanted to see what all the fuss was about.
I was lucky to get Charlotte's Beauty Universe as a Christmas present from my amazing boyfriend. I saw it go down to £120 on House of Fraser, so it wasn't quite the RRP of £150, but still expensive (thanks Mckenzie).
What's included?
Charlotte Tilbury's Beauty Advent Calendar features 12 full-size and mini products from Charlotte Tilbury's makeup and skincare range.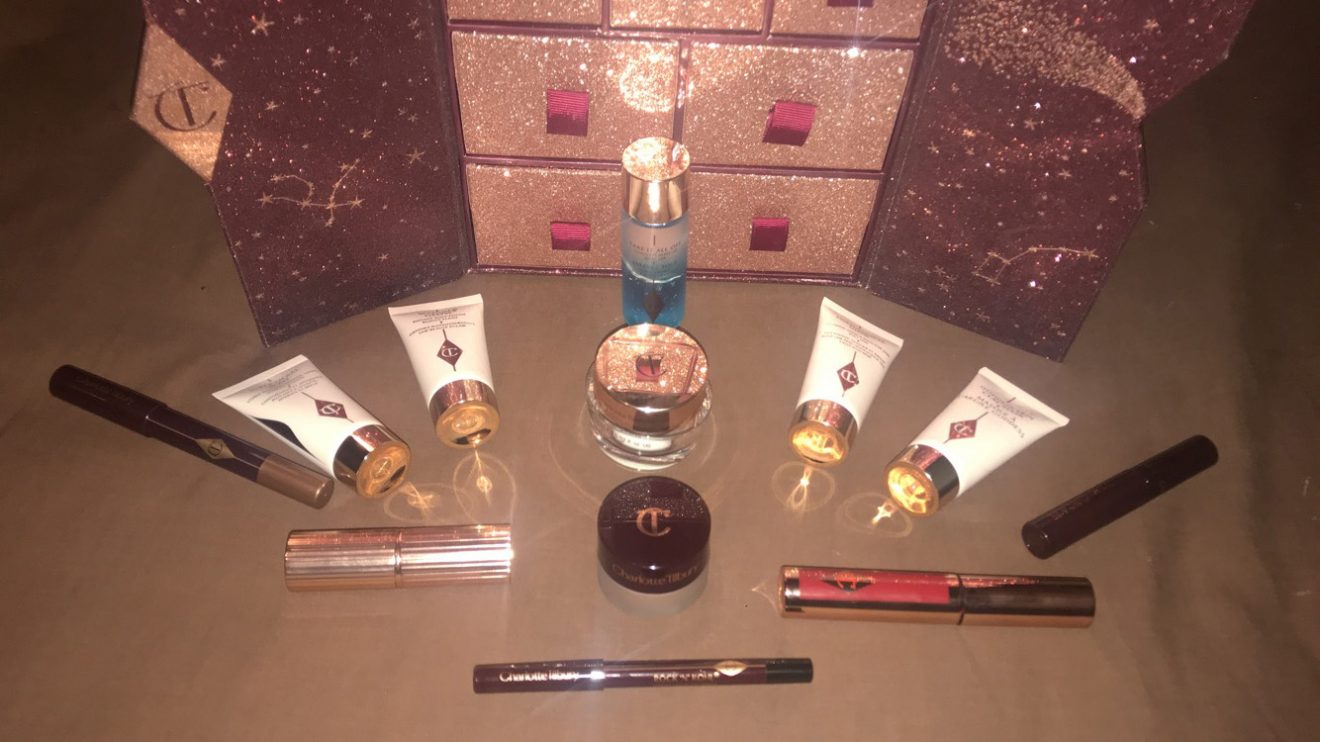 It contains:
Full Fat Lashes: A mini version of Charlotte's mascara
Eyes to Mesmerise in Jean: A champagne-pink cream eyeshadow
Colour Chameleon in Amber Haze: A bronze-y toned eyeshadow pencil
Rock 'n' Kohl in Bedroom Black: A black kohl eyeliner
Matte Revolution in Pillow Talk: Matte lipstick in a nude-y pink shade
Hollywood Lips in Screen Siren: A ruby red matte liquid lipstick
Multi-Miracle Glow: A small version of the 3-in-1 cleanser, mask and balm
Goddess Skin Clay Mask: A mini version of the clay mask that promises "flawless, poreless-looking, goddess skin"
Charlotte's Magic Cream: Charlotte's best-selling moisturiser in a travel size
Wonderglow: A mini cream that's meant to leave skin glowing and radiant
Take It All Off: A smaller version of the eye and lip makeup remover
Supermodel Body: Charlotte's travel-size shimmering body cream
I think this is a great selection of makeup and skincare products and I couldn't wait to try them all out!
First impressions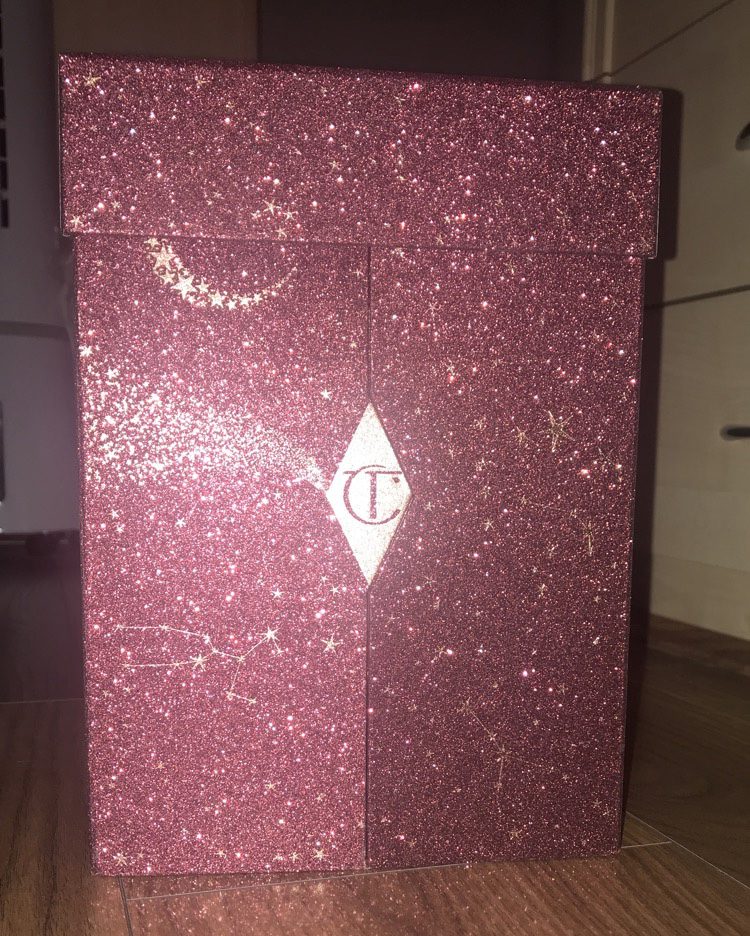 When this arrived, I couldn't get over the packaging. It's simply beautiful.
The box is a glittery pink, with gold writing and details. I love sparkly and girly stuff, so this ticked all the boxes for me. It looked expensive and luxurious and I was really feeling it.
Then I opened it up.
Even the way the box opens is pretty. The two front doors fold outwards and the top of the box lifts up to reveal the 12 different gold drawers containing the goodies.
Whilst I love my Cadbury ones, this was hands down the best advent calendar I'd ever received for Christmas.
Each drawer contained 1 product, which was wrapped up in black paper.
Reviewing the products
I like opening all my presents on Christmas Day, so I didn't open 1 compartment on 12 individual days, and instead unwrapped all of the products on Christmas Day.
It was really fun unwrapping each product, trying them out and swatching them.
At a first look, the products that stood out to me were: Eyes to Mesmerise in Jean, Matte Revolution in Pillow Talk, Multi-Miracle Glow and Charlotte's Magic Cream.
Then I went on to trying out each product individually:
1. Super Model Body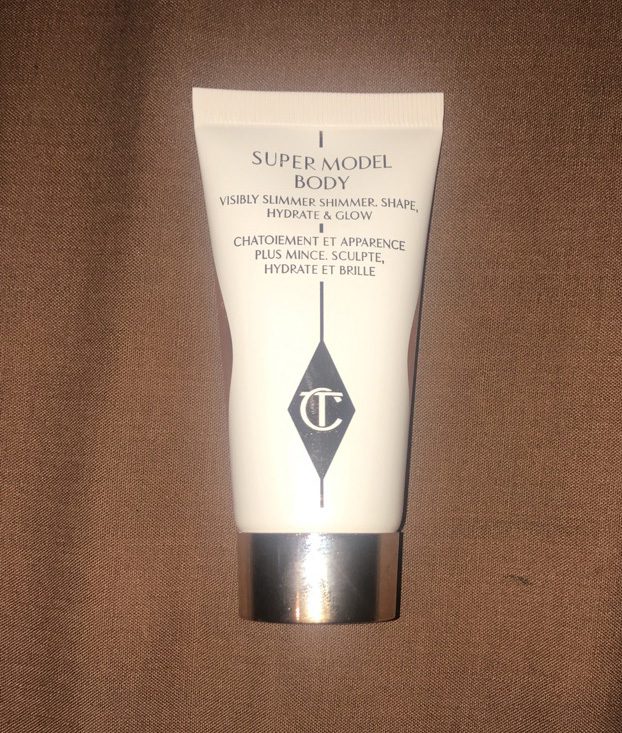 I was pretty sceptical about this when I first read what it's supposed to do: "Visibly slimmer shimmer, shape, hydrate & glow." How?!
And I was right to be sceptical.
I definitely disagree about it giving you a visibly slimmer shape. It didn't magically make my arms appear thinner, they just looked more shimmery.
Besides that, I quite liked the Super Model Body. It is a lightweight, golden lotion, which made my arms look more tanned and glistened.
But I definitely wouldn't buy this at full price; it costs £45! I just don't think it's a worth that much at all and I'd sooner spend £45 on a lot of other things (more skincare and makeup).
2. Full Fat Lashes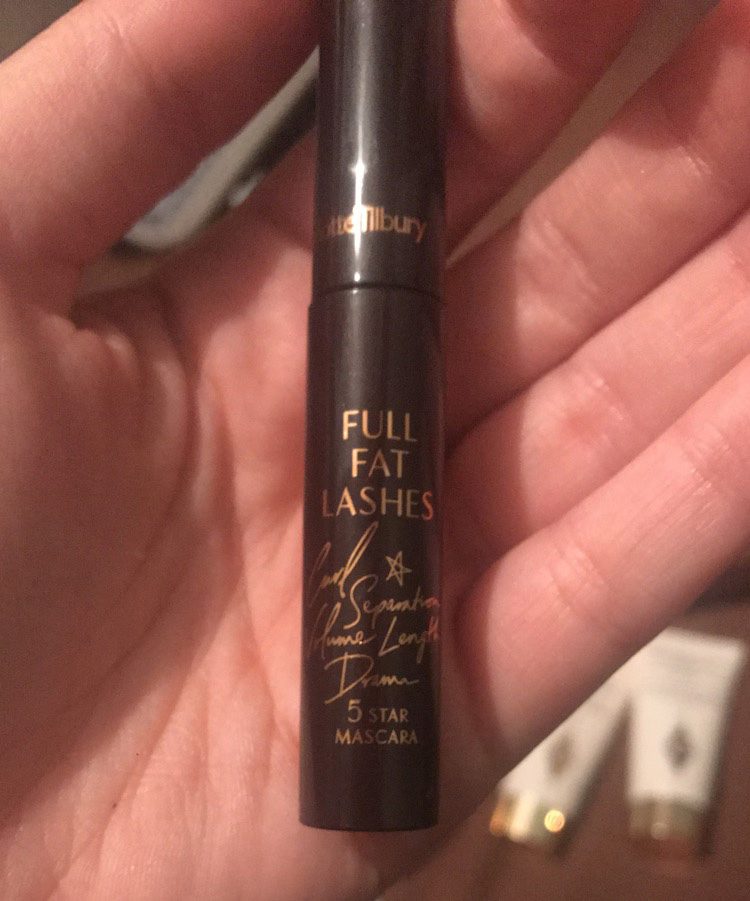 I like the Full Fat Lashes mascara, it went on easily but not clumpily, while adding length and definition to my lashes. As it is a mini size, the wand is pretty small, which I found very handy for my bottom lashes.
In all honesty, though, I wasn't wowed by it. I would've preferred it to be darker and more voluminous.
For me, I like my mascaras to be really black, so my eyelashes really pop. But I think this would make a cute daytime mascara.
3. Multi-Miracle Glow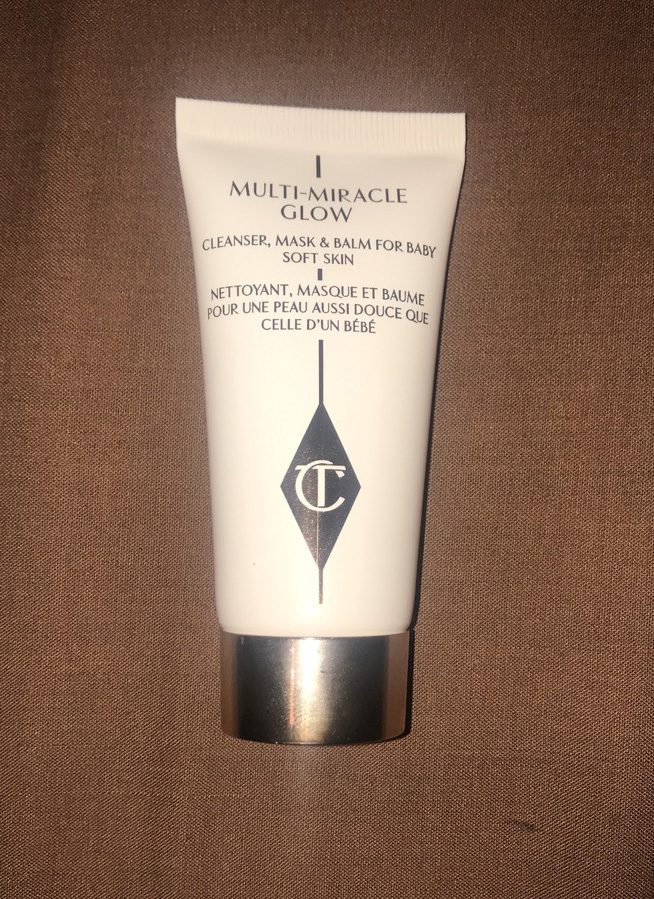 I actually really enjoyed using this.
You can use it as a cleanser or as a mask & balm. I used it as a cleanser initially, whereby you put it onto dry skin and wash it off. After massaging the Multi-Miracle Glow into my skin, it felt unbelievably soft. Dare I say, the softest it's ever been. It was incredible!
I washed it off with warm water, followed by my usual cleanser. After I dried my skin, it still felt ridiculously soft. I was really impressed by it.
The next day I tried it out as a mask/balm and found myself equally enjoying the results. I don't think it's a moisturiser exactly, but it made my skin feel soft.
This would be good to use during the winter as a way to revitalise skin if it gets dry and dehydrated.
But yeah, the Multi-Miracle glow is awesome.
4. Charlotte's Magic Cream
For what seems like forever now, I've been searching for a good moisturiser and I think this might just be it!
Because I have oily skin, I don't want my moisturiser to be too heavy or creamy, which could make my skin even oilier. On the flip side, I've used light moisturisers in the past which have been so light that I've not really found them moisturising.
However, I think Charlotte's Magic Cream might be the perfect blend of the two.
It feels soft and soothing when you put it on, without feeling heavy, which left my skin feeling perfectly moisturised. Not only that, but it smells great too.
I'll have to use this for a bit longer to give a fair analysis of whether it's improved my skin, but so far, I'm very impressed.
5. Matte Revolution in Pillow Talk
Before receiving this lipstick, I already wanted to try it out because I'd seen it in stores in the past and the colour appealed to me.
It's a soft, pink-y nude shade and after trying it out, I was not disappointed. It's a really pretty shade and it lasted all day when I wore it (although, I admittedly don't struggle with lipstick lasting on me).
Here's how it looks on: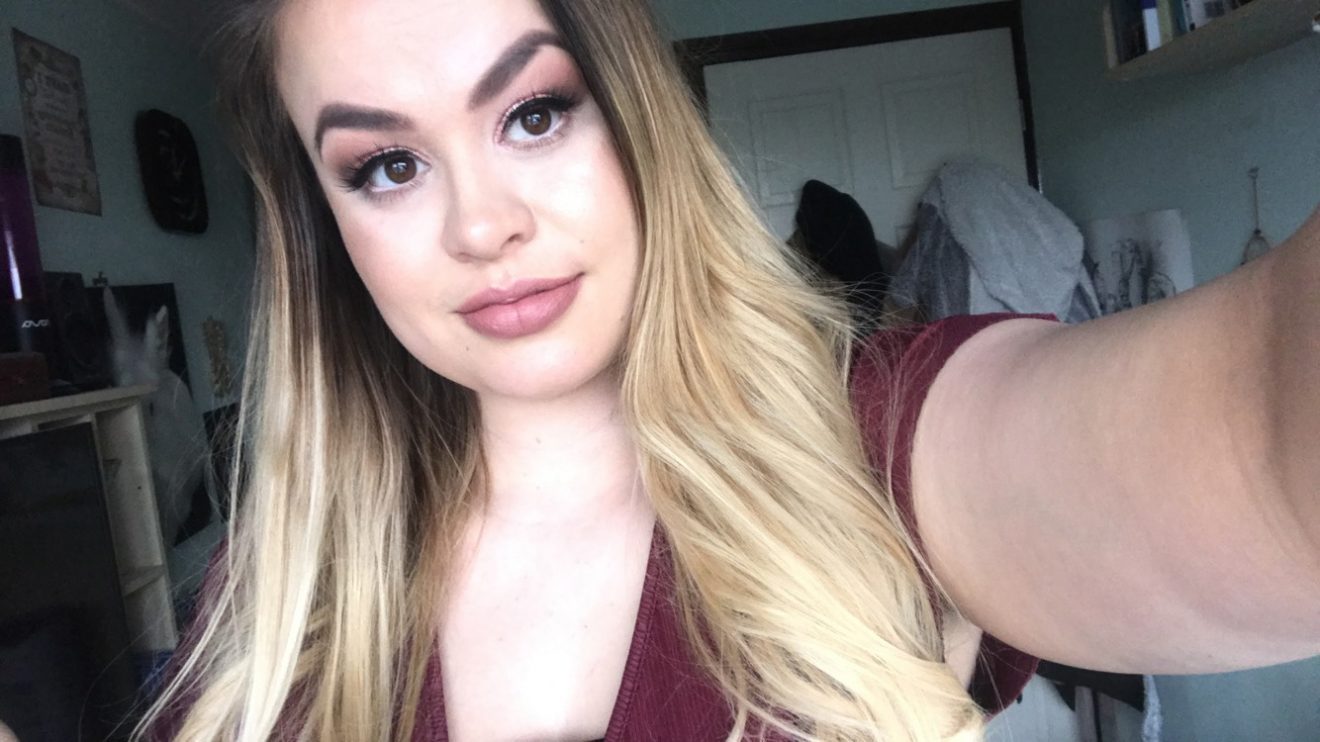 It's a yes from me.
6. Wonder Glow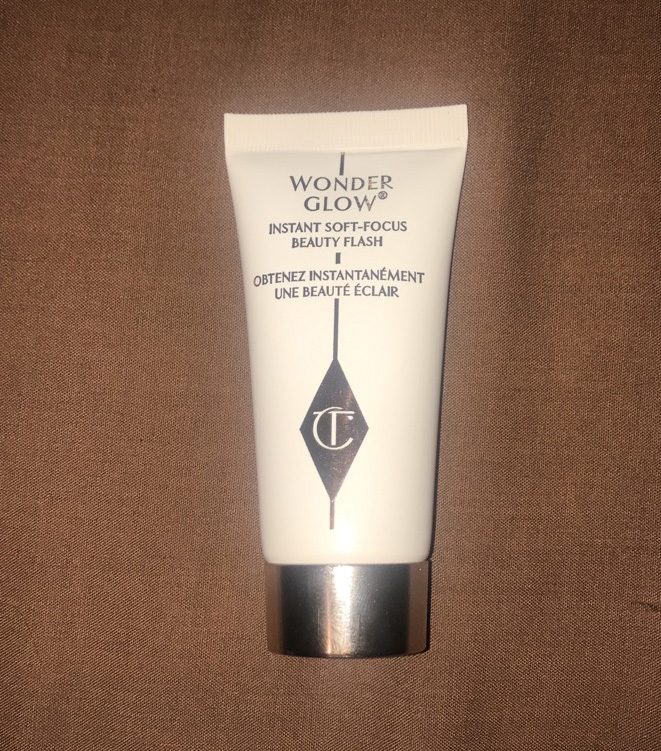 Wonder Glow is a lotion that you apply to your face for an "instant soft-focus beauty flash." I didn't really know what that meant, but I was intrigued by it anyway.
Charlotte Tilbury recommends you can use it in 3 different ways:
Under foundation for luminosity
Over foundation for a radiant finish
On its own or after using Charlotte's Magic Cream for a lasting glow
Seeing as I'd got Charlotte's Magic Cream in the Beauty Advent Calendar, I decided to try it out after applying the moisturiser.
And I really liked it. It gave me a nice, radiant look when I used the two together and my skin looked healthy.
I probably wouldn't repurchase this again because I prefer a more matte look on my skin and with my makeup, but I have enjoyed using it so far and I do think it's a great product.
7. Eyes to Mesmerise in Jean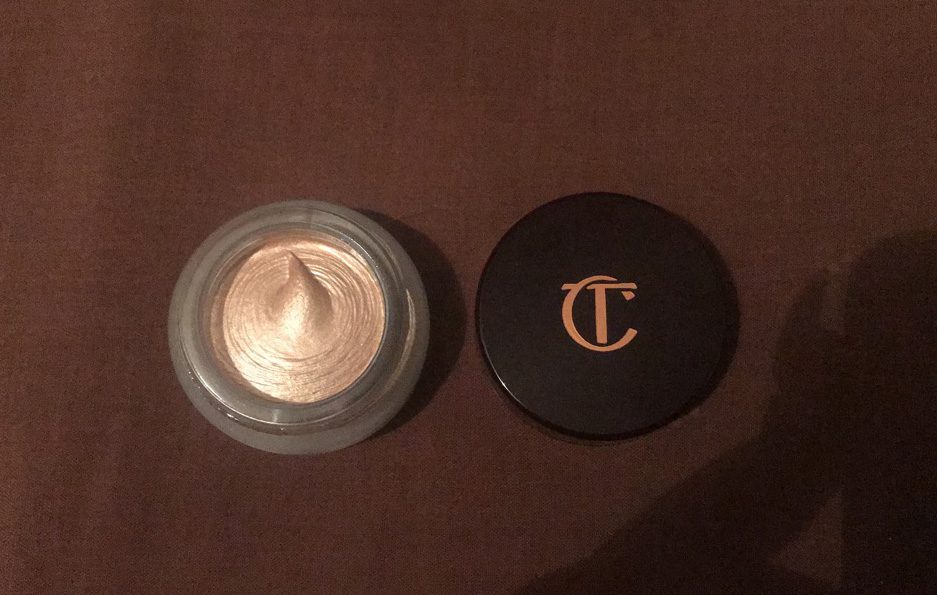 I have mixed feelings about Eyes to Mesmerise in the champagne-pink colour Jean.
The pros:
The formula is amazing, very creamy and extremely easy to work with. I found it easy to apply onto my lids and it lasted well all day.
The cons:
Although it is pretty, I was left wanting more. It just didn't quite pop how I thought it would and I actually find the colour a little lacking. I wish it had been more pink so it stood out more on my lids.
I created a spotlight eyeshadow look using the eyeshadow:
It's a nice shadow, sure, just not amazing and I don't think I'd bother buying it at full price.
8. Rock 'n' Kohl in Bedroom Black
I really like this kohl eyeliner. It glides on smoothly, is extremely black and dramatic, and lasted well all day. It's certainly a worthwhile purchase and is better than a lot of other pencil liners I've used.
One thing I will say, though, is that this costs £19 to buy. Yet, Maybelline's Master Drama Kohl Eyeliner in Ultra Black is equally as good and it costs £5! As much as I generally prefer higher-end brands, that Maybelline eyeliner is undeniably awesome.
9. Goddess Skin Clay Mask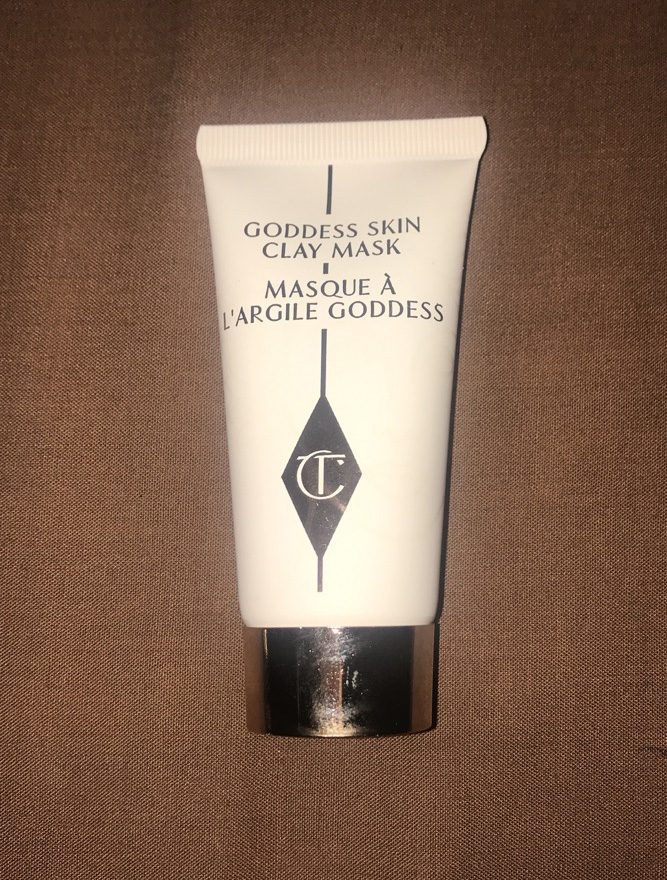 I've only had the opportunity to use this face mask once since Christmas, but it seems decent.
It smells great (I feel like all of her skincare stuff does though), it spread out super easily and my skin felt soft afterwards. However, as for long-term skin results, I think I'd need to use this a few more times to truly gauge the benefits.
10. Hollywood Lips in Screen Siren
Three words: YES, YES, YES.
Boy do I love this lipstick. To me this is a perfect, ruby red, which is really glamorous and gives me red carpet vibes. So, I was already sold on the colour.
It glided on really well, my lips never felt dry and the lipstick didn't crumble at all.
For me though, the most impressive part was how well it stayed on. Now, I have some lipsticks that last for ages, particularly the Jeffree Star ones, and this one was a serious contender for my longest-lasting lipstick – it wouldn't budge! Even after 8 hours, the colour seemed just as vibrant and red.
If you like red lipsticks, then this is a worthwhile investment. It's incredible.
11. Colour Chameleon in Amber Haze
I don't really use eyeshadow pencils as I normally just stick to palettes and cream shadows, but the Colour Chameleon has a very nice, rich formula. It also applies very velvet-y, smooth and pigmented.
Although, I'm not obsessed with the colour. It's perhaps a little on the dark side for me in terms of shimmers and I think this particular shade would complement darker skin tones more.
But that's nothing against the product, it's really good; it's just not quite me.
12. Take It All Off
For anyone that knows me, I'm extremely loyal to micellar water when it comes to removing makeup. It's cheap, does a great job and isn't too harsh on your skin. So when I received Take It All Off, I was expecting to return to my trusty micellar water.
Admittedly, Charlotte's makeup remover did a very good job, wiping away my eye makeup and lipstick very easily (although, I do find it a bit weird that the remover is solely for lip and eye makeup). Plus, the makeup remover is blue, which is cool.
But I still think micellar water does the same thing for a lot less money, so I'll be sticking to that.
Final thoughts
I've really enjoyed trying out all the products in Charlotte Tilbury's Beauty Advent Calendar and have discovered some really great products.
My favourite products are: Charlotte's Magic Cream, Multi-Miracle Glow, Hollywood Lips in Screen Siren, and Matte Revolution in Pillow Talk.
As with any brand, I tried some products that I wasn't fussed about or wouldn't go out and buy myself. Overall, though, I think Charlotte Tilbury has some really amazing products.
Rating: 4 stars
I gave this 4 stars because £150 is A LOT of money to spend and some of the products are mediocre. But, there are some products that are 100% worth trying and I've fallen in love with Charlotte's Magic Cream and the two lipsticks.