In time for Halloween tomorrow (yay Halloween!), I decided to do a Day of the Dead makeup look. I really like candy skulls/sugar skulls/Day of the Dead makeup, but I'd never tried it out before. To be honest, usually, for Halloween I don't use face paint and do something with actual makeup, like a cat or Cleopatra. But this Halloween, I wanted to get a bit more artistic and try something new.
Halloween is one of my favourite events in the year, simply because I love fancy dress and all the different costumes. Every year I see some amazing and creative looks and I just find it really fun (except for the scary costumes).
This Day of the Dead look took ages – almost 3 hours – but I'm really happy with how it turned out. Sure it could be a little neater and compared to some of the looks on Pinterest, it's pretty amateur. But for my first time using face paint, I think it went well. I hope you guys like it!
Face paint
For the face paint, I bought a Day of the Dead set from New Look. I happened to see the kit while shopping a few weeks ago and thought I'd try it out. Whilst I love Halloween, I didn't want to spend a fortune on face paint, which I'd only really use once a year. This one from New Look was only £5 and I thought that was very reasonable.
You know what, it worked a lot better than I thought it would. I expected it to be really messy or difficult to apply and it seriously wasn't. The paint was really creamy and I particularly found the red very vibrant, which stood out against the black and white. So, I'd definitely recommend this little set if you want black, white and red face paint for Halloween.
Day of the Dead
Taking place on the 2nd of November, Day of the Dead (Día de Muertos) is a Mexican holiday which celebrates the lives of people who have passed away as a way to remember them and help them on their spiritual journey. That is why for the day many people wear skull-like face paint to resemble the dead.
My look
Here is my final look.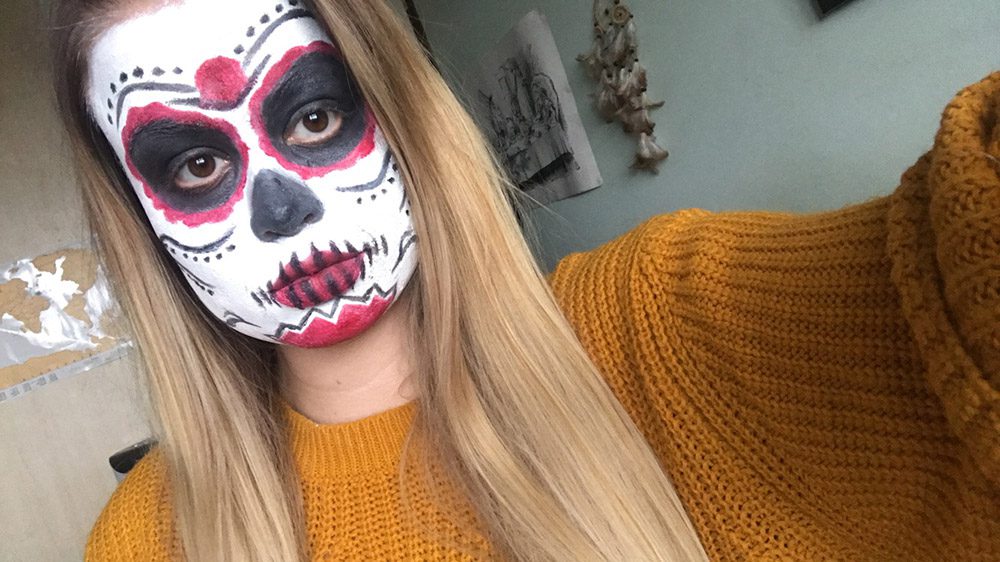 I just followed the steps from the New Look kit to achieve this look:
I painted my face white
I then did the black circles around the eyes and filled my nose in black
I then added black swirls and dots as well as red details to my face
For the final step, I painted my lips in red and drew black lines down them
And that's it! Pretty easy to do, but just time-consuming.
---
I hope you guys like the look. Let me know what you think in the comments down below and link to any blog posts or pictures of your Halloween looks – I can't wait to see them all!